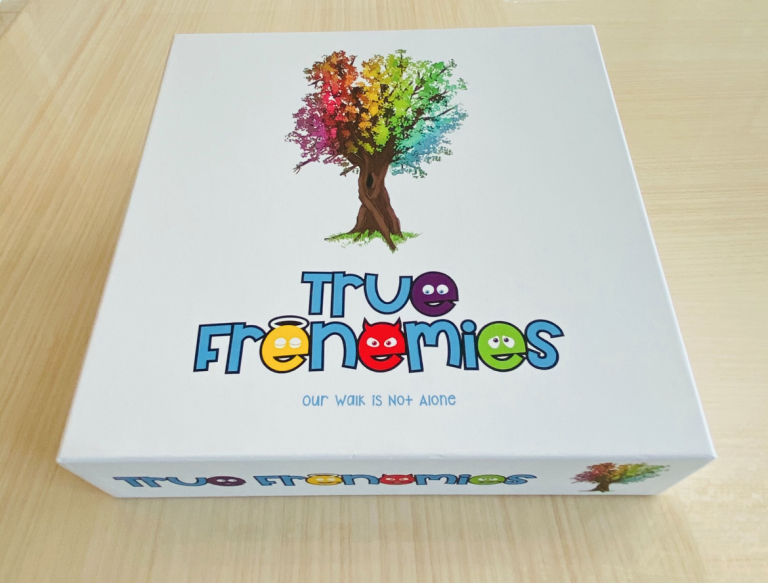 Lightbulb! You wake up with a great idea for a game! You create a prototype using poster board, index cards, dice, and makeshift playing pieces from around your home. You type a list of rules with bullet points. You rope your friends into playing, and they politely accept — not exactly knowing what to expect. Even though the first walk-through is a bit rough, you see the potential. After a few restless nights, you decide to turn this concept into something more permanent. But now what do you do? Where do you go from there? Just considering it is overwhelming. This is precisely the feeling I had after the initial design of our boardgame, True Frenemies. In fact, that was not even its first title. The initial working title was Good Friends, Bad Friends, Very Bad Friends. Since this was too long, we went with Secret Friends. But we quickly discovered that there were websites already using this phrase that were not at all appropriate for our Christian-themed board game. So, after much internal discussion and brainstorming, we settled on our current title. From the outset, I understood a massive amount of work would be necessary to bring this project to life. But I really had no idea what was in store.
Build Your Team
My personal limits were painfully clear. I needed a team — a team of professionals who could transform a homemade concept into an actual product. So, we hired a graphic designer with over two decades of experience and a digital artist entirely on the basis of two sample works, which we personally considered incredible. My initial concept for our gameboard was "explosion of color," the vibrancy of a modernistic painting. Our digital artist returned with the metaphor of "climbing a mountain". It took us a bit to settle on the visual, but after watching my son play endless hours of Fortnite we had our answer. We would use the Fortnite aspect to design our mountain-themed gameboard. And after nine intense months of work, this is the end result.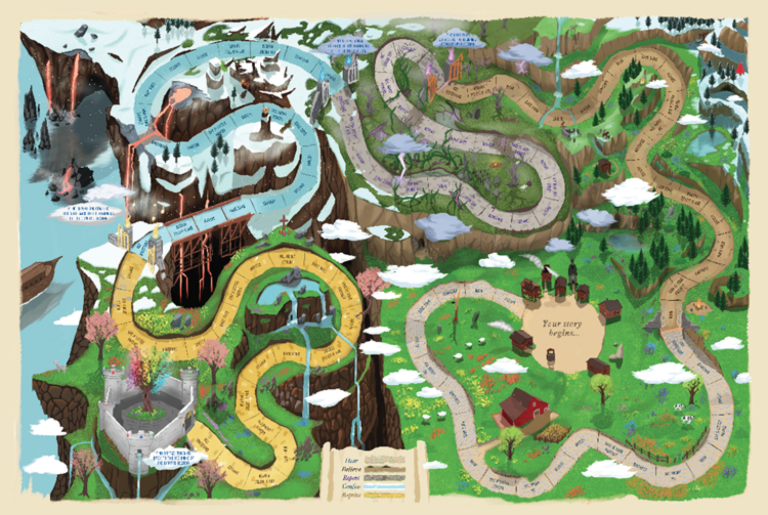 What Sets Your Game Apart?
We, of course, have a personal bias, but one key differentiator for our game is the quality of gameboard design. Those who play True Frenemies will maneuver over a genuine, 20″ x 30″ work of art. But having a great gameboard does not at all mean that you have a great game. First and foremost, any and all games must never lose sight of their primary purpose — they must be fun! But fun and entertaining, while critical, will still fall short. All designers of new games must answer one basic question. What is distinctive about their game? Why is True Frenemies genuinely distinctive? In a nutshell, it is our "win construct". To win, you must maneuver another player (your Secret Friend), in addition to yourself, to the Tree of Life. The catch? You will know your own Secret Friend, but you will have no idea who has you as a Secret Friend. During the entire game, the player you are continuously trying to help may actively undercut you. Moreover, the penalty is quite severe for revealing your Secret Friend to anyone at the table — including your own Secret Friend! So you will likely help other players and may — at times — hinder your own Secret Friend just to throw everyone off. The strategy flows through the timing and deception involved with navigating your Secret Friend to the Tree of Life, as well as preventing others from manipulating your game gem for their benefit rather than your own. Who has you as a Secret Friend? Who is your Secret Friend's Secret Friend? And so on for everyone at the table. The premise and the decisions within the game are quite straightforward, but determining the best course of action is the Gordian knot which elevates True Frenemies to a much higher level. At first, this win scenario may seem somewhat contrived. But consider more carefully. One-way relationships are ubiquitous: a rebellious child, a disintegrating friendship, family, a dysfunctional work environment, geopolitics. The game of True Frenemies is pure fun, but the metaphor underlying the game construct is absolutely serious.
Choose a Game Maker
Game design is critical, but you must also bring together a team that can do what you cannot. A team with specific skills to elevate your game to professional grade. Very early on, you should decide on a game maker. We interviewed many different companies before choosing Shuffled Ink as one of our two finalists. One of the main reasons we selected Shuffled Ink was the other finalist made their own games in addition to those for their clients! We didn't want to have any part with a firm that might focus more so on its own product rather than ours. With Shuffled Ink, we felt the client service and genuine care was unmatched by any other company.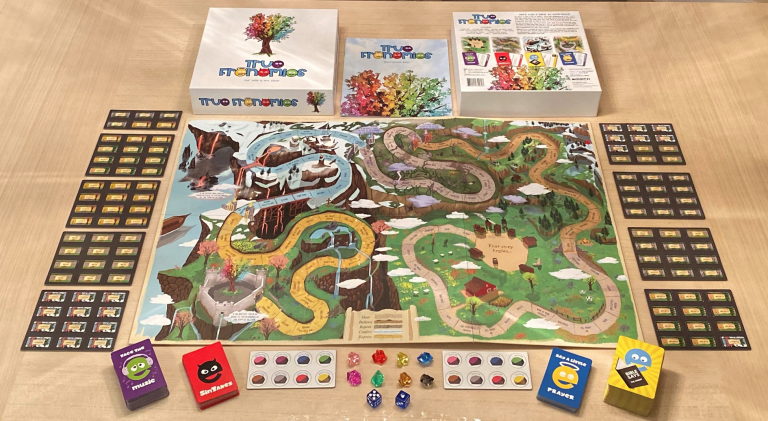 Believe in Your Game and Yourself
You now have a concept, a team, you know what makes your game unique, and you have selected a game maker. But this is only the start; the beginning of an exciting journey. You will quickly need to find a trademark/copyright attorney, ramp up your social media presence, face-to-face market, attend conventions, playtest-playtest-playtest, proof each element a thousand times, determine your financial resources/needs, and maintain some semblance of sanity through it all. Once after making it through a particularly stressful time, my wife just looked at me and said, "We can do anything if we really try." And that would be my advice as well. Take each step one at a time. You won't know all the answers at the outset. All you really need is to believe in yourself, believe in your product, but most importantly, be willing to listen to others. Recognize what you are good at, and where you need serious help. You will be fine. Some write books to be remembered. Long after you are gone, you will be remembered for the game you have made. So pour your heart out and make a great game.
True Frenemies for Purchase
If our game, True Frenemies, sounds interesting to you, we will be on Kickstarter beginning November 6. We expect to receive our shipment during the first week of December and we fully intend to ship the game to buyers in time for Christmas. After our Kickstarter launch has ended, you can find us through our website. We will also be working to set up distribution through Amazon, which we hope to have in place by December. If you know others who might be interested, please forward our YouTube promo video link. We cannot do this alone. We need you to make our game a success. ● Official Shuffled Ink website: ShuffledInk ● Make Your Own Custom Card Games at: ShuffledInk