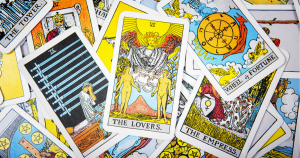 In this day and age, tarot cards are used for two types of readings: question readings and open readings. Variations of tarot cards have been used for centuries for everything from entertainment to knowledge of the paranormal and divination to many, many other things.
There is absolutely no reason to restrict yourself to any one way to use tarot cards! In fact, you can use them for everything from playing games to attempting to see into the murky waters of the future. There are an unlimited number of inventive ways to use tarot cards.
Below are a few ways tarot cards can be used for personal and communal entertainment, showmanship, and to promote creativity.
WHAT ARE TAROT CARDS?
To the layperson, tarot cards are bound up in mysticism and magic. The name tarot probably brings to mind visions of fortune tellers divining the past, present, and future. This is one inventive way to use tarot cards, but there are many more.
The intricate artwork found on these cards often goes unmentioned. The design of the cards is meant to represent aspects of the real and spiritual world. In this way, the cards tell a story with each and every spread.
The user shuffles the cards and picks one at random to tell a story about their life. Who knows, you might even be able to see an important event in your future!
GAMBLING
Users can come up with various gambling games to play with tarot cards. Now this doesn't mean you should use the cards to take your friends money, but rather it's just one more unique and inventive way to use tarot cards.
After shuffling the deck, players can guess what card will be pulled. Other players can bet against certain cards being pulled from the deck. Still other players can bet on a set of cards being pulled from the deck at lower odds but with a higher gain.
However you use tarot cards for gambling, it's sure to be a fun time. Remember, though, it's better to bet pennies than dollars!
MAGIC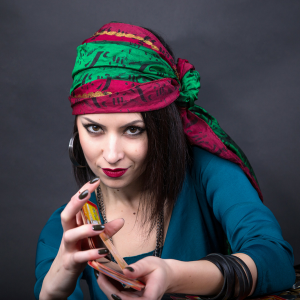 Magicians have long used tarot deck in their acts. In fact, many magic tricks rely on the use of these cards. Plain playing cards can get the job done, but a tarot deck adds a touch of elegance and mysticism all magicians, and their spectators, will notice.
WRITING
Another inventive way to use tarot cards is as an aid against writer's block. This might sound silly, but don't knock it until you try! A writer can shuffle the deck, pick several cards at random, and use the spread of the cards to write a story. This is a great way to build new narrative elements into an otherwise stale story. 
ART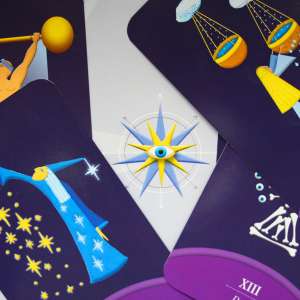 Artists, such as painters and sculptors, can look to the artwork on tarot cards for inspiration. The colorful mystical quality of the card design can get the artist's mind to start turning in new, imaginative ways. The result? Unique works of art.
Now that you know the almost unlimited number of inventive ways to use tarot cards, it's time to get your custom set! Choose your own images, designs, card size, number of cards, instructions, booklets, and even include custom accessories and packaging! Click below to get started today.
● Official Shuffled Ink website: ShuffledInk
● Make Your Own Custom Tarot Cards at: ShuffledInk
● Make Your Own Custom Flash Cards at: ShuffledInk