Custom Playing Cards
Printed Your Way!
Custom playing cards printed by Shuffled Ink come with 23+ years of manufacturing experience, unmatched quality, 1st-class & live customer service and full graphic support. With ultra-fast turn-arounds & and very competitive pricing
Shuffled Ink is best choice and value available!
See what our clients are saying about the services, product quality
and pricing we offer: Shuffled Ink Google Reviews
This was a great company to work with! We used them for custom playing cards for a charity casino night coming up and their customer service helped very quickly and every step of the way! highly recommend.
Meaghie Jane
October 10, 2023.
Yes! I received my ZODIAC series memory cards! They look great! The only thing I didn't catch was to ask for a specific card to be seen on the other side. One of my logo, the other the tiger. If I had been given a choice, I would have picked the rabbit, not the tiger. Thank you again!
Marcela Slade
October 9, 2023.
This team is awesome. Super responsive (especially Skylar) and even sent us extras just because!
John Howard
October 5, 2023.
Highly professional printers with good turnaround and they hit the expectations they set. My experience with Shuffled Ink was extremely positive and they walked with me through the process of printing a custom designed tarot deck that all of my backers dearly enjoyed. They answered nearly all of my questions in a timely fashion and were on top of communicating 95% of the things that I needed to know. My only complaint is that I didn't get an adequate quote on their dropshipping service, it was higher than I expected. That being said, the service itself was FAST, professional, and my backers certainly didn't have any complaints. Which in the end, was the most important thing for me. The price is on the slightly higher end, and they work within the limitations of starting orders at 250 and above, so expect to go big or go home. But I will say, if you're looking for a quality printer that takes you seriously as a client, these are the people to go to. If I do another crowdfunding campaign, they are on the top of my list of go tos.
Matt J. Rainwater
October 3, 2023.
Great product, service and attention to detail! Can't wait to re-order!
Mary Campbell
October 3, 2023.
What an incredible company! Loved the finished product and their customer service was excellent. The custom playing cards turned out perfect and I'm excited to use this company in the future!
Paper Daisies
October 2, 2023.
The staff at Shuffled Ink were kind, courteous, professional and most of all PATIENT! I had to make a rush order, needed assistance with artwork, and they were able to help with it all. I love my finished product and look forward to placing my next order. I highly recommend utilizing them for you project needs.
LaKeesha Hines
September 28, 2023.
Incredible Team to work with...very patient, detail oriented and high quality finished product---Thank you all again and we will have more projects to come!
Jim Mason
September 27, 2023.
Excellent company and great product. The Shuffled Ink team is incredible to work work. Their custom cards are a fantastic way to capture and share memories.
Stephanie Hruzek
September 26, 2023.
From start to finish, working with Skylar and Isaias at Shuffled Ink was a great experience. They answered all my questions, were always considerate and kind and my playing cards are fun and have a lovely feel to them. I will certainly return when I have other projects to do.
Rebecca Gilliam
September 22, 2023.
Custom print anything you like on each and every playing card
back and/or face – always at the same price.
You will find NO Setup, Rush, added CMYK Color or Hidden fees on all orders.
The best way to get started with your custom playing card project is to
click on our request a quote button to receive instant pricing. All non-standard projects will be responded to right away and followed up with a custom quote.
All hands are on deck to make your custom printed playing cards as easy as 1-2-3!
Click on "Design & Order Now" to order 5 or more standard faced decks.
* Product availability: In Stock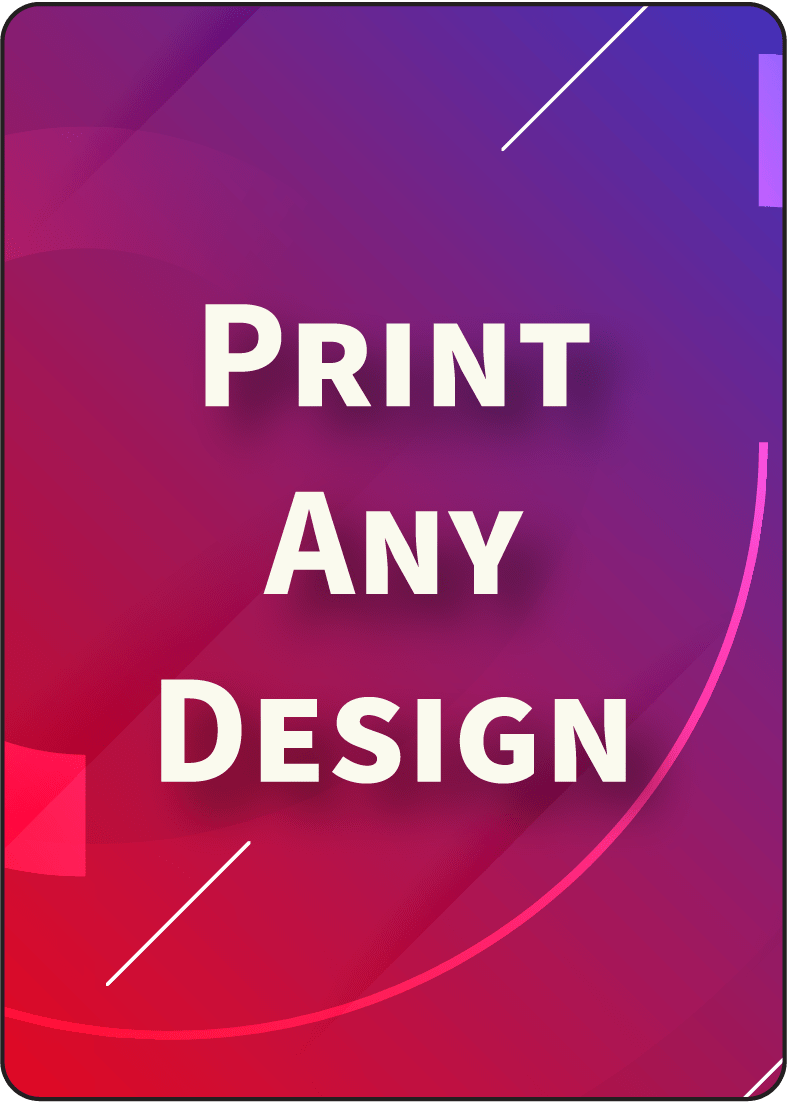 * Prices go down as order quantities go up
* For example, pricing for 5 decks is $21.80 each
* Pricing for 5,000 decks is $1.94 each (300gsm)
* Card builder tool minimum is 5 decks
* Card builder tool is only for decks with standard faces
* Price breaks are: 5-10-15-25-50-100-250-500-1,000-2,000
* Non card builder orders have a 15-deck minimum
* For higher quantities contact us
* Print 1-4 CMYK colors – same price
* Premium (300gsm) and casino (310gsm) and more card stocks available
* Print standard or custom faces – same price
* Print standard bridge or poker size – same price
* Prices are subject to change
Custom playing cards are great for marketing, branding, promoting, client gifts, trade shows, parties of every kind, wedding favors, family events, anniversaries, special photos or even creating your own custom playing card game!
Request A Quote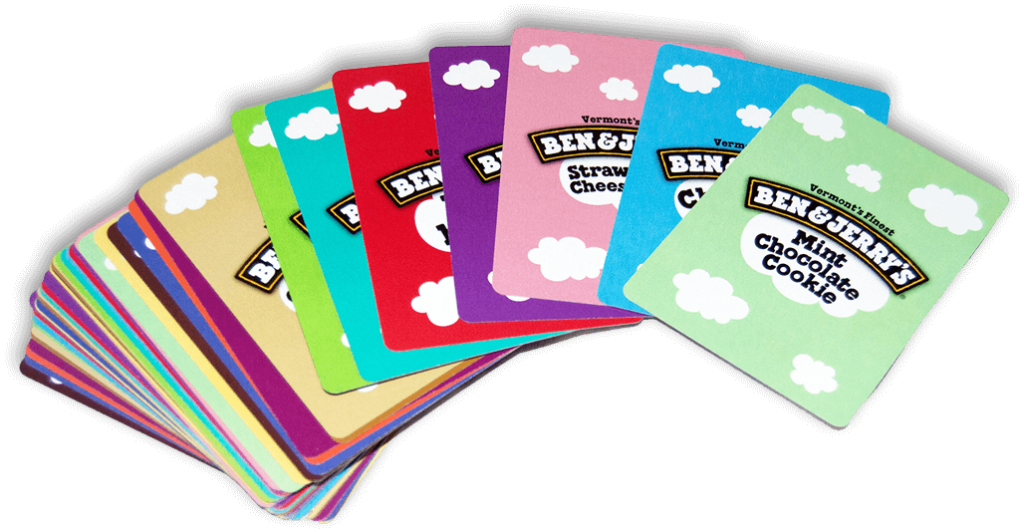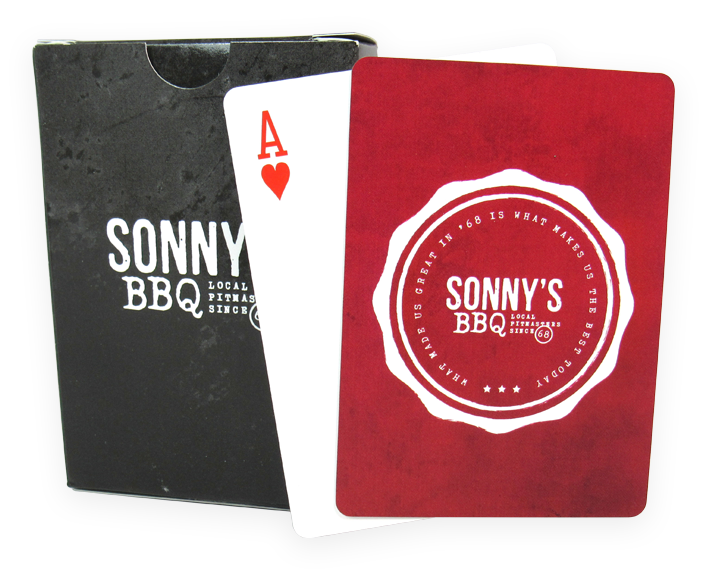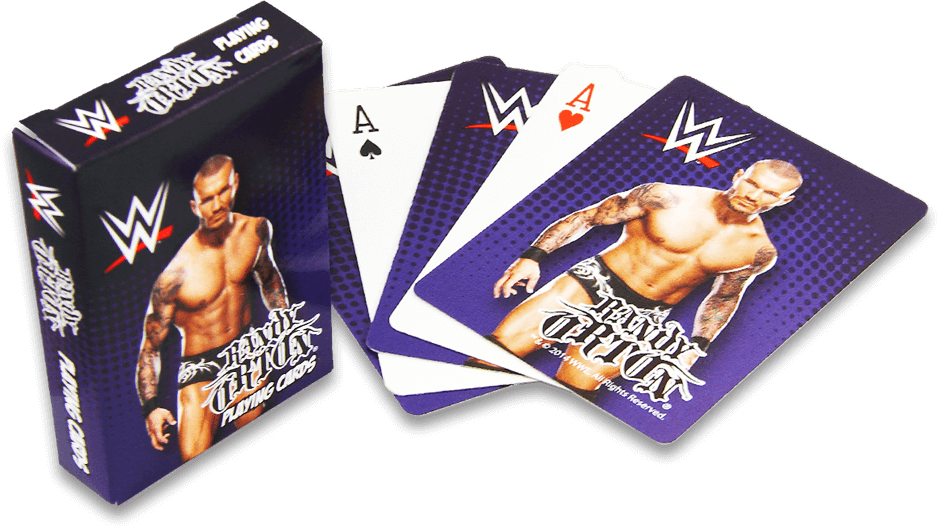 Custom Playing Card Decks for All Industries & Occasions
Print Your Custom Playing Cards with Shuffled Ink
Custom Gaming Industry Products
Custom Promotional Giveaways
Corporate/Charity Event Prizes
Kickstarter Cards and Games
Custom Wedding/Anniversary Gifts
Trade Shows and Much More
Wholesale Pricing
Bulk Pricing
Request A Quote