Custom Playing Cards
Printed Your Way!
Custom playing cards printed by Shuffled Ink come with 23+ years of manufacturing experience, unmatched quality, 1st-class & live customer service and full graphic support. With ultra-fast turn-arounds & and very competitive pricing
Shuffled Ink is best choice and value available!
See what our clients are saying about the services, product quality
and pricing we offer: Shuffled Ink Google Reviews
I worked with Shuffled Ink to create a divination deck and could not be more pleased. Much of the process was new to me and they made the experience truly a pleasure. Gabe the project manager and Chris the Digital Artist were both wonderful. I would highly recommend Shuffled Ink. They are professional, talented and very friendly. The cards are gorgeous and I look forward to working with them again in the future.
Shannon Alexander
October 25, 2022.
Friendly efficient service. The finished product - a deck of Oracle cards is excellant - Cardstock has a core and good to shuffle, the matt lamination finish is perfect with perfect amount of shine and silkyness. We appreciate the extra effort and perfection.
Felicity Tinning
October 25, 2022.
Absolutely wonderful service. Very communicative and speedy. Also was very shocked by the quality! We wanted to give a gift of custom cards to our cast of one flew over the cuckoos nest and they were perfect and everyone LOVED them.
Amber Ortiz
October 25, 2022.
Awesome service and follow up!
Jean Suzuki
October 24, 2022.
Beautiful print job and fulfills our orders quickly. Great team to work with! Thank you.
Kimberly Bentz
October 24, 2022.
The Shuffled Ink team was informative, effectively communicated from design to production and most important, was timely in the delivery making our conference a success! The custom cards turned out well thanks to the experienced and incredibly friendly team at Shuffled Ink! Will certainly be using them again and highly recommend to anyone looking or a create a custom set of playing cards!
Ted Singley
October 24, 2022.
Both my account manager and my designer were amazing with supporting me with my project of creating my custom cards. I just started my card breaking business and these cards not only make my presentation professional, but they also came out exactly as I imagined them! Thanks again for all the hard work and great support!
David Vicars
October 21, 2022.
Great quality on these cards, and super responsive to emails helping the orders get placed!
Amber Gavriluk
October 19, 2022.
they made my card game perfect and did exactly what I wanted
Brittany Nelson
October 18, 2022.
Easy to work with. Excellent customer service. Simple ordering process. Personalized service with each order. My cards decks are perfect!
Rocco Robert D'Ordine
October 15, 2022.
Custom print anything you like on each and every playing card
back and/or face – always at the same price.
You will find NO Setup, Rush, added CMYK Color or Hidden fees on all orders.
The best way to get started with your custom playing card project is to
click on our request a quote button to receive instant pricing. All non-standard projects will be responded to right away and followed up with a custom quote.
All hands are on deck to make your custom printed playing cards as easy as 1-2-3!
Click on "Design & Order Now" to order 5 or more standard faced decks.
* Product availability: In Stock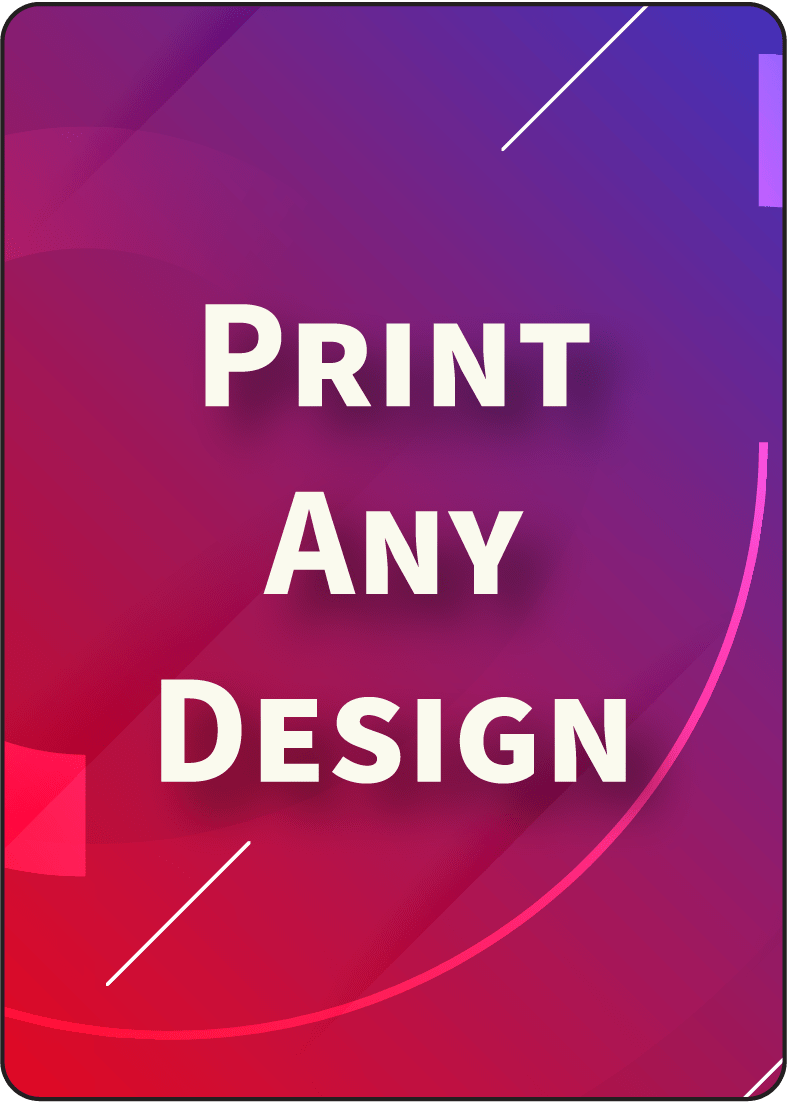 * Prices go down as order quantities go up
* For example, pricing for 5 decks is $21.80 each
* Pricing for 5,000 decks is $1.94 each (300gsm)
* Card builder tool minimum is 5 decks
* Card builder tool is only for decks with standard faces
* Price breaks are: 5-10-15-25-50-100-250-500-1,000-2,000
* Non card builder orders have a 15-deck minimum
* For higher quantities contact us
* Print 1-4 CMYK colors – same price
* Premium (300gsm) and casino (310gsm) and more card stocks available
* Print standard or custom faces – same price
* Print standard bridge or poker size – same price
* Prices are subject to change
Custom playing cards are great for marketing, branding, promoting, client gifts, trade shows, parties of every kind, wedding favors, family events, anniversaries, special photos or even creating your own custom playing card game!
Request A Quote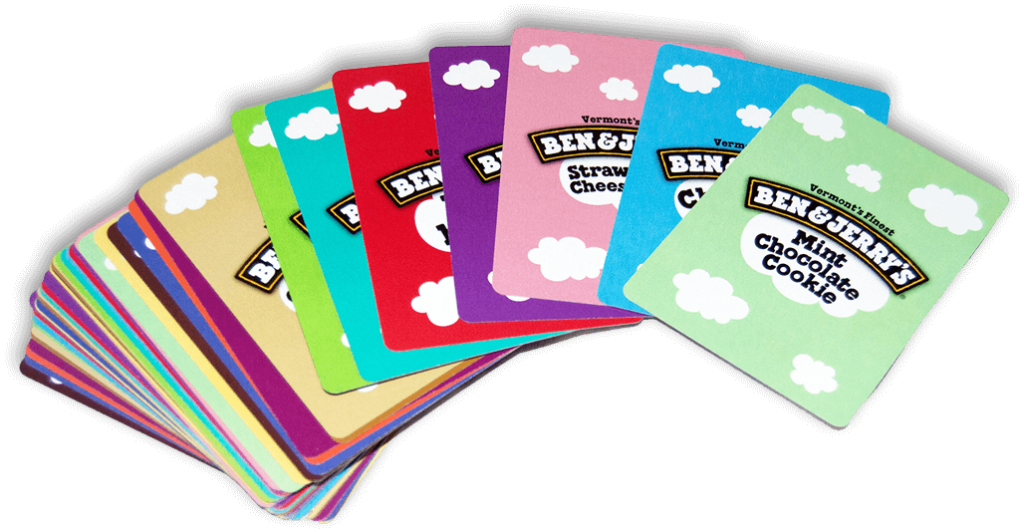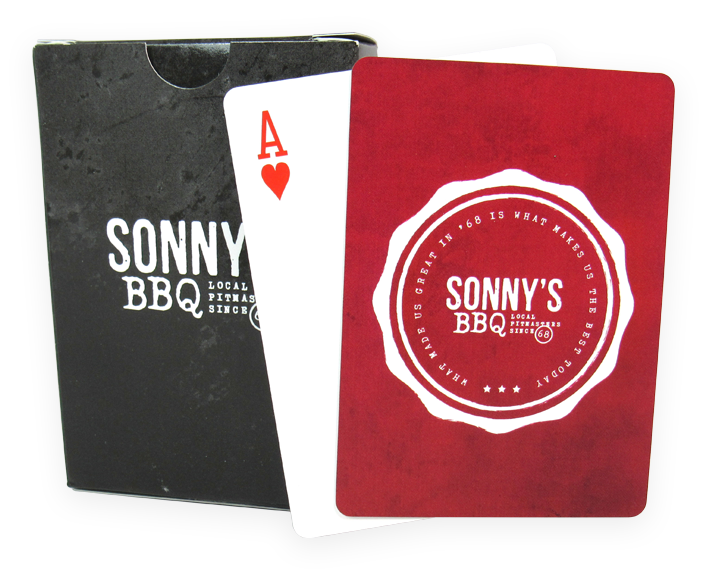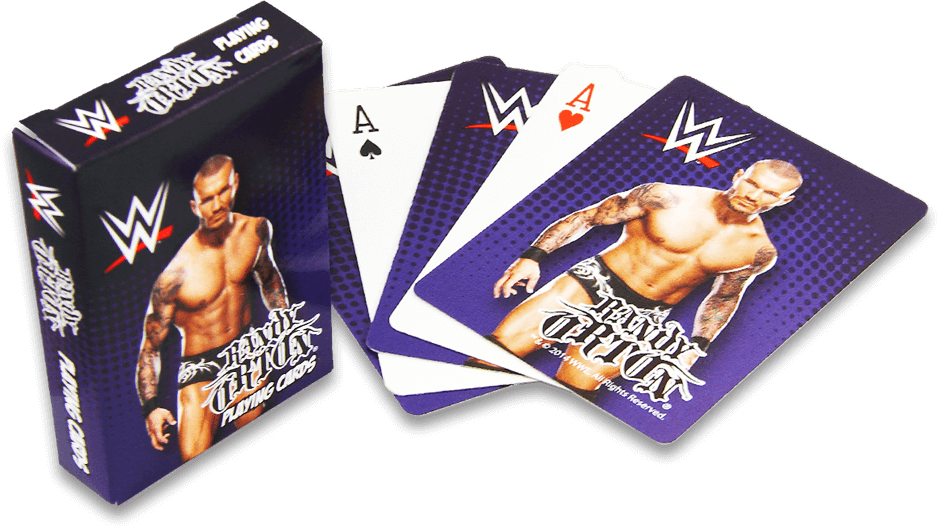 Custom Playing Card Decks for All Industries & Occasions
Print Your Custom Playing Cards with Shuffled Ink
Custom Gaming Industry Products
Custom Promotional Giveaways
Corporate/Charity Event Prizes
Kickstarter Cards and Games
Custom Wedding/Anniversary Gifts
Trade Shows and Much More
Wholesale Pricing
Bulk Pricing
Request A Quote