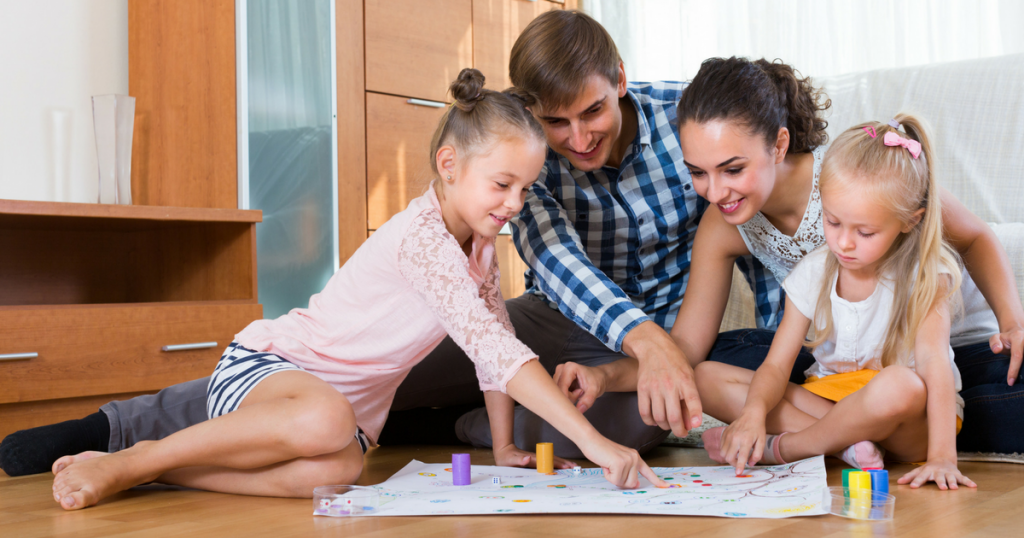 Looking for the most family-friendly fun you can pack into game night? Then take a look at our picks for the top five fun games for family night!
Family-fun nights are a great way to keep your kids close. Moreover, board games have a number of surprising benefits ranging from strengthening your kid's critical thinking to helping them build better vocabularies and learn about finances. Here are 5 fun games for family night that are sure to make your kids want to turn off their phones and turn on the smiles.
WHAT IS SO GREAT ABOUT BOARD GAMES?
Recent research suggests that playing casual, light-hearted board games can have some surprising benefits for childhood development. These include:
Board games are good for developing motor skills.

Playing board games can lead to 

better grades

.

Board games 

can help

 your kid's problem solving abilities.

Game night is great for family bonding.

Board games are some good ole fashioned, family-friendly fun.
5 FUN GAMES FOR FAMILY NIGHT
This is somewhat subjective. People tend to like the games that they grew up with. It's also important to consider the age of your children and when determining what game to pick. Is it all about fun? Or are you trying to subtly insert some education into your gameplay? Here are 5 of our favorite board games for family night.
MONOPOLY
Probably the most iconic American board game of all time, Monopoly is a family-friendly, multiplayer classic dating all the way back to 1903. The game's lessons range from personal finance and social skills to managing risk and basic math. There is also (as those who lose like to point out) a bit of luck involved, especially when the cards are in play. Monopoly is a must for any family night.
RISK
War huh, what is it good for? Having a bunch of fun with your family, that's what! Risk is a strategic military game where the players go to war (on the board using military-themed thimbles) with one simple goal: conquering as much territory as possible. According to the box, Risk is great for all ages, but it's probably better for those over the age of at least 8. Any younger and it might be too complicated.
CLUE
"When you have eliminated the impossible, whatever remains, however improbable," according to Sherlock Holmes "must be the truth." Know this and you'll never fail to win at a game of Clue. Clue is a crime-mystery board game where players acquire clues about who did what and where they did it. These clues are gained based on die rolls. Eventually, players use those clues to determine the guilty culprit. If you choose correctly, you win. If not, you lose. Clue is a fun way to help your children hone their deductive reasoning skills.
TRIVIAL PURSUIT
This one is great for when your children get old, like when they come home from college. It may not be as easy to get them to agree to game night. But if you can, Trivial Pursuit is a great option.
OPERATION
While Operation may not technically be a board game, it is a great way have fun with your family. It can also be surprisingly fun for adults: try nudging your kids while they reach for the funny bone and give yourself a good laugh. Hey, you probably deserve it!
Now that you know our picks for fun games for family night, why not create your own? Find out how simple it is to create a customized board game by clicking below. Then choose your own design and get started!
● Official Shuffled Ink website: ShuffledInk
● Make Your Own Custom Playing Cards at: ShuffledInk
● Make Your Own Custom Card Games at: ShuffledInk