A loving true story from Grandma Margie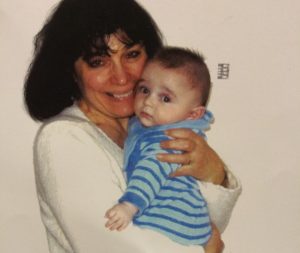 Hard work, multiple rejections, continual revisions, creative improvements, and his never-give-up will made my grandson's invention, "basketball brackets by M.M" a reality.
When my grandson mason was 11, his mother died and he endured such sorrow. I was blessed to be able to help take care of him, a kind, good-hearted child. One day he came home from school, I asked him the usual question, "how was school today?" However, on this day, he didn't give me the usual 12-year-old, "boring" response. Instead, he said that he made up a game and drew it in his notebook. After he showed it to me I took him to a craft store to help him buy supplies to make his game. We had fun making it and laughed a lot while playing it. It was music to my ears to hear him laugh!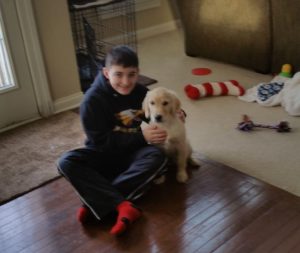 Then I encouraged him to go online and see if any game companies would be interested in manufacturing his game idea, but he received rejections. Two companies wouldn't even accept a game description without an agent. Next, we filled out an application to an invention company. Four years later, this company called and said that they just found the application and were interested. I asked Mason if he was interested. He said that he was older now and didn't want to send them his 12-year-old kid ideas, but would improve the game. He did. So, we connected with this invention company. MISTAKE! They took a lot of my teacher's retirement money but ended up stopping "procedures" unless I sent more money. We tried another invention company which took less money. I'd do anything for my grandson, but this company didn't seem like they'd really end up manufacturing the game either, and my savings were dwindling. They ended up rejecting the game, but one of the managers told me that he liked Mason's game so much that he'd share what the next step should be: to try to find a manufacturing company on our own and eliminate the middleman. We tried places in our home state of Ohio. No luck!
However, Mason wanted to continue! He never wanted to give up even though he faced more disappointments and more work. He just kept thinking up new ideas and new ways to make the game more fun. I was so proud of him! It was Covid times by now, and his school shut down. However, Mason used this difficult time to continue improving his game. Since it was Covid, I'd meet with him at an outdoor park near his house. There he designed a better game board, moving around cut-out paper squares and re-taping them onto a big piece of cardboard until they were just where he wanted them. Also, he wrote 70 game cards: 30 "Assist" cards and 30 "Turnover" cards, and 10 "Heal" cards all with basketball-themed wording. He designed a spinner for concessions and other items for his "Basketball Brackets" game.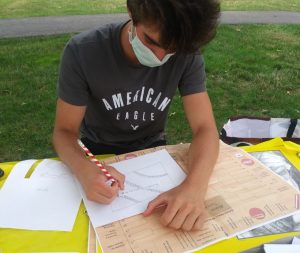 What happened next was Heaven sent! We found a game manufacturing company called, Shuffled Ink whose owner, Charles Levin, is an out-of-this-world kind, helpful, caring, honest, and interested man, who agreed to manufacture Mason's game! Can you even imagine my joy at realizing that my grandson's creativity and hard work would become a reality?! Charles Levin connected us with his graphic designer, Steve Sherin, who is a talented and also very caring man! He and Mason emailed many times to get the designs, box, game pieces, cards, spinner, directions, basketball and lever, and etc. just right and works of art. They emailed countless times for many months. Steve often complimented Mason on his creative ideas and even on his proofreading skills. (Meanwhile, to save attorney fees, I wrote 21 pages to receive a gov't patent pending for Mason's game.)
Throughout this time, another heart-touching thing happened. I was worried that my lapses in communication (due to cancer surgery and radiation treatments) would halt some of this game manufacturing process. So I informed them about my physical condition. Unbelievably, Charles didn't charge me for many months, and he and Steve kept checking on me, just for my health and not for business or fees. Charles even sent me uplifting emails with happy emojis showing such kindness, and that kindness and honesty throughout his dealings led to trust and encouraged me through my disease. I was so blessed! What business people care more about a person, a client they never even met, than the money payment they were entitled to receive? Charles and Steve cared! Even now, I'm crying as I'm writing this remembering how much their caring helped me during my bad days even during Covid when none of my 4 children were allowed to visit me in the hospital or afterward. I fought my cancer with extra determination especially because after all the sorrow that Mason had already gone through with his mother; I just had to be here for many more years for my creative, loving grandson. So every MRI, every CAT scan, every radiation treatment, every needle in my chest, or every staple shot into my breast was okay as long as that would help me recover for my grandson, and, of course, for my whole family. God is great, and I am doing very well.
Finally, 6 years after Mason first invented his game, it was completed at a company that Shuffled Ink works with across the ocean. One thousand games were put on a ship transported back to the United States, but another glitch! The ship was detained in a long line of ships on the west coast. In addition, the games were detained again by a trucking situation!
Then, another Charles Levin kind gesture! He paid for the transport of over 200 games to my house in Columbus, Ohio, and stored the rest in his shop, free of charge. His generous gestures during my medically and monetarily tough time, helped me not only with bills but also made me realize the goodness given to me through a stranger, a businessman, Charles. I was uplifted to recover! Most importantly, my grandson, Mason, (who is now a freshman majoring in business) has a business role model worthy of emulation. He sees, through Charles, an unselfish example that business is more than just making money, but can be about really helping people along the way!
Joyfully, on the EXACT date of Mason's 18th birthday after 6 years of trying, rejections, improvements, help from Charles and Steve, and a never-give-up will many games arrived. Approximately 250 games were sent to my home (which I stored under beds, in the basement, on top of cabinets, under tables, and in every room. My house is tastefully decorated in matching brown-box décor.) Shuffled Ink stored the remaining750 games. I asked Charles if he would attend the Game Show Convention in Columbus, Ohio, near my home. I even offered (tried to bribe him) to make him my homemade meatballs and lasagna if he would come to the convention to help sell Mason's games. Unfortunately, Covid postponed the convention, and Charles could not attend. (Not attending was probably a good thing for Charles because after tasting my authentic Italian cooking, he would have owed me, instead of my owing him for the work done. Ha ha ha)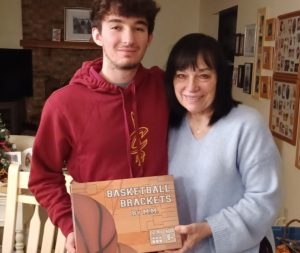 Mason and I have tried to sell games in Ohio. Family, friends, former coworkers, coaches, and others have purchased games. I've set up tables at bazaars and have been given wonderful feedback from buyers, several returning for multiple copies saying that the game is so much fun to play. "March Madness Meets Basketball Monopoly" is the phrase that one return buyer coined for Mason's game. Players compete to win their teams' brackets and also travel around the outer game squares earning and losing money which will be needed later for the Championship Game where players use their skills to shoot mini baskets.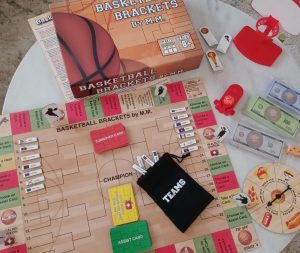 My heart smiles with pride that Mason often chooses to give a lot of the money from game sales to charities. He has given the money to World Central Kitchen to help with the refugees in Ukraine, a lot to St. Jude's Children's Cancer Hospital, to Special Olympics, and to Feeding America. Sometimes he gives ALL the money from sales that month, saying that they need it more than he does. There's a true joy in seeing my Gift-From-God-Grandson feel proud of his work and use it to help others.