While conversation-starter games are not new, Question Connection is unlike any other: It was created for kids by a kid.
Rising freshman at Harvard College and creator of Question Connection, Hannah Frazer, wonders how different middle school would have been if she'd had a safe way to meet and connect with her peers. And while she can't alter past experiences, she can do the next best thing: change the social narrative for everyone else.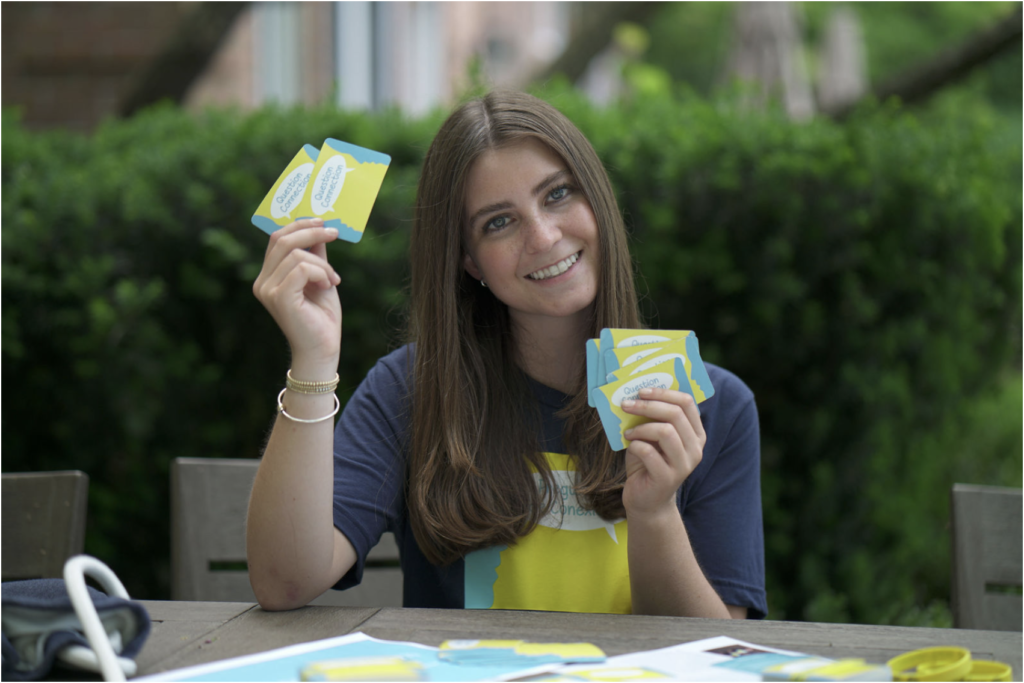 "I was the girl who loved to talk but needed a way to start the conversation." –Hannah Frazer, founder of Question Connection
This non-invasive, supportive style of facilitating conversation, helps promote inclusion, foster relationships and build genuine connections in the classroom.
Growing up in a diverse, bilingual community, Hannah and so many of her classmates were unsure how to expand beyond their inner circle. Deep-leveled conversations, and even facilitating a surface-based one, felt out of reach. So, Hannah decided to create a practical and fun game that would ultimately redefine the nature of connections.
In this exclusive Shuffled Ink Card Story, game designer Hannah Frazer shares how an independent study transformed into a tangible product that cultivates empathy worldwide.
From Independent Study to Tangible Solution
Young adults like Hannah, who have spent the better half of their lives navigating the world through a digital lens often feel more comfortable communicating via a screen than face-to-face.
Hannah says that the constant presence of technology and social media only complicated her social challenges. This is one of the reasons why she decided to tackle such issues through a year-long independent study project.
Headed by her AP Psychology teacher, Hannah, a junior at the time, worked alongside and learned from other teachers, students, graphic designers and Shuffled Ink manufacturing to bring this idea to fruition. After starting a GoFundMe page for the card game, she covered the cost of production for the first two groups of cards (English and Spanish).
Soon enough, Hannah was actively introducing the conversation-starter game into classrooms, national organizations and other programs.
"I am always incredibly proud to be able to share this game with students and other young people," Hannah said. "I love seeing the differences in kids' body language and facial expressions before and after they connect with their peers."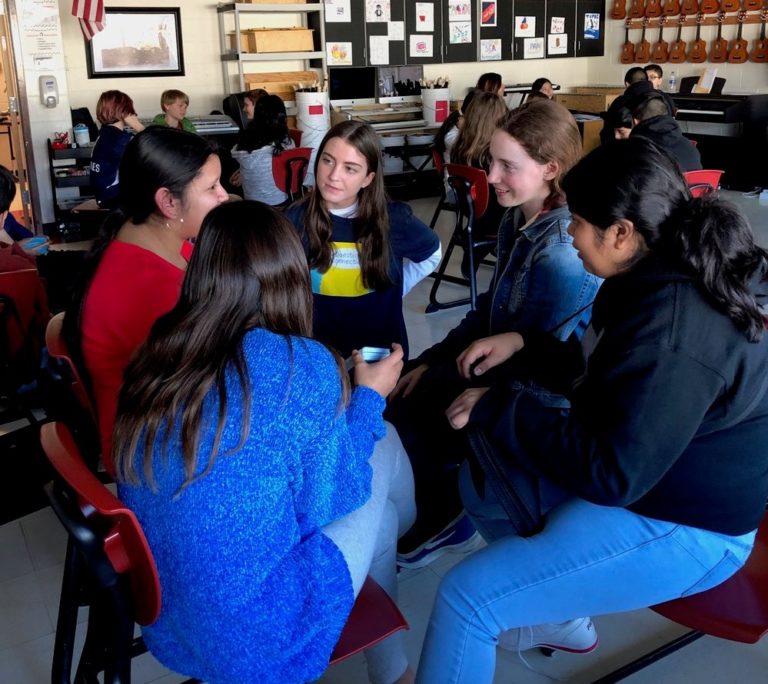 Hannah's Advice on How to Design a Card Game
Step 1: Developing a card game that tackles social challenges takes a lot of research, time and effort. So, be patient!
Step 2: Coming up with good ideas and gaining support is not a walk in the park. But that doesn't mean you should fold and give up. It will all be worth it when you see the positive impact that your card game provides.
Step 3: Play it forward, relax and have fun!
Play it Forward!
Hannah says that no one should ever be excluded from starting a conversation. This is why all deck proceeds go toward supplying Question Connection to under-resourced communities.
"In today's world, there has been a huge rise in hate crimes, antisemitism, racism," she said. "A conversation can make a world of difference when it comes to educating oneself about people from different backgrounds."
Become a Question Connection Student Ambassador
Question Connection strives to put an end to social divisions and you can, too! Send a message to questionconnectiongame.com if you or anyone you know is interested in getting involved!
Hannah Frazer's Question Connection has also been mentioned in:
25 Under 25 Young Entrepreneur's Magazine (p. 20)
If we manufactured your card project and you would like us to share your Card Story on our blog, feel free to connect with our Marketing Team here.