Networking can be difficult and, sometimes, very awkward. You don't want to be too forward, and you can't be too passive. Networking is a paradox. You have to thread the needle between arrogance and insecurity. 
How do you make a great first impression when networking? Easier said than done. You never have a second chance at a first impression. But don't worry, Shuffled Ink is here to make sure that the first impression is the right one.
WHY DO FIRST IMPRESSIONS MATTER?
You can't overestimate the importance of first impressions. People make snap judgments about you, judgments that are tough to change. But those who you've met are more likely to give you the benefit of the doubt if you start off strong with them. And, of course, it is always nice to have some goodwill "cash in the bank" so to speak for when you do, inevitably, make a mistake. This is true both personally and professionally. "A strong first impression," says Dorie Clark (the author of Reinventing You: Define Your Brand, Imagine Your Future) "gives you more latitude to be human."
STAND OUT FROM THE CROWD WITH BRANDED COLLATERAL
Everyone hands out business cards and pens. There's nothing new there. But, on the other hand, what about offering people something unique? Something they can actually use? We specialize in creating customized playing cards that can be made to include your company's logo and other information. Custom playing cards offer a creative alternative to boring old business cards which is sure to stand out in people's minds. Not only that but they also pay some serious dividends because every time anyone uses them they will think of you and your business.
DON'T BE LATE
This one is an oldie but a goodie. If you're meeting someone new, they probably aren't interested in hearing your excuse for being late, regardless of how good. Leave early and give yourself some wiggle room to account for traffic jams and other possible delays.
DO YOUR HOMEWORK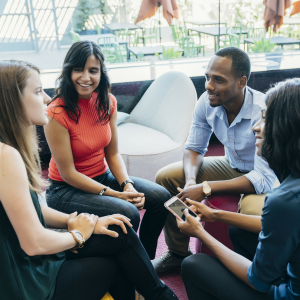 If you're meeting someone new, it is essential to do your homework. Know who you're meeting and what they care about. If you're going in for an interview, focus on demonstrating both your knowledge of the problem (i.e., the one you're being hired to fix) and how your particular skill set puts you in the perfect position to solve it. Two or three talking points are usually enough. Any more and you might dilute the conversation. No one is ever going to remember everything that you said so it is better to make a few major points rather than a number of minor ones. These talking points will vary, obviously depending on the situation but a good rule of thumb is to focus on your strategic planning abilities, your business-knowledge and your general grasp of the situation at hand.
FIND A COMMONALITY
Find something in common. It may feel a bit Machiavellian to research the interests of the person who you're going to be speaking to beforehand. But it isn't. Especially if you can find something – on Facebook, LinkedIn or elsewhere – that you both share. Authenticity here is key. You don't want to say "I love golf" only because you know your interviewer is a golfer. If they ask you about the specifics, you are likely to end up looking either silly or like a liar.
MASTER YOUR BODY LANGUAGE
If you're not usually a very confident person that's okay, there are some steps you can take to help yourself out and tamp down anxiety. Try, for example, the power of posing method to help calm yourself down before a big meeting. The key is to appear both confident and comfortable.
For more new and creative ways to network better and make a great first impression, hit the button below! 
● Official Shuffled Ink website: ShuffledInk
● Make Your Own Custom Playing Cards at: ShuffledInk
● Make Your Own Custom Card Games at: ShuffledInk