#SISustainableSummer
Join the stride toward eco-friendly solutions with #SISustainableSummer. Starting this month and through the week of Aug. 29, we are recognizing Shuffled Ink clients who choose eco-friendly materials for their card products.
Sustainable Summer Clients
June 2021 Feature
"We chose the 100% post-consumer box because incorporating sustainable materials in our product packaging was important to us, and especially in what we offer to our customer base. An incredible amount of resources go into packaging daily around the world; we wanted to reduce our impact as much as possible in material choices for our products" — Meo & Shannon
Eco Tuck Box
100% Post-Consumer Recycled Fibers White Tuck Box
About
Printed on high-quality paper to produce beautifully sound colors, this 65-card deck is compact with pure vibrant energy. Designed as a love oracle deck, each card carries divine and raw insight, getting straight to the point about love and romantic soulmate inquiries. This deck can be used as a stand-alone oracle or paired nicely as a clarifier deck with other tarot or oracle decks.
July 2021 Features
"Every choice that we make, big or small, is impactful. Choosing @shuffledink to produce my playing cards was already a more environmentally responsible choice. And taking the next step to implement a 100% post-consumer box to hold my cards together was an even easier decision that resulted in a beautifully finished product." –Shaun Wegscheid
Eco Tuck Box
100% Post-Consumer Recycled Fibers White Tuck Box
About
The majority of components for this project utilize greener alternatives. The entire card box and nearly all packaging material are made from recycled material and/or compostable.
This set includes 6 North American cryptids. Deck designer, Shaun W., put forth specific efforts to avoid a majority from any specific region of the continent. The 6 cryptids included in this playing card deck are Batsquatch, Bigfoot, Chupacabra, Flitterbick, Mothman and Fresno Nightcrawler. Each card suit has been shifted to represent a Cryptid. The shape takes notes from both the traditional playing card suit, as well as the cryptid. The red hearts and diamonds use a blue and purple color scheme, and the black clubs and spades use a blue and green color scheme.
"Launching a brand includes a multitude of decisions and working with a company that gave an option for more sustainable packaging was important. Choosing the 100% post-consumer box for my deck of cards was an easy decision, and partnering with @shuffledink gave me a beautiful product that I can also feel proud knowing was a more responsible choice for the environment." –Samantha March
Eco Tuck Box
100% Post-Consumer Recycled Fibers White Tuck Box
About
Helping you stay inspired, this deck displays a healthy habit on each card. The tuck box is printed on post-consumer recycled materials
August 2021 Features
"We were drawn to 'family owned and operated' and once we got down to business, @shuffledink exceeded our expectations in quality, professionalism and their ability to be competitive with their prices. While other companies made us feel like our product (@popquip) was a low priority and they weren't interested in working with our special requests (plastic-free packing) and printing the tuck box on recycled, post-consumer paper, Matt (CEO) and Lisa (VP of Sales) were happy and excited to work with us. They have earned another loyal customer by going above and beyond to make sure we were 100% completely satisfied with their work. We look forward to many more orders with them." –Adam Morley and Megan Robinson
Eco Tuck Box
100% Post-Consumer Recycled Fibers White Tuck Box
About
Locally produced to reduce the environmental impact associated with transportation, the Pop Quip! Game is printed on 100% post-consumer recycled fibers and packed without cellophane wrapping.
Game creators Adam Morley and Megan Robinson are a couple of pun-loving individuals striving to bring wordplay to life! FullIt's compact so you can play anywhere. It's great for road trips, game nights, airports, video chats and more!
"It is important to use ethical and sustainable practices with harvesting gems and minerals, and The Crystal Universe Deck gives people a chance to connect with the energy of crystals and minerals without having to over-consume." –Deanna Jacome & Grace Harrington Murdoch
Eco Tuck Box
100% Post-Consumer Recycled Fibers White Tuck Box
About
Creators Deanna Jacome and Grace Harrington Murdoch welcome you seamlessly into the natural world of crystals and stones with their Crystal Universe Deck. Its powerful healing components enhance our connection to nature, from the smallest pebble below to the massive planets above.
They chose the 100% post-consumer box for their cards because caring for the environment is important to them.  While creating the deck, they spent a lot of time connecting with nature.  The 40 fine art paintings were often done outside for each card and the writing for each oracle card was done in a very grounded and mindful way, carrying messages to connect with the natural world as often as possible.
September 2021 Feature
"I've always been drawn to the kraft style material on printed pieces because it comes across as more handcrafted and personal than most printed packaging. Especially since printing can be such a technical process, I wanted something that felt more human. When I was writing and designing my card deck, the words and visuals kept pointing towards our connection to nature and reconnecting with our innate, natural wellbeing as a result of this connection. The sustainable packaging option felt like the obvious choice." – Gabriel Gandzjuk
Eco Tuck Box
30% Post-Consumer Recycled Fibers Brown Eco Kraft Tuck Box
About
In October 2020, Shuffled Ink partnered with True Life Habitat creator Gabriel Gandzjuk to manufacture his eco-friendly True You Cards. We were extremely excited to dip our toe into sustainable packaging, as this was one of the first Eco Kraft projects that we produced for a client.
Along with the eco box, Gabriel also sent us complimentary sustainable packaging, including comPost packs & comPostable labels; both are available for purchase here.
Quiet your cluttered mind with a daily moment of pause and insight in this beautifully designed card deck. True You Cards were designed to see that mental wellness is closer within our reach than we think. Disconnect from your device and reconnect with the True You.
Shuffled Ink's Sustainable Summer Decks
We are also thrilled to launch the Sustainable Summer Deck collection, inspired by our beautiful planet and made with components of post-consumer recycled fibers.
Earth Day, Every Day Playing Cards (Eco Kraft Tuck Box)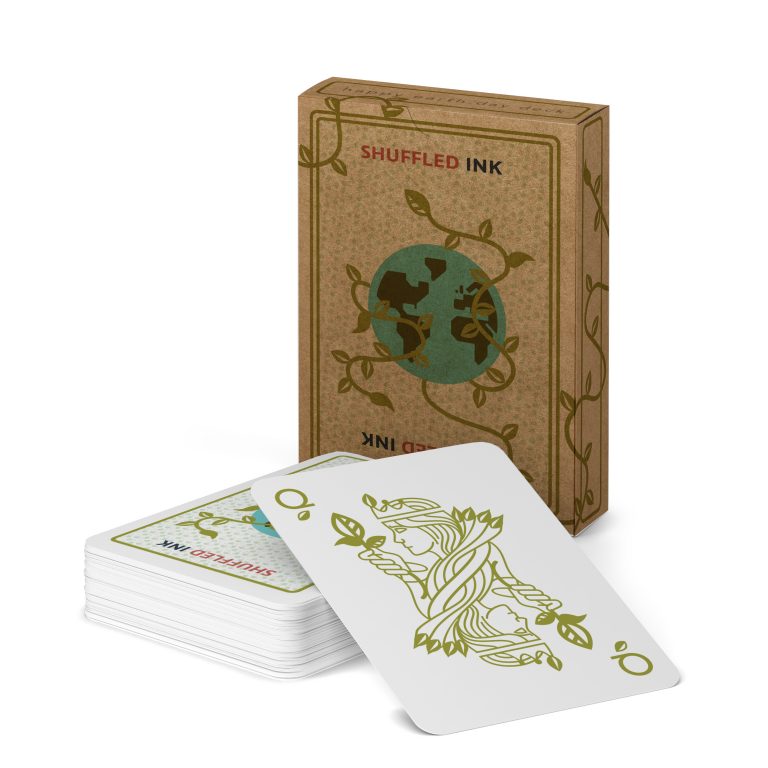 Earth Day, Every Day Playing Cards (Post-Consumer White Tuck Box)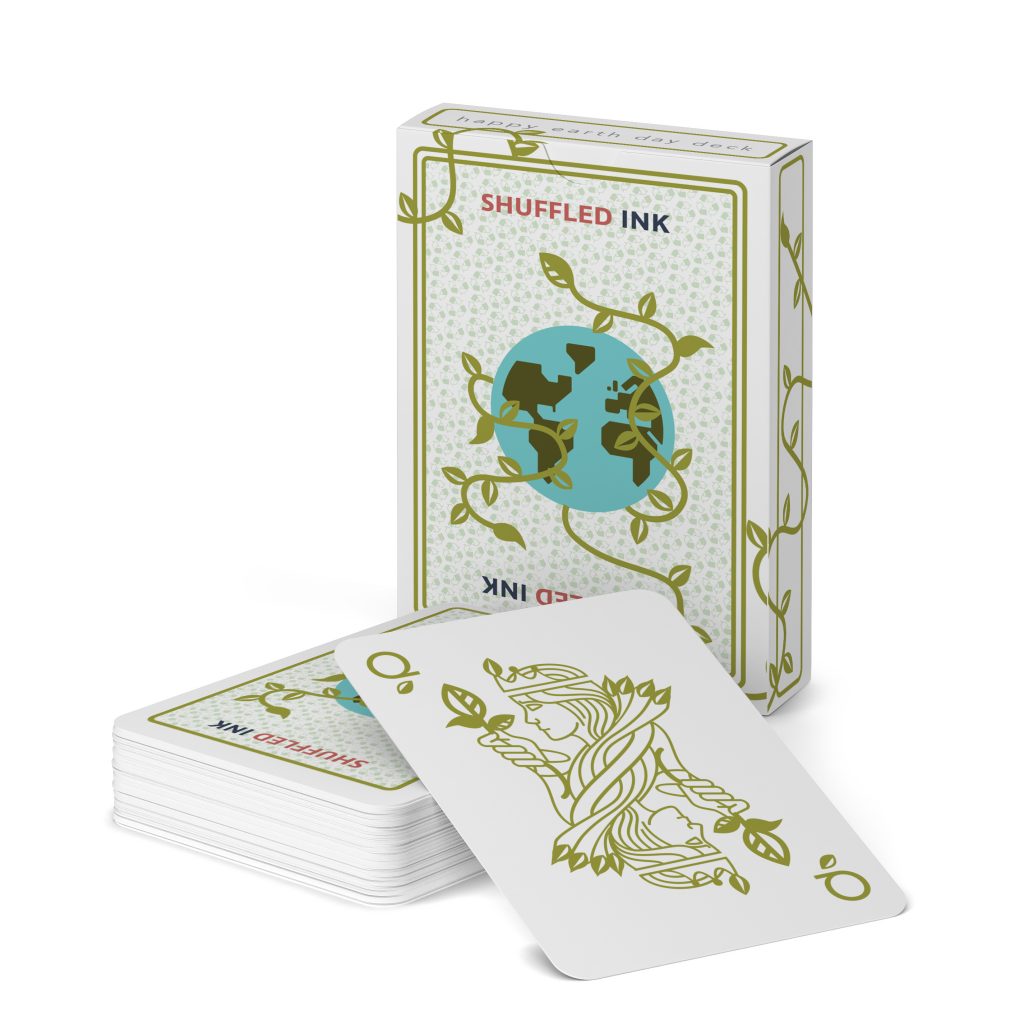 Eco Oracle Deck (Eco Kraft Tuck Box & Paper)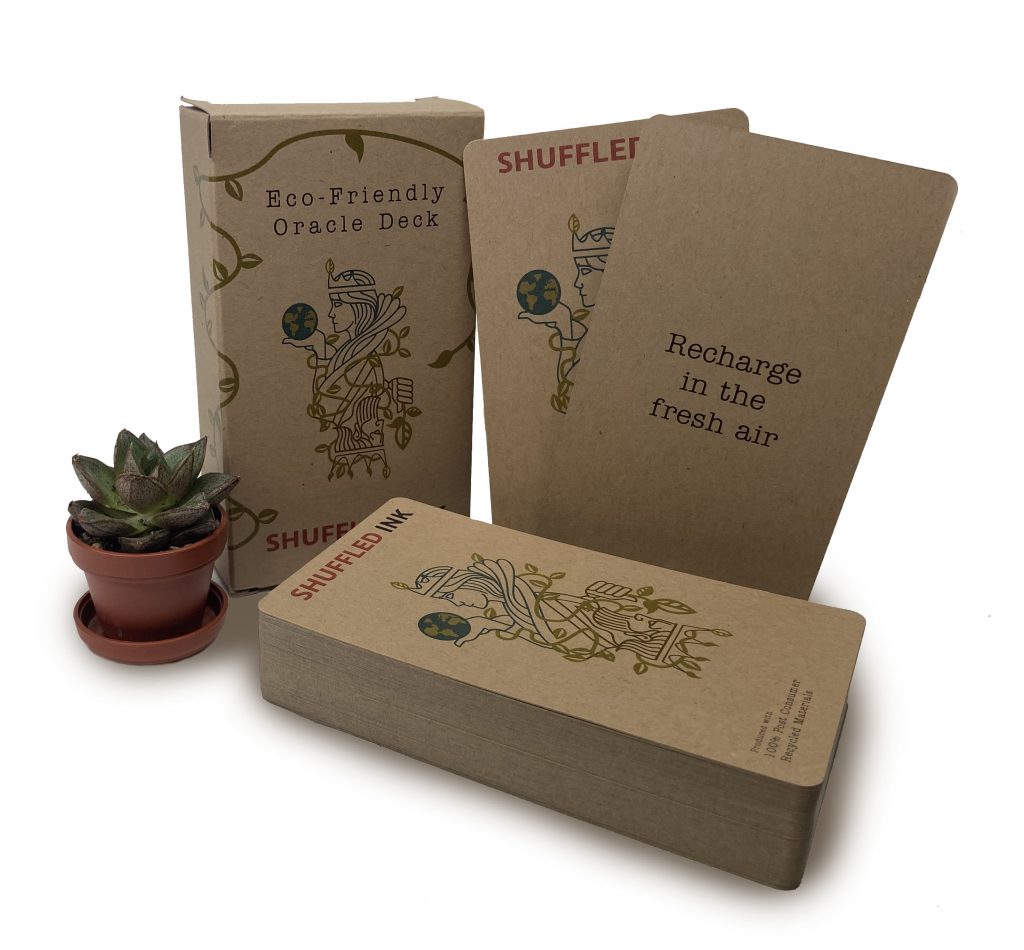 Eco Oracle Deck (Post-Consumer White Tuck Box)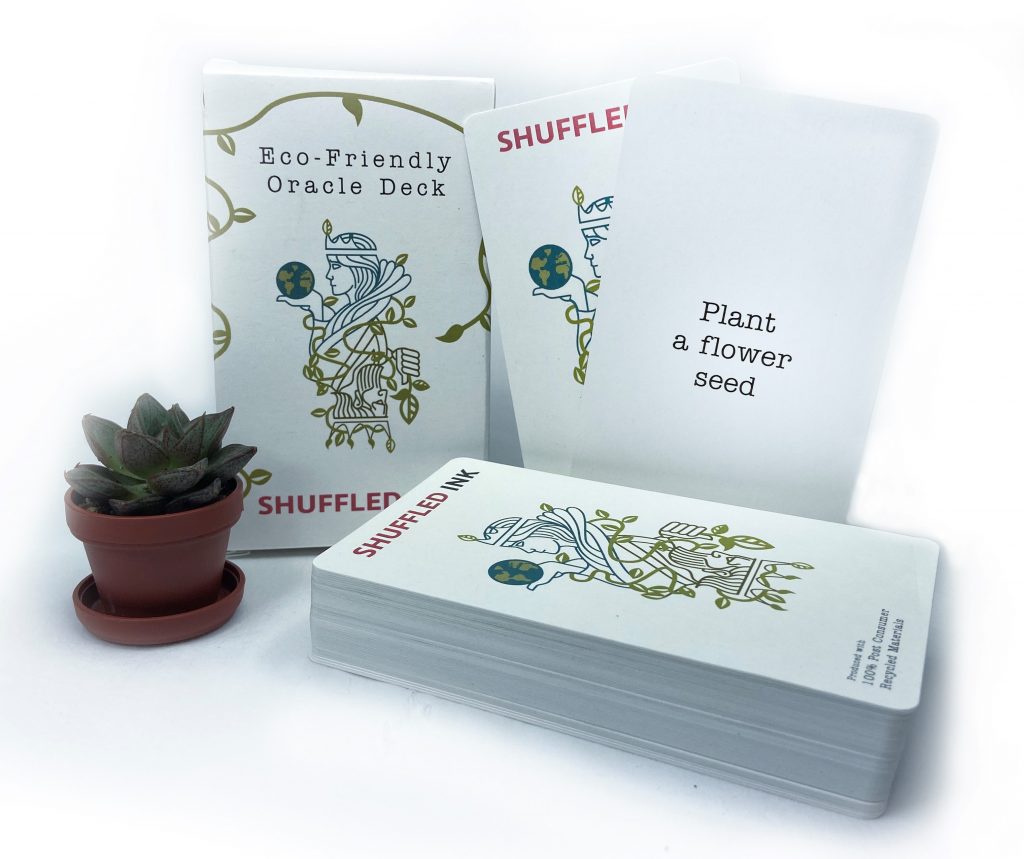 Make Your Next Project Eco-Friendly
Request complimentary samples of our eco-friendly products to touch and feel the quality for yourself.
Here are a couple of eco options that we offer:
30% Post-Consumer Recycled Fibers Eco Kraft Tuck Box
100% Post-Consumer Recycled Fibers White Tuck Box