tarot card reading routine!
1. The 6s
This spread revolves around the number six. 6 cards, questions and rows (1 column). A number, title and open-ended question is assigned to each card.
The Tarot Spread:
(1) Monster Mash: How do you interact with others during social settings? (2) The Seer: What magic (passions) do you tap into daily? (3) Pumpkin Patch: How do you feel about the choices you have made? (4) Costume: When do you resort to putting on a façade? (5) To the Bone: Are you in-touch with your mind, body and soul? (6) Kindled Spirit: What is your relationship with love like (whether romantic or platonic)?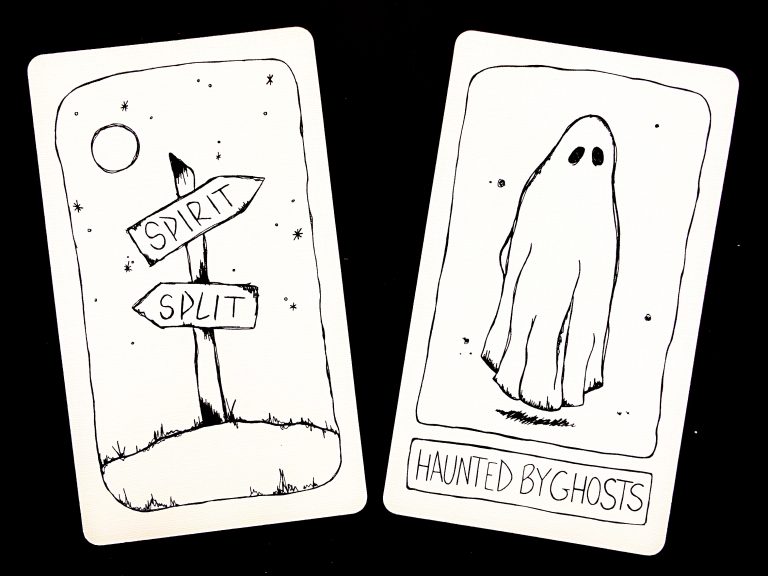 2. Hallow v. Hollow
In this spread, determine whether the presented statement is hallow or hollow to you. The Major Arcana, which consists of 22 cards, is suggested.

Hallow: to respect greatly

Hollow: without significance

It's up to you whether to use these exact statements or pose your own. Remember, there is no right or wrong answer, as the Hallow v. Hollow spread is designed to discover who you are.
The Tarot Spread:
(0) The Fool: Explore new paths. (1) The Magician: If the opportunity is presented, strive toward the aspiration(s). (2) The High Priestess: Listen to your instincts. (3) The Empress: Build a family of your own (if you do not have children). Fulfill your nurturing side (if you do have children). (4) The Emperor: Cut yourself slack when in pain mentally or physically. (5) The Hierophant: Commitment to your partner. (6) The Lovers: Use integrity to follow-through with decisions, regardless of difficulty. (7) The Chariot: Positive relationships with work colleagues and employer(s). (8) Strength: Prevail during dark moments and return stronger. (9) The Hermit: Ensure time alone without completely withdrawing. (10) Wheel of Fortune: Respect and kindness toward those around you (strangers, employees, employer, peers, family, friends, etc.). (11) Justice: Learn from your trials and tribulations. (12) The Hanged Man: Seek change when unhappy. (13) Death: Allow yourself to mourn the loss of a loved one, a dream, a friendship/relationship (14) Temperance: Pursue tranquility through breathing exercises, yoga, sleep, etc. (15) The Devil: Weigh all options even when overwhelmed with making decisions. (16) The Tower: Help others around you when an unprecedented event occurs. (17) The Star: Allow past negativity to follow once you've turned over a new leaf. (18) The Moon: Once you wake up, write down the dreams you just had. (19) The Sun: Read or learn about enlightenment so it can be fully sought. (20) Judgement: How others perceive you, whether accurate or not. (21) The World: Share your experiences and hardships with others to raise awareness. Arrange the cards to your liking.
3. Full Moon Scorpio
If you research the Full Moon Scorpio, you'll find that many interpret the spread differently. But this isn't to say that one spread is more accurate than the other. Ultimately, with any spread, it is up to you to decide how many cards to use and what questions will be prompted. We've chosen this spread for a couple of reasons. First, on Oct. 31, 2020, it is predicted that a full moon will illuminate the night sky…and second, the astrological sign, Scorpio (Oct. 23 to Nov. 21) coincides with Halloween. You can use this spread directly, as a guide or disregard it completely. According to astrologers, the Earth's gravitational pull, which influences many components in our world, is responsible for your personality, or zodiac sign. So, it is unsurprising that many people believe that a Full Moon can alter your behavior, mood and disposition. To provide some Scorpio-sign insight, the attributes include being curious without limits, trustworthy, devoted, persistent and strategic.
The Tarot Spread:
8 Cards to recognize Scorpio as the eighth astrological sign
5 Questions / Reflections to represent the number of attributes listed

How are you balancing various parts of your life?
What are your career goals?
Do you feel a difference in your mood as the full moon approaches this year?
Where do you stand with family members?
Reflect on your openness toward others.

Layout: 2 rows, 4 columns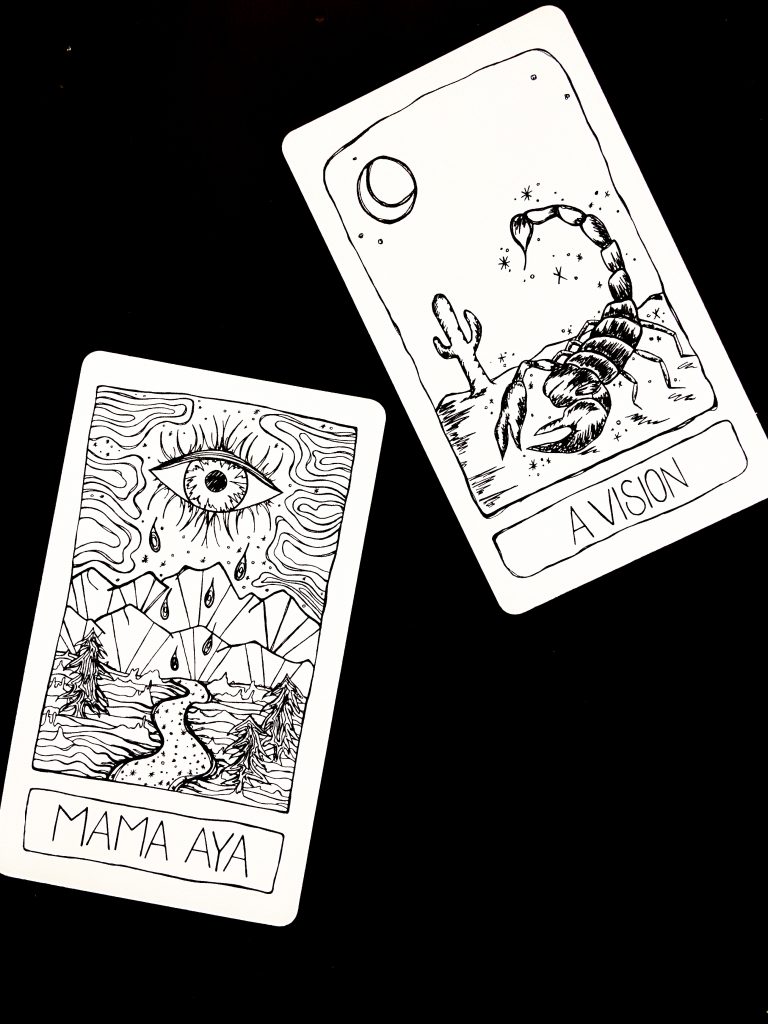 Design the Cards and Spread
Whether the spread you use is original or taken from our suggestions, consider sharing your insight and knowledge with a custom-designed tarot deck. The options are unlimited: Choose and create your own personal designs, card size, number of cards, instructions, booklets or any custom-printed accessories and packaging. Print artwork that caters to the spooky holiday or any style. To spark some creativity, here are some tarot and oracle cards created by our awesome clients.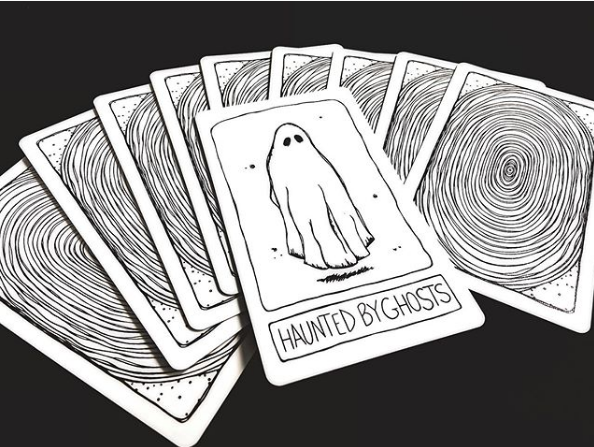 Oracle Cards by Everyday Magic
Featured deck: Clipart Tarot. Custom-designed packaging and cards.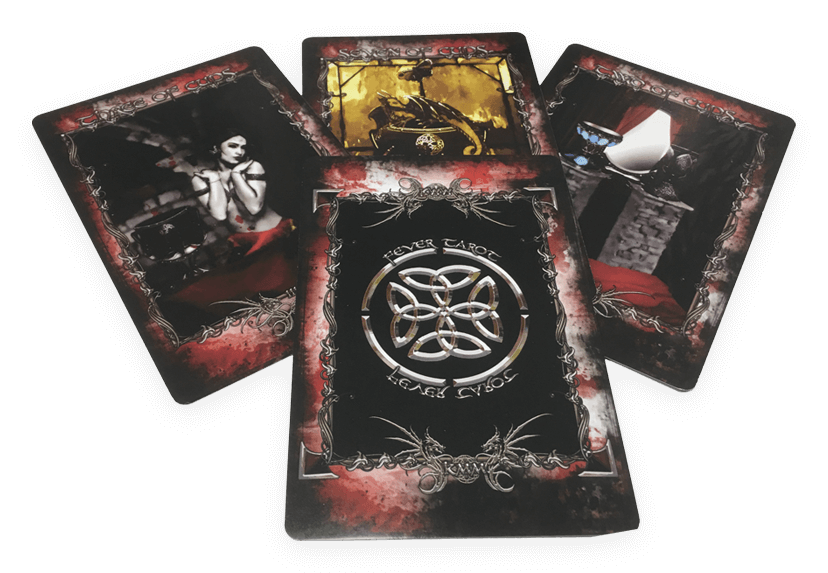 The Fever Tarot Deck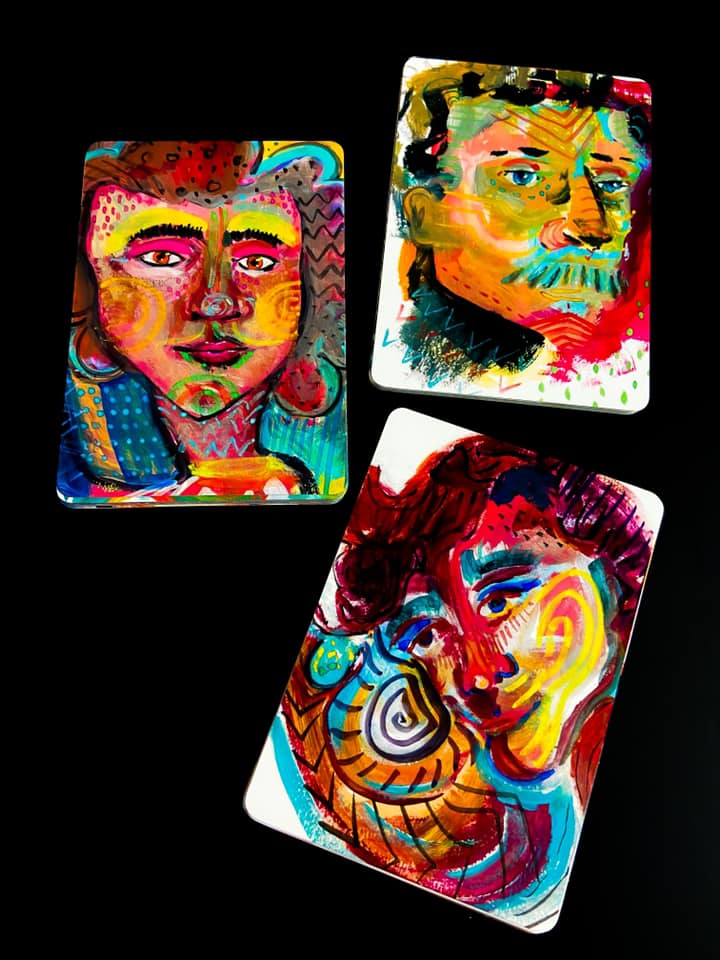 This deck illustrates a collection of individuals including The Nurturer, The Scientist & The Maker

Shuffled Ink specializes in printing customized playing cards and games as well as tarot & flash cards for business, personal, promotional, advertising, and/or marketing purposes. ● Official Shuffled Ink website: ShuffledInk ● Make Your Own Custom Tarot Cards at: ShuffledInk