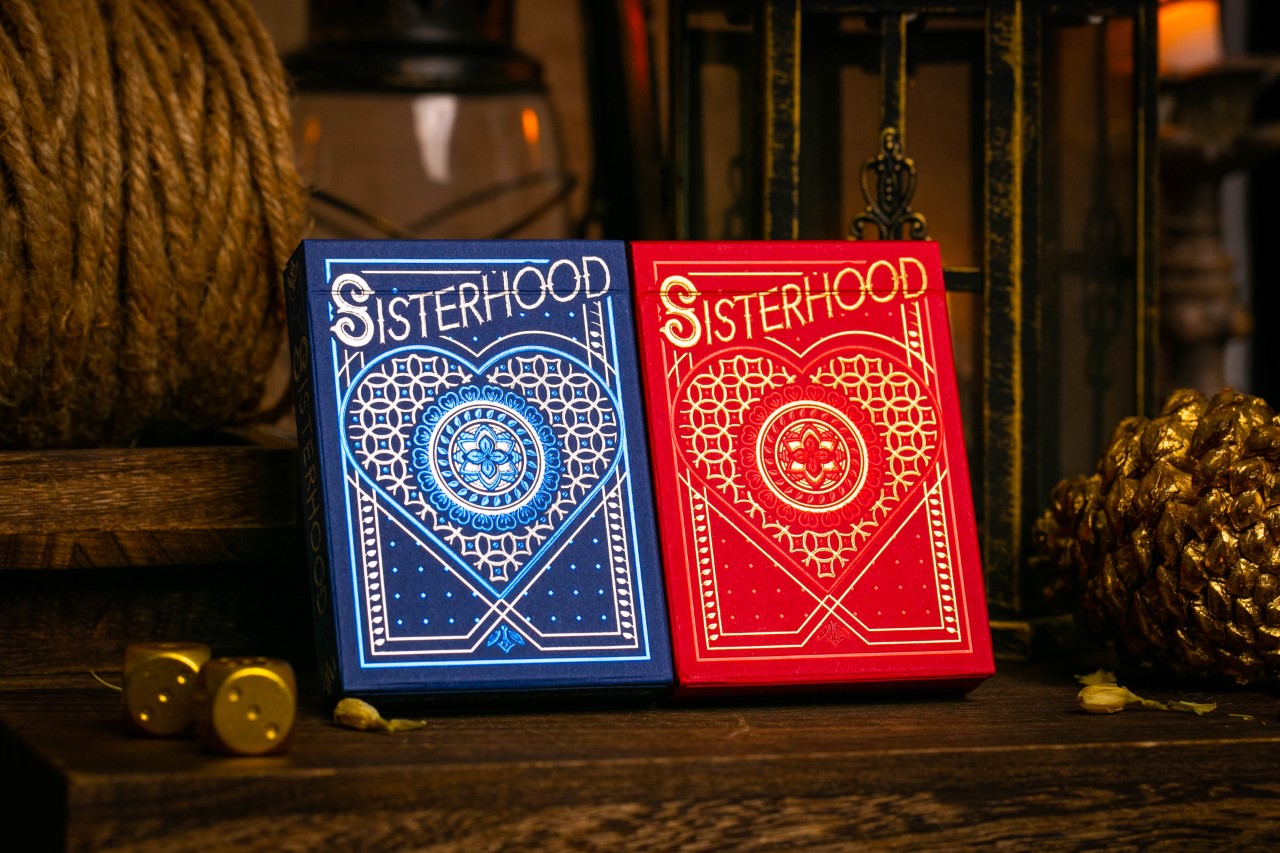 Created by professional magicians who believe the magic industry is a microcosm of the world, Sisterhood Playing Card Company uses custom-designed decks of cards to start essential conversations about issues impacting women.
Are you wondering why you've never heard of them before? Don't worry; you haven't missed anything!
Who Is Sisterhood Playing Card Company?
For a couple of years, you've known me as Rosemary Reid, the Real Deal writer, and professional magician. Now, I am writing to you as the new kid on the custom playing card block. And after watching, listening, and studying, I've come prepared to throw an incredible block party. So get ready to scream, shout, and let it all out; nothing like this has ever been done.
It All Started With A Survey
After twenty years in showbiz, the number one question people STILL ask me is, 'Why aren't there more women magicians?!' With hopes of providing a final answer to this burning question, I even created this in-depth piece of work several years ago. Yet, years later, the query remains. To dig deeper, my team and I compiled a list of every person who identifies as a woman magician we could find on Google. Every. Single. One. Before reading on, please venture a guess in your mind as to how many you believe we found.
Have you thought of a number? Good.
What is your reaction knowing that after scouring the internet for several months, our list included 561 women magicians?
Knowing more about where we are seems like the best way to plan a brighter future. So we compiled a survey full of poignant questions across various topics related to the magic industry. Of 561 people, 230 agreed to participate in our groundbreaking survey. Believe it or not, that makes this the largest survey ever conducted in all of magic. Amazing!
After receiving all the responses, we contacted the Senior Insight Manager of the world's leading broadcast news organization for her expert analysis. And while the numbers confirm many positive experiences, they also lay bare some harsh realities that women magicians – and women as a group in general – face.
Though the findings from our survey could easily fill an entire magazine, I take pride in knowing my audience. Perhaps you're wondering, 'What does a survey have to do with a deck of cards?'
Playing Cards As A Vehicle of Information
Once our groundbreaking survey responses were transformed into digestible statistics, sharing this information with everyone was the next step. Magicians must first talk about the culture of our industry to begin creating something different, like a more welcoming space for women to exist. What better way to reach magicians than with playing cards?
Our inaugural SISTERHOOD Deck advertises and promotes the groundbreaking and essential Sisterhood Survey results. Each deck comes with a detailed printed guide that explains all the art choices and shares many statistics we uncovered. Including several new takes on old traditions, this deck promises to spark change throughout both the magic and playing card industries. We use decks of cards as vehicles to empower, support, and educate people worldwide. All of this makes Sisterhood Playing Cards the Real Deal, if I say so myself.
Some of the statistics shared at the Sisterhood Salon held on June 29th, 2022.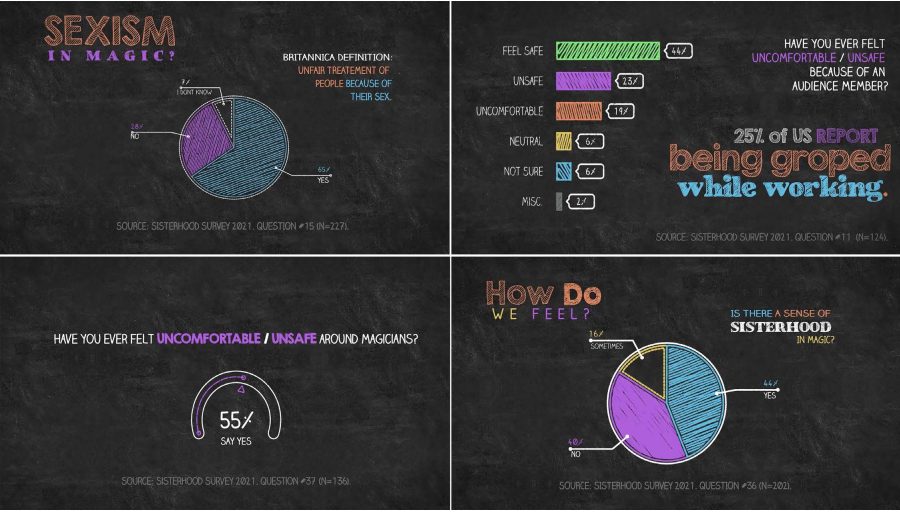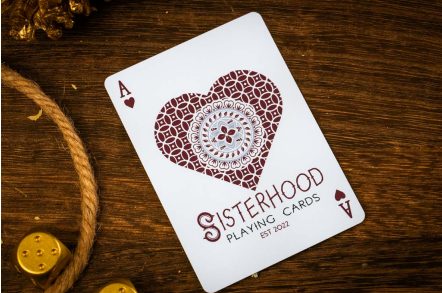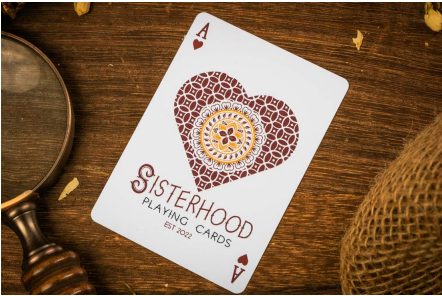 The Blue/Silver and Red/Gold designer Ace of hearts. The two colourways get incorporated throughout the accents on all of the
cards, not only the tuck box and the backs.
The SISTERHOOD Deck
Like a luxury car, our inaugural SISTERHOOD Deck makes a strong statement. Specially designed court cards, a unique designer ace, and diptych jokers are all printed on premium crushed paper stock. Even the most seasoned card collectors will want to take this deck for a spin. An all-new back design and customcreated pips and indices make this an entirely original piece of work—these unique components working together harness transformative power.
Imagine An Automatic Conversation Starter
The discussion begins when the tuck box comes out. It's flashy enough to get people talking. Inquiring minds want to know, 'What's that you're holding? It's beautiful!'
Famed Canadian illustrator Brendan Hong (Hive 1 & 2, Dynasty Playing Cards, etc.) outdid himself with this inside and outside the printed box. Complete with hot-foiling and embossing, the tuck box glints and glimmers with every tilt. So satisfying! Plus, these decks got designed in two colourways, red/gold and blue/silver.
Once the cards come out of the box, you'll also appreciate Hong's work on the back design. Combining antique, vintage, and modern graphic elements, it's broadly appealing to collectors. The colourways don't stop at the box and backs. All accents are adjusted to match silver or gold. We've placed our maker's mark on the Ace of Hearts. The heart symbol better represents the Sisterhood PCC brand. Considering the millions of designer aces of spades in circulation, perhaps this is a refreshing change? I look forward to seeing the creative uses my fellow magi may find for both a designer Ace of Hearts and a plain Ace of Spades. My research tells me this is only the third time in history (excluding a few modern decks) the Ace of Hearts serves as the official designer ace. I've discovered two others; one on a Piatnik & Söhne deck and the other on an Argentinian import from the New York Consolidated Card Company (NYCCC). If any readers have more/ different information, please send it to Rosemary@ RosemaryReid.com.
The tuck box, back design, and designer ace each contribute to making this deck a conversation piece. Once the dialogue shifts to the unique court cards, our opportunity to create change becomes real.
Essential Court Cards
Conceptualized by yours truly, and brought to life by acclaimed Canadian artist Kaitlynn Copithorne, our twelve custom-created court cards are the engine behind this deck. All twelve portray images of women. These kinds of illustrations have NEVER been seen on playing cards before! Considering how many playing cards exist worldwide, the lack of accurate female representation is astounding.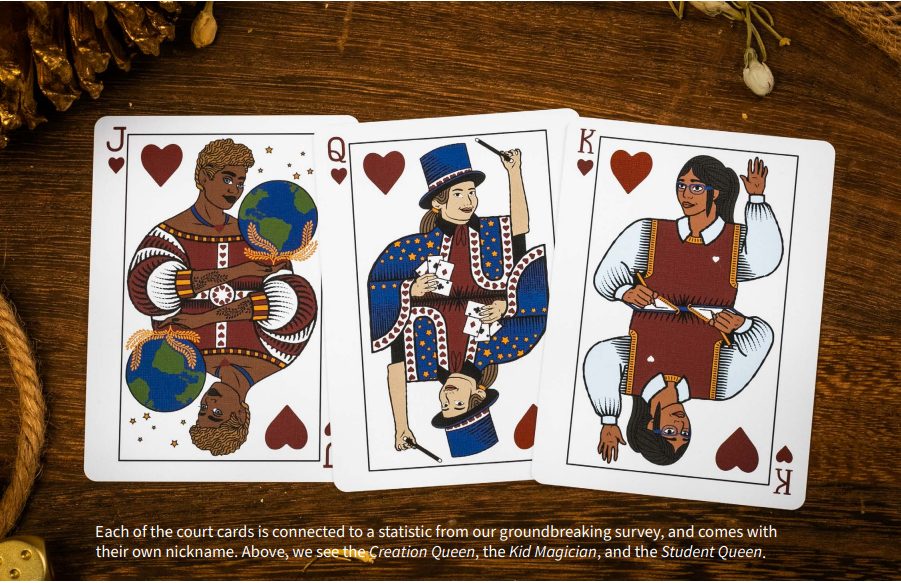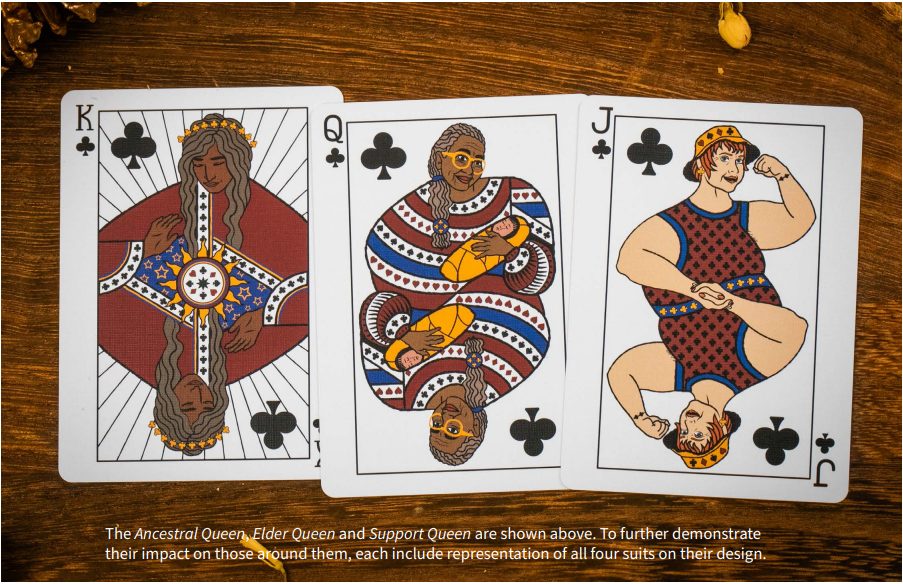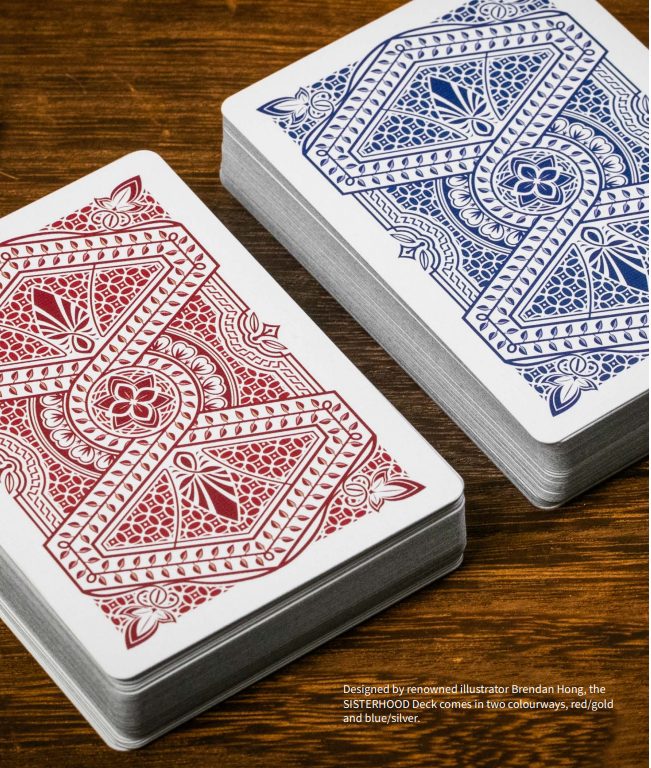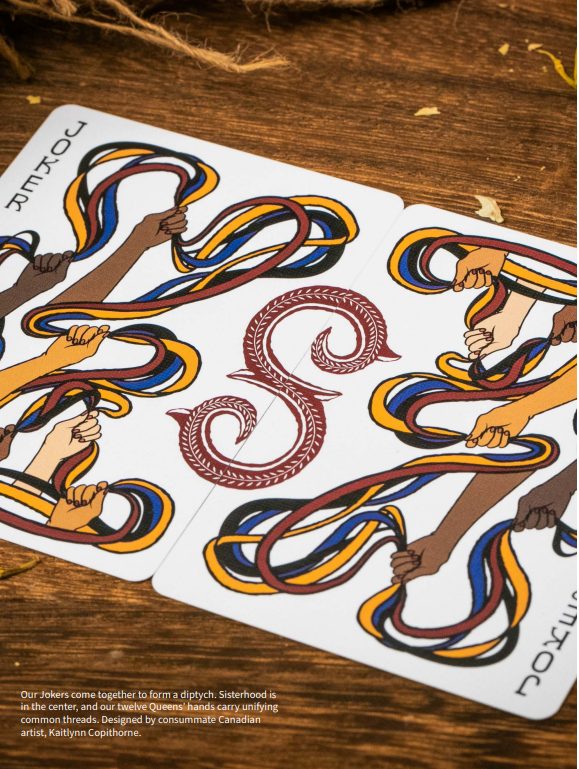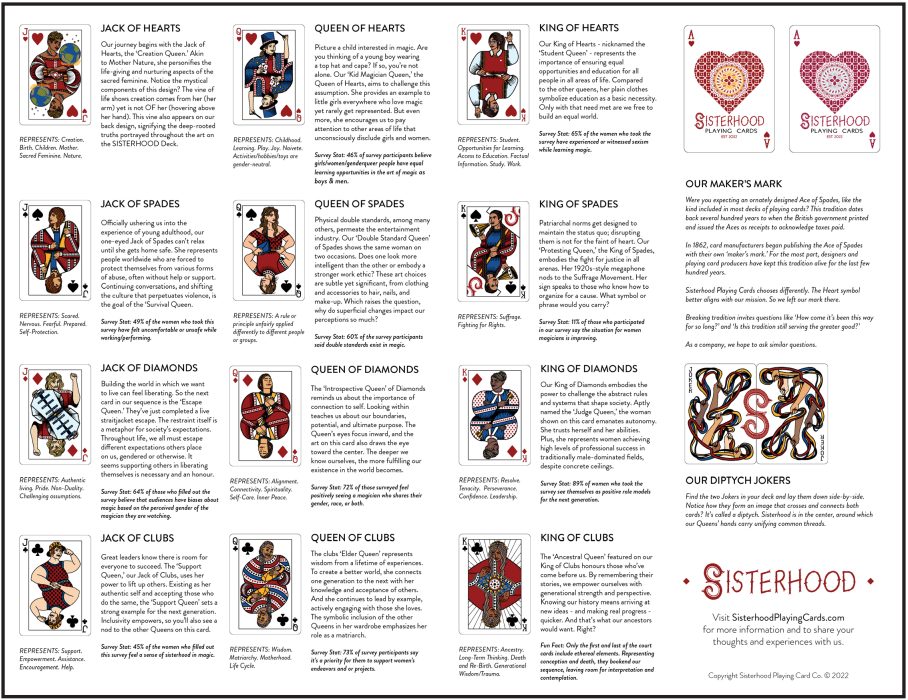 One side of the printed guide that comes with each SISTERHOOD Deck. It folds down to the actual size of a deck of playing cards.
Importantly, each court card connects to a statistic from our survey, reflecting the 230 magicians who participated.
Though we have just twelve opportunities, we attempt to portray a wide array of female experiences. Our Queens range in age, size, and colour. When viewed sequentially, Hearts to Spades, Spades to Diamonds, and ending with Clubs, the depiction of an archetypal journey through life emerges.
Each court has been given a nickname. Our 'Kid Magician Queen' of Hearts, 'Double Standard Queen' of Spades, and 'Elder Queen' of Clubs, seem to be three crowd favourites. Yet, every card is worth studying. At a glance, you might miss the details on our 'Survival Queen', the Jack of Spades. Look at how she holds her keys. It's a subtle detail many women recognize and understand. Do you?
Are you wondering if you can still play games and perform magic with this unique deck? The answer is YES! We maintain the J, Q, and K indices so that you can use this deck for all card games and magic performances.
Baby's First Kickstarter Campaign
After nearly two years in the making, the SISTERHOOD Deck Kickstarter launches within the next 60 days.
Discovering first-hand the number of steps and work involved in putting together a (hopefully) successful campaign has been humbling. It takes incredible effort and energy, from scripting and shooting a promo video, to writing copy, to getting names added to the pre-launch page. Launching a Kickstarter campaign, like performing magic, is not as simple as it appears.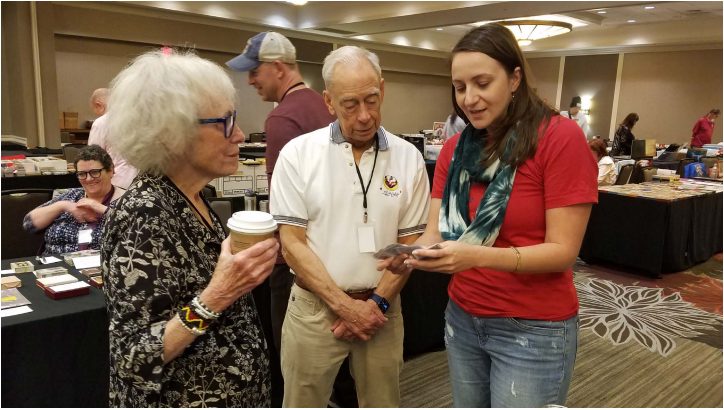 By the time this article goes to press, I'll be fully immersed in 'Deck Tour' life. Magicians and collectors are the target audience for this campaign, yet we believe many outside of those circles will be interested in the subject material and the beautiful artwork. Please contact me if you want to include the SISTERHOOD Deck on your podcast or blog! View the SISTERHOOD Kickstarter campaign here.
What's Next for Sisterhood Playing Card Company?
As time passes and Ontario's incredibly long Covid-19 shutdowns ease, live performances are back on the books. And I'm grateful. Creative work that also produces an income is essential when you work in the arts full-time. So far, the SISTERHOOD Deck has been a labour of love. I believe in our mission, message, and power in a deck of playing cards. Yet, there's no way to know what the free market will say.
If all goes according to plan, this initial deck will be the first of many. I'm already dreaming of all the NEW mistakes I can make next time. LOL! I'm also thinking of all the time and energy saved when producing future decks, thanks to the numerous hard lessons learned this time.
As a company, we look forward to bringing impactful, educational, and inspirational messages to life using playing cards as vehicles to communicate essential truths with people around the world. For now, all my focus is on the Deck Tour.
I owe many thanks to the intelligent and candid women featured in the Real Deal column. They've graciously offered great advice, tricks, and tips for creating and launching a deck of playing cards. Likewise, without my trusted advisors, Kevin Yu of Riffle Shuffle and El Presidente Lee Asher, this project would not exist without them. Thank you.
If you have a moment, please add your name to the
'Notify Me on Launch' list at this link. 
We are Sisterhood Playing Cards, and we are the Real Deal.