Pair this holiday season with a festive-themed card game for every family member to enjoy. There will surely be no shortage of laughter and joy when you lay these cards on the table, especially because you can tailor the game to suit your family's style.
Custom Game Ideas:
1. Holiday Trivia
Trivia games have reigned in popularity for decades. During TV shows like Jeopardy (1964 – present), we act as a contestant, mustering as much vivacious, competitive energy as we can. We feel the stakes of losing and the triumphs of winning, even while sitting on our living room couch, miles and miles away from the actual set.
These games allow us to test our knowledge on any and all facts, both outlandish and common. This is why these games are so appealing. We like to show off our intelligence when confident of an answer, but we also find the thrill in demonstrating our process-of-elimination abilities if uncertain.
With Shuffled Ink, every ounce of your game is customizable, from the questions and answers to the card design and size. Whether you have every single detail sorted out from start-to-finish or aren't quite sure what you want to create, the SI team is with you every step of the way. Our project managers and graphic designers are readily available to assist you on the phone or through email.
Example:
[Insert Your Holiday] Trivia Questions: Create questions that pertain to your holiday of choice (Thanksgiving, Christmas, Hanukkah, Kwanza, New Year's). It's important to know your audience, so if you're printing decks for your family, then list questions that are personal to them. (Example: Where did we go on vacation during Dec. 2017?) Now, if you're trying to sell the game to the public, then come up with a theme such as questions about the history of Hanukkah.
2. Objective Games
Your game should always have a clear objective whether it's trivia- or reindeer- themed. This example is actually from a client of ours who based their card game off of the novel, Hershel the Jewish Reindeer.
During this game, Hindu Elves, Jewish Reindeer and Muslim Gnomes all work together to help deliver all the Christmas presents. This is family-friendly game is available for purchase on Amazon.
The Setup:
In the same way reindeer pull a sleigh, you will arrange your cards: place six cards face-down and put them side-by-side. To begin, all players must look at their bottom two cards and memorize them.
The Purpose:
The numerical values on the cards symbolize the amount of gifts each character carries. The score is determined by adding up the value of all cards in front of you.
Point Values:
Cards are worth their face value with the following exceptions:
King / Santa Clause = 0 points
Joker / Tooth Fairy = -1 point
Ace / Hershel the Jewish Reindeer = 1 point
(take photos of the deck)
3. All Hands On Deck
For those who aren't the biggest fans of single-player games, then here's a better choice for you!
Like all things, there are upsides and downsides to this gaming experience. Your teammates are working toward a common goal (and in this case, eternal glory, of course). So, it'll either bring you all closer together or tear you apart. Really, it depends on the different types of players you're dealing with and whether you're winning or losing.
PicxMAS
Picture this for Christmas: similar to the popular game Pictionary but with added festivities. All you need are holiday-related words written or printed onto flash cards. You can even include an hourglass timer, a personalized notepad to keep score and any other accessories you think will work well (dice, spinners, game tokens, etc.). This team game is extremely fun but can be quite frustrating if your teammates aren't the best at drawing or guessing. The main tip I can provide is to choose your mates wisely.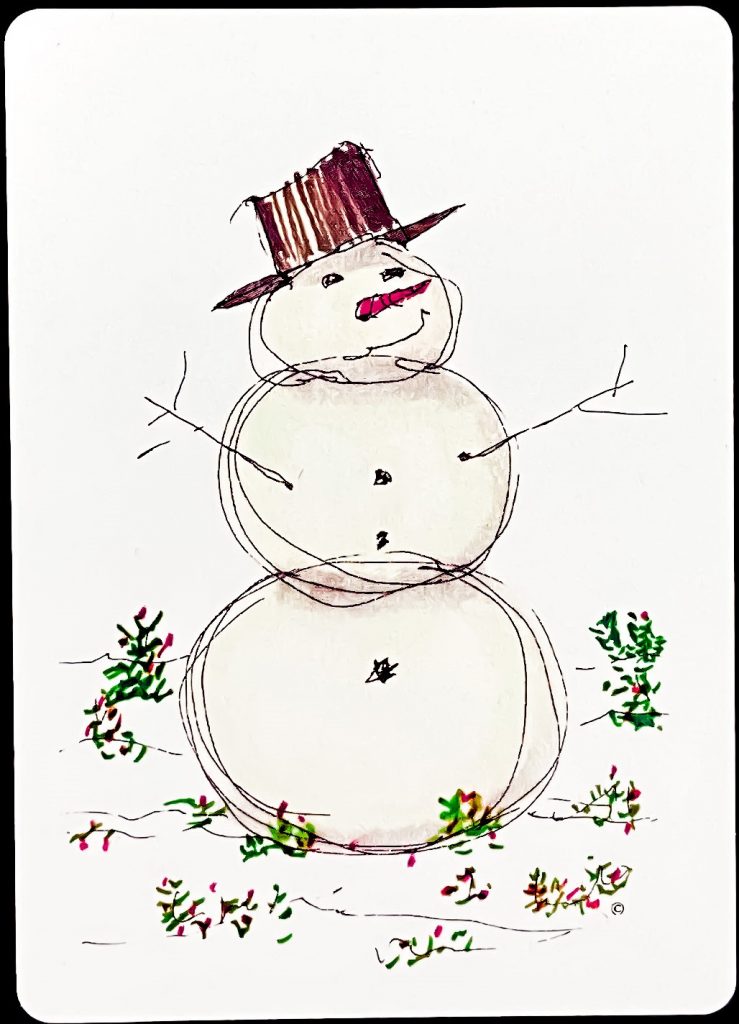 5. Holiday Mystery Game
Surrounding the central question, "Who done it?" there are lots of options for holiday mystery card games. But remember your audience. If there are kids playing, then you may want to create a light-hearted game. Here are a few examples to spark some ideas:
The Case of the Missing Reindeer
Murder Mystery Party-Type Game (Insert the slayed holiday character of choice)
 
6. DIY
Of course, there's always the option to start from scratch and design your own card game with a customized objective and set of rules. In one of our previous holiday articles, we suggested that instead of using utensils in the rapid-paced card game Spoons, go with candy canes for a festive and delicious feel.
Our DIY style products allow clients to put forth original ideas to create games that have never been seen before. If there's a card game that you really want to play and think others will enjoy, but it doesn't exist yet, then you must create it. That's how anything and everything in this world comes to fruition. Games found in nearly every household are UNO and Monopoly, were once simple ideas that turned into classics.