Shuffled Ink had the pleasure of interviewing John August to help encourage others who are thinking about starting a Kickstarter. There are many aspiring entrepreneurs who are thinking of crowdfunding their projects but may feel they lack certain resources. This blog is the perfect article to help those individuals gain more perspective on how to properly prepare themselves for a very intimidating platform. Keep reading to find out how John August was able to launch his own successful Kickstarter.
1. Tell us about yourself and how you arrived at where you are today.
I'm a screenwriter and novelist. I'm lucky to have had twelve movies produced, from GO to BIG FISH to ALADDIN, along with three novels (the ARLO FINCH trilogy). I also host a popular weekly podcast about film and television called Scriptnotes.
On the side, I run a small company that makes software and other things for writers, including the screenwriting app Highland and Writer Emergency Pack.
2. What inspired you to take action on creating the Writer Emergency Pack XL?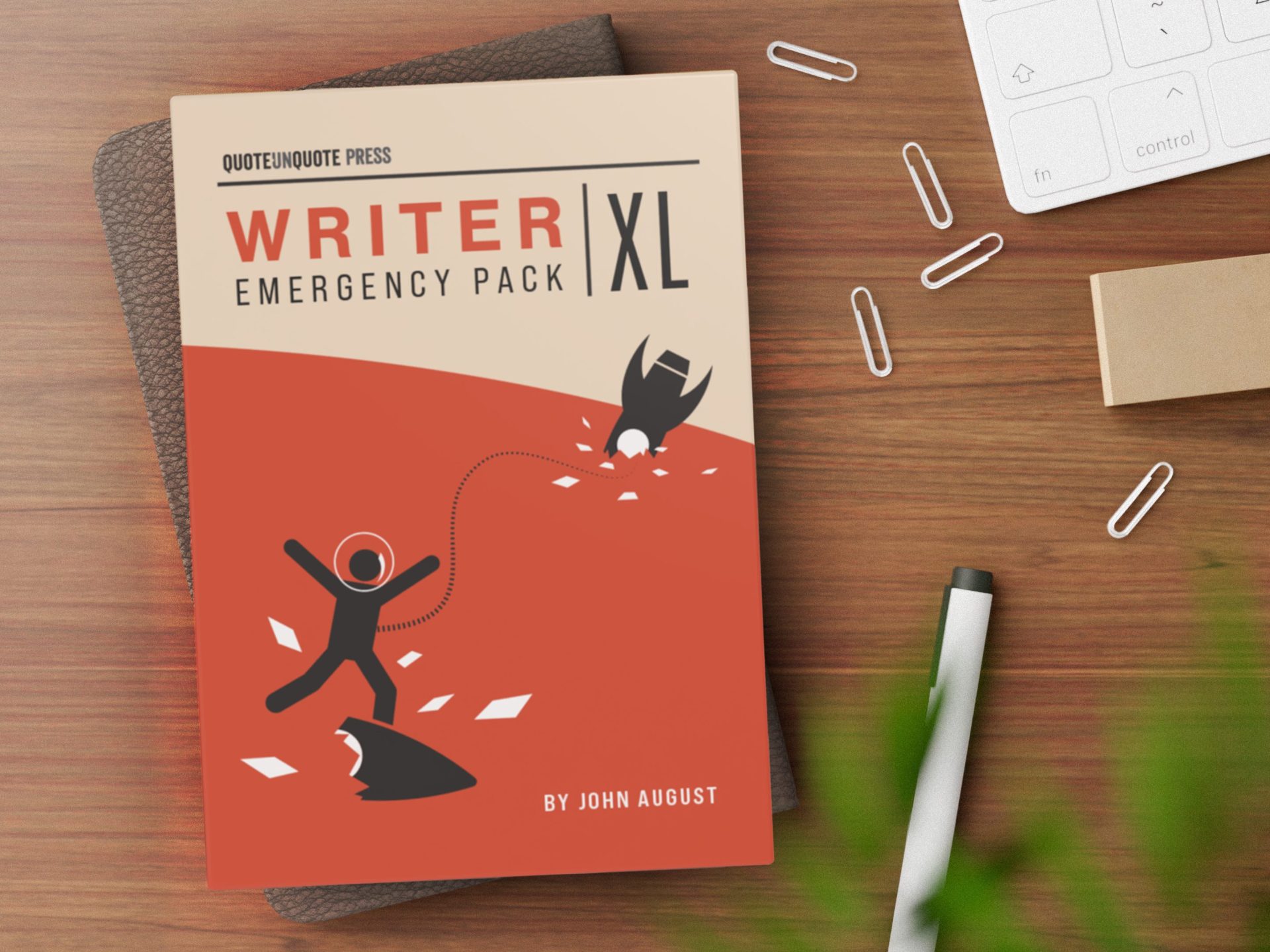 We launched the original Writer Emergency Pack in 2014. It became a phenomenon, one of the bigger Kickstarter projects of its time. In the years since we've shipped nearly 100,000 decks around the world. 
As much as we love the original, we felt there were aspects we could improve upon. With a bigger card we could consolidate text that was split among multiple cards. That gave us room to double our illustrations and tips. 
We also took a serious look at our box. The original Writer Emergency Pack comes in a standard tuck box, which can wear out from heavy use. Our new two-part box is made of heavy chipboard, designed to last for years. 
Ryan Nelson designed the original Writer Emergency Pack, drawing inspiration from typography. Dustin Bocks refined the design for Writer Emergency Pack XL, bringing in our space theme.
3. Why did you choose & trust Kickstarter as a good platform? Why did you think it would be the right fit?
We had a great experience with our initial foray in Kickstarter back in 2014, but a lot has changed since then. We did our research and considered alternatives, including just launching XL on our own store. 
What brought us back to Kickstarter was the chance to repeat our "get one, give one" campaign. For every deck we send to backers, we'll be sending one to classrooms. Launching on Kickstarter allows us to scale up to a place where that's affordable. 
4. Did you run into any problems that made you question whether to keep pursuing this card deck?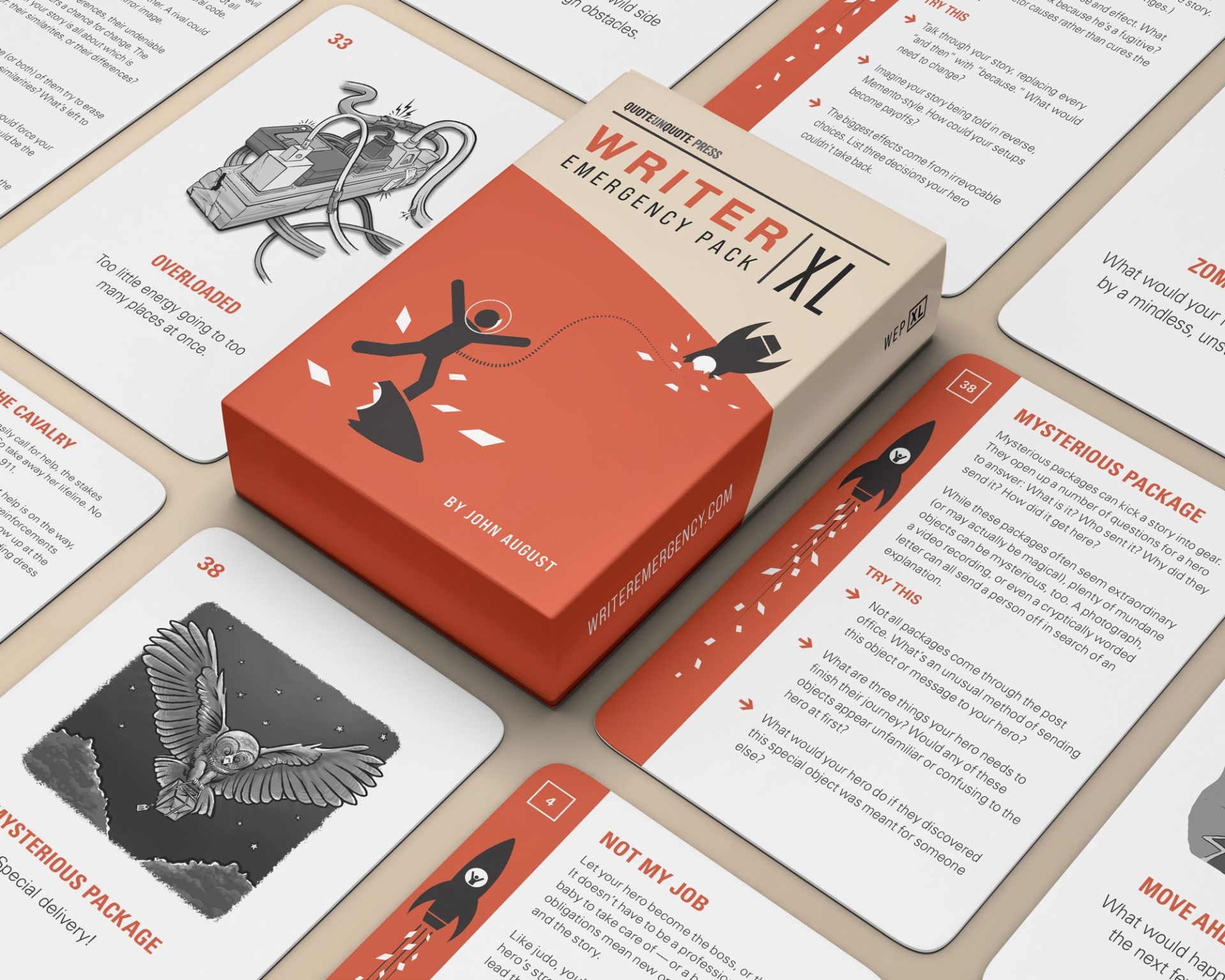 We printed early prototypes of Writer Emergency Pack XL back in 2018. We knew we had the right basic idea, but as a company we got busy with other things. 
The pandemic got us thinking more about our supply chain and the environmental costs of worldwide shipping. We were already printing in the US, but we researched better packaging and processes to minimize our carbon footprint. We committed to using certified and recycled paper for everything we can.
We ultimately made the tough decision to launch Writer Emergency Pack XL exclusively for the US and Canada. We'll be shipping directly from the printing facility in Florida.
5. What are your thoughts on the outcome of not only reaching your goal, but passing it?

We're really happy how the campaign turned out. We set our goal at $10,000, and achieved that the first day. Our final tally of $121,000 is just about what we expected.
Most importantly, we're excited that this means we'll be able to get Writer Emergency Packs into even more classrooms through our "get one, give one" model, and help inspire the next generation of creative writers. We are particularly excited because we think the larger pack will be even more accessible to younger writers. 
6. What are your tips for setting a goal right for you?

Do your research and ask hard questions. We wanted to push ourselves with our goal but also make sure we were staying realistic. Our first campaign exceeded all of our expectations, but we knew we couldn't expect the same performance. In the years since our initial launch, the landscape of Kickstarter campaigns has changed. We wanted to make sure that we didn't create a goal modeled off the metrics of our first campaign, but instead we chose a goal that would meet our needs in the current moment in order to make this new pack feasible. We spoke with other creators, got quotes from printing facilities, and mapped out all of our costs before we set a target. 
7. How has being a professional writer benefited your campaign?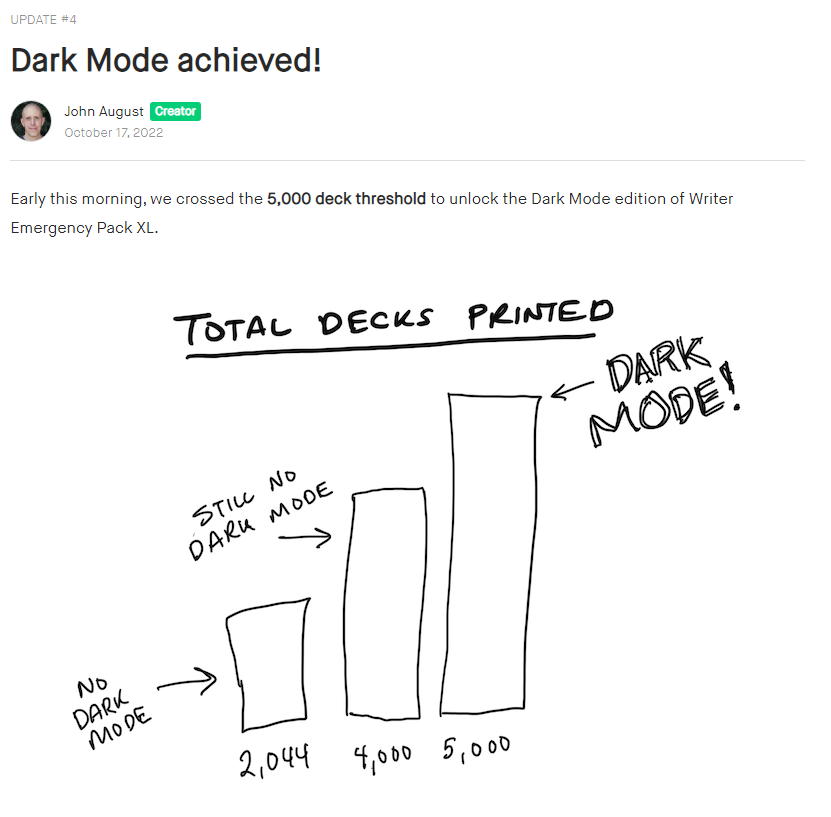 I wrote weekly blog posts and updates on Kickstarter to let our backers know how we were doing. I've had a blog for decades so it's normal for me to write to a large group of people on the internet. I think because we were communicating regularly with our supporters we were able to reach our stretch mode, like offering a dark mode version of the pack.   
And in terms of our product, as a writer I can speak directly to the problems we're solving with our packs. I've written a trilogy of novels and countless screenplays, but even I sometimes get stuck. I wish I had something like this growing up, but learning these lessons on my own allowed me to translate my writing experience into the prompts for these cards. The motivating principle behind this deck is to rescue writers from that feeling by giving them tools to approach their story problems.
8.
What are some tips to share with aspiring entrepreneurs thinking about using Kickstarter?
One of the biggest draws to working with Kickstarter is the community. I'd recommend folks interested in launching their own Kickstarters, to first research, study, and support other campaigns. I became friends with Elan Lee through Kickstarter and have learned so much through watching his campaigns take off on the platform. We got great practical tips from other creators, like Aaron Reed who launched 50 Years of Text Games. Learning from other entrepreneurs helped us prepare for the launch but also set us up for success when it came time to actually make our product. 
Also, your backers are a huge part of your community and your success depends on their support. My advice is to stay engaged and authentic with them. They'll appreciate honesty over plans you're unable to deliver.
9. What is the most effective way to get a Kickstarter out to the public? What networking efforts helped you promote the campaign?
Our company makes a lot of products aimed at helping writers. Luckily we had a loyal base of customers who championed the new XL version of the pack. 
We're also lucky that the original Writer Emergency Pack was beloved by schools and writing organizations. Through our get one, give one, model we've become a fixture in many classrooms and creative writing workshops so word of mouth also helped promote our campaign. 
10.
What is the most challenging growth phase for you?
After we came up with the idea for the Writer Emergency Pack XL, our team brainstormed ways to improve the original pack. We wanted to add more cards, tools, illustrations, basically more fun to the original. Once we had mock-ups of our designs it was challenging to figure out (and wait until) the best moment to launch because we were eager to bring our packs to the public ASAP. But I'm glad we waited because we found great partnerships in the US and had more time to create the perfect box for our new deck.
11. How has working with Shuffled Ink helped throughout the Kickstarter campaign process?
Shuffled Ink has produced our standard Writer Emergency Packs for the past few years, so we felt confident they could do this bigger deck. We've enjoyed the process of working with Matt and his team to figure out what's possible, from sizes to finishes to little esoteric details. For example, we want to avoid any plastic while still protecting the decks during shipping. We've come up with some good solutions together.
We thank John August for taking the time to share his personal experience with Kickstarter along with his amazing tips on how to properly prepare for a successful launch.  Hopefully this article has helped share some insight and give readers the motivation they need to take action on their next project with Kickstarter!
Important Tips For The Readers To Consider When Launching A Kickstarter:
Are you setting a realistic goal?

When do you feel is the right time to launch your K

ickstarter? 

Do you plan on networking with others who use the platform?

Will you promote your campaign? Will you keep your audience updated? Do you know what socials will work best for promoting your product on Kickstarter?