Owner and Sales Trainer/Coach for The Magic of Selling, LLC
The Magic of Selling Sales Training and Coaching
Are You:
An owner, HR director or recruiter who finds it difficult to find and retain good salespeople

An owner who believes in continued education and does not want his/her sales staff to get apathetic

An owner whose sales team is struggling; perhaps your salespeople are good at making friends, but not good at developing business

A sales manager who wants his/her sales team to be the best they can be…a well-oiled machine

 A sales manager who wants his/her new salespeople up and running much faster and with quicker success

A solo entrepreneur who wants the best in coaching and guidance
Well then, the Magic of Selling Sales Training and Coaching is for you. Our superpower is that we can help your sales team sell more BRILLIANTLY!
Here Is What To Expect In The Process:
 "You and your sales team will be taken on a journey through the world of sales. The objective is to introduce proven techniques, tips, strategies, and skill sets which will help everyone sell from a position of strength and be much more effective in their sales career. Offered up are cutting-edge, customized selling tools coupled with wisdom and a wealth of valuable information which will help maximize production, increase sales and meet all objectives. This is all done within an atmosphere of learning filled with new insight, perspective, motivation, and inspiration. There will be countless takeaways and pearls of wisdom throughout that can be applied immediately."
All Of Which Will Lead To:
More Appointments

Being Better Prepared

Taking Stronger Meetings

Closing More Deals

Better Closing Ratio

More Referrals

Warmer Leads

More Revenue
You can contact me, Daniel Hollis, for a free consultation on your business and how we could game plan for success.
Set up a meeting here: Select a Date & Time – Calendly
Please Help Me Help You, today!!
-Best Regards,
Dan Hollis | Founder, Sales Trainer & Coach Website: www.themagicofselling.net  Email: dan@themagicofselling.net c 973-862-8331

Working With Shuffled Ink
I know that most testimonials traditionally start out with something a customer is very pleased with regarding a product they previously purchased, or service rendered. Mine is being written a little bit more in the middle of the process.
An idea was hatched when a colleague of mine suggested that I create a "pocket product." Something that I could sell or even use in my sales training seminars in conjunction with my books, CD's, etc. This evolved into the idea that I had wherein I could possibly put some of my greatest sales tips onto a deck of cards. The idea really excited me. I envisioned a salesperson arriving early for a meeting and reviewing their "deck of cards" so that they were completely in the right frame of mind for their sales call. I just had endless ideas in my mind about how this sales deck of cards could be used.
Through fortuitous serendipity, I found Shuffled Ink. More importantly, I found Charles and Lisa. Charles is the founder and owner of Shuffled Ink and Lisa, his daughter, the VP/Project Manager. I was blown away by their customer service. The most important thing to me when working with someone is that I feel like they actually "give a s…" (pardon the expression.) Well, not only did my proof look incredible (from the elements I shared – for my deck of cards), but Lisa and Charles are so down to earth. As Charles said, their biggest unique selling proposition IS their customer service with a sprinkle of TLC. They want happy customers. Customers that turn into lifelong, raving fan customers.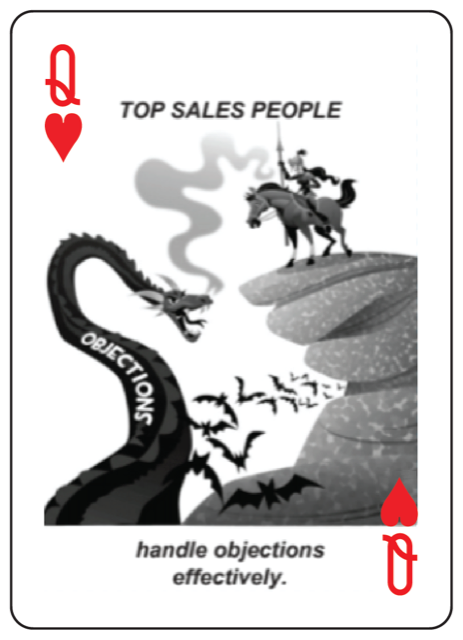 So here I am, the last step, waiting with eager anticipation for my cards to arrive. Kind of like Christmas morning is coming. So thank you Shuffled Ink, Charles, Lisa, Isaias (in graphics), and everyone else that has helped. When I really like something, I have a tendency to want to share that with everyone I know. I look forward to steering people towards Shuffled ink. These cards are going to get a lot of mileage for sure.
-Best Regards,
Daniel Hollis – Owner and Sales Trainer/Coach for The Magic of Selling, LLC.