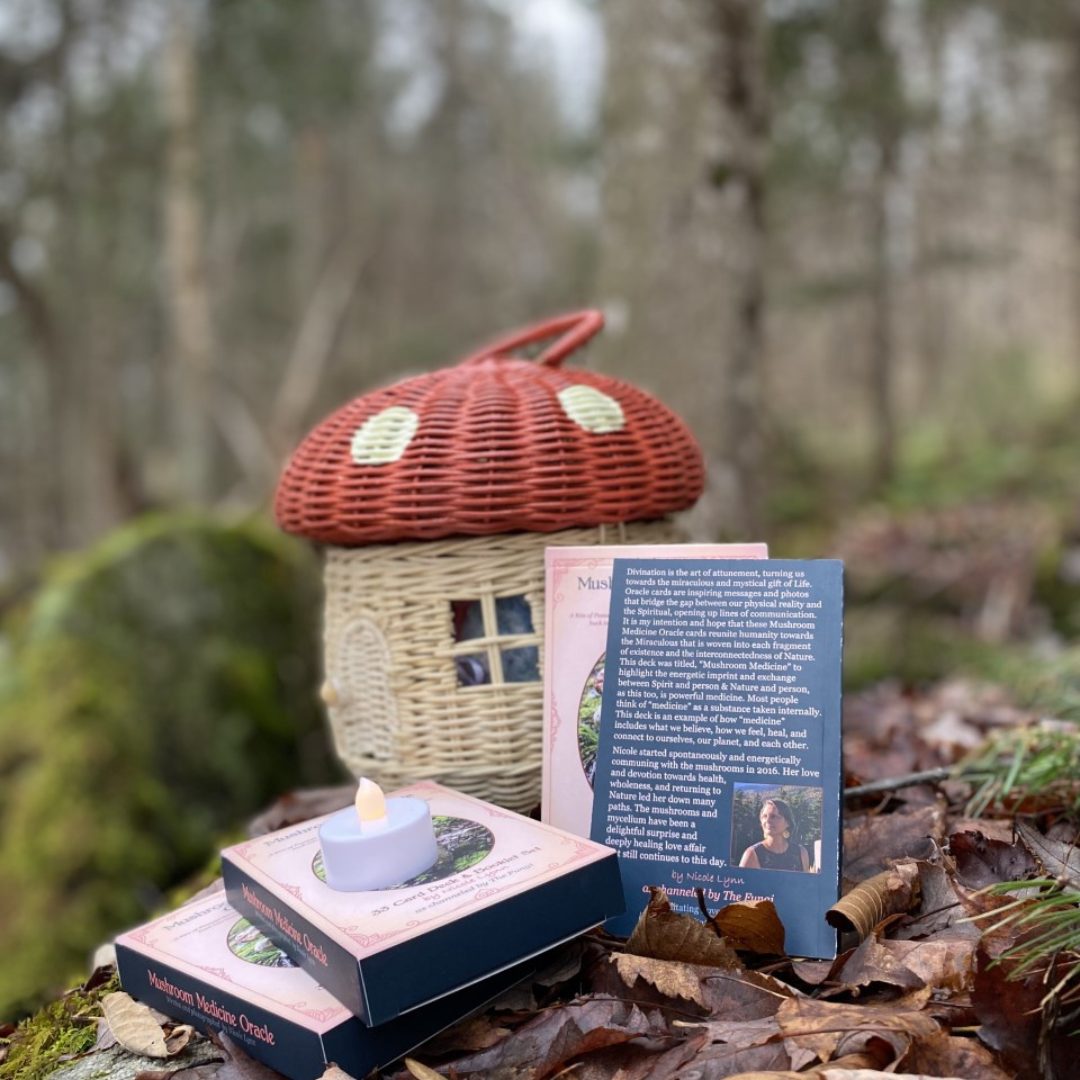 We had a great opportunity to interview Nicole Lynn to hear about the wonderful story behind her card deck called "Mushroom Medicine Oracle deck." The Mushroom Medicine Oracle deck is a 33-card deck that " takes you through a rite of passage of Transition, Grief, and Transformation back into Connection, Integration, and Wholeness."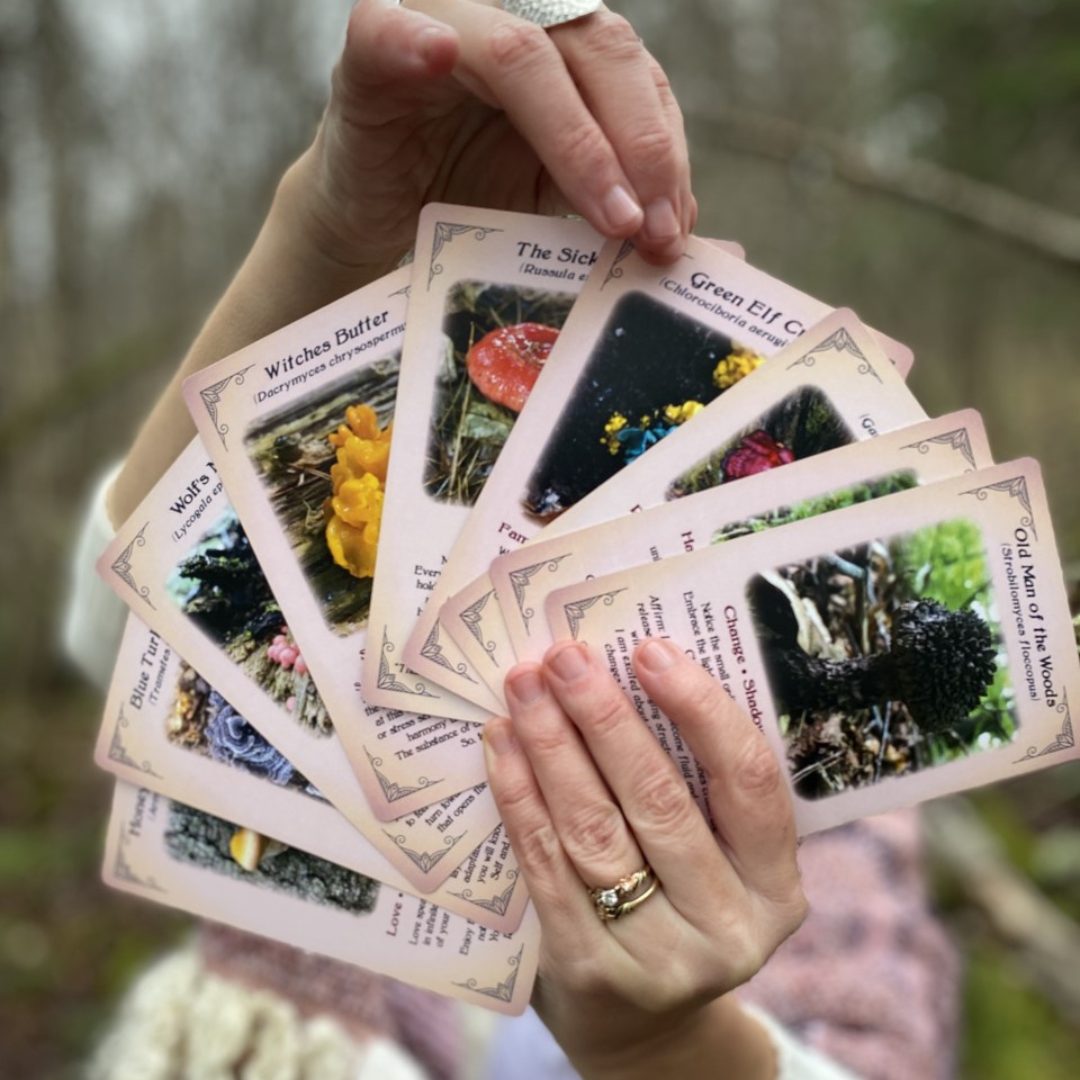 The Enchanting Inspiration Behind The Mushroom Medicine Card Deck Idea
We asked Nicole what sparked the inspiration for the card deck. She discussed starting her journey with Fungi from 2015 to 2016. "Every day, in all weather and conditions, nature walks opened up a deep listening within me beyond the narrative conscious thinking mind operating system." She found herself in a transitional time "full of death and desperation." After spending more time with nature, she felt the sprinkle of inspiration to create the Mushroom Medicine Oracle deck. " I began holding Soul to Soul sessions with the Fungi in the forest and hence this is the birthing place of the Oracle deck. The photographs, conversations, energetic exchange of energy, poetry, musings, and compilation are all the by-product of our Soul to Soul time together." She continues to share that her deep love towards the healing of her ancestral family lineage brought her throughout a lifetime of heartache and grief. She was able to "unlearn ways of being in a relationship, first and foremost with myself, and eventually with others." " I put everything into my path of devotion and reconnection to Nature. It is my hope to leave this legacy for the future generations as well as the past generations. Mushroom Medicine Oracle is a culmination of all of this. I have much to thank for such a sacred path."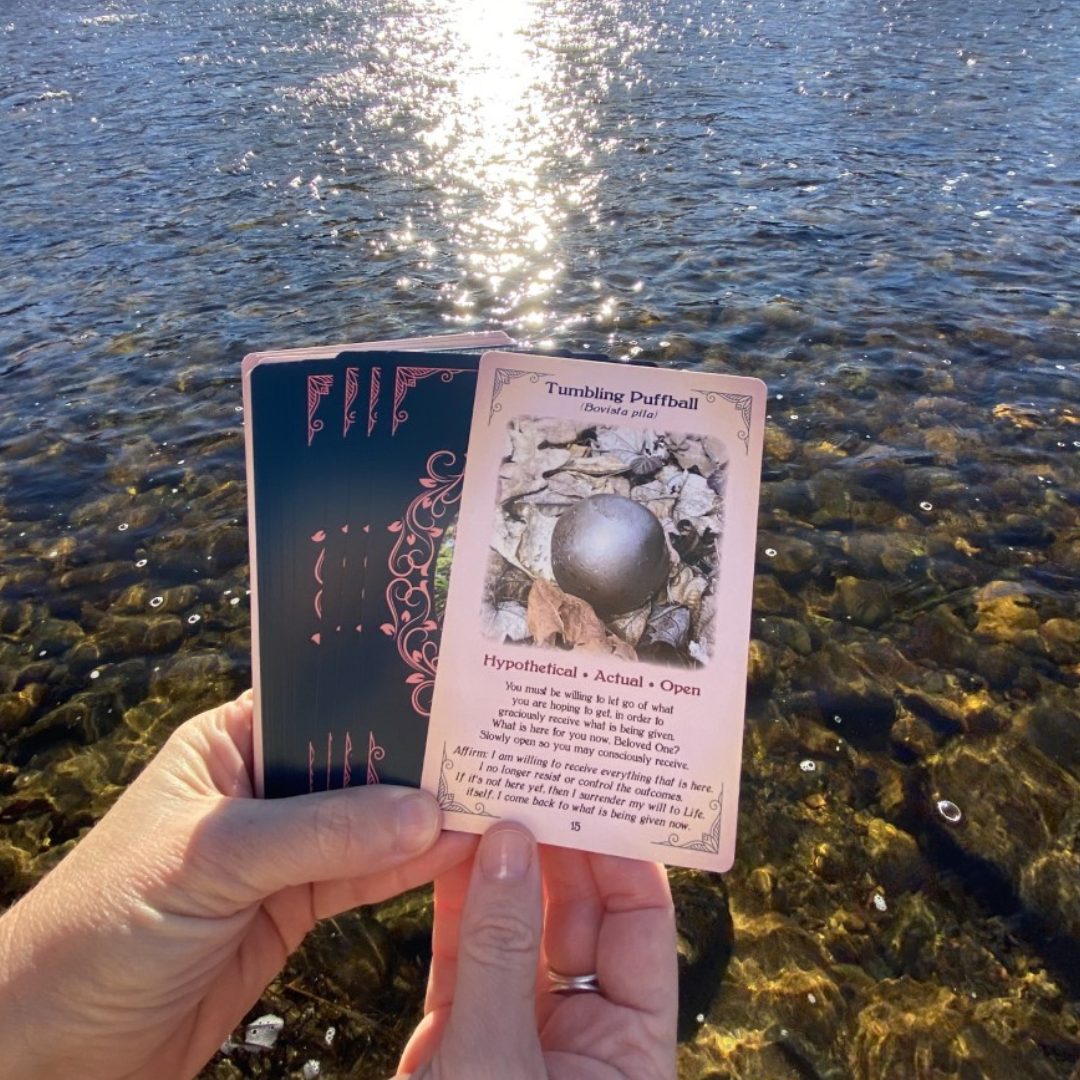 The Creative Process
Nicole shares that she was able to capture these beautiful images of nature with just her iPhone! She then hired her dear friend, Erica Marsden, to help with the digital design process. They would then get together for the next 8 months to discuss the design, colors, and overall layout of the mushroom medicine oracle deck. " It was a synergy of her graphic design background and my intuitive connection that blended our expertise into this creation." Like any creative project, It can also be overwhelming as Nicole mentions, " I don't think either of us knew what we were getting ourselves into, but we held true to our commitments and persevered."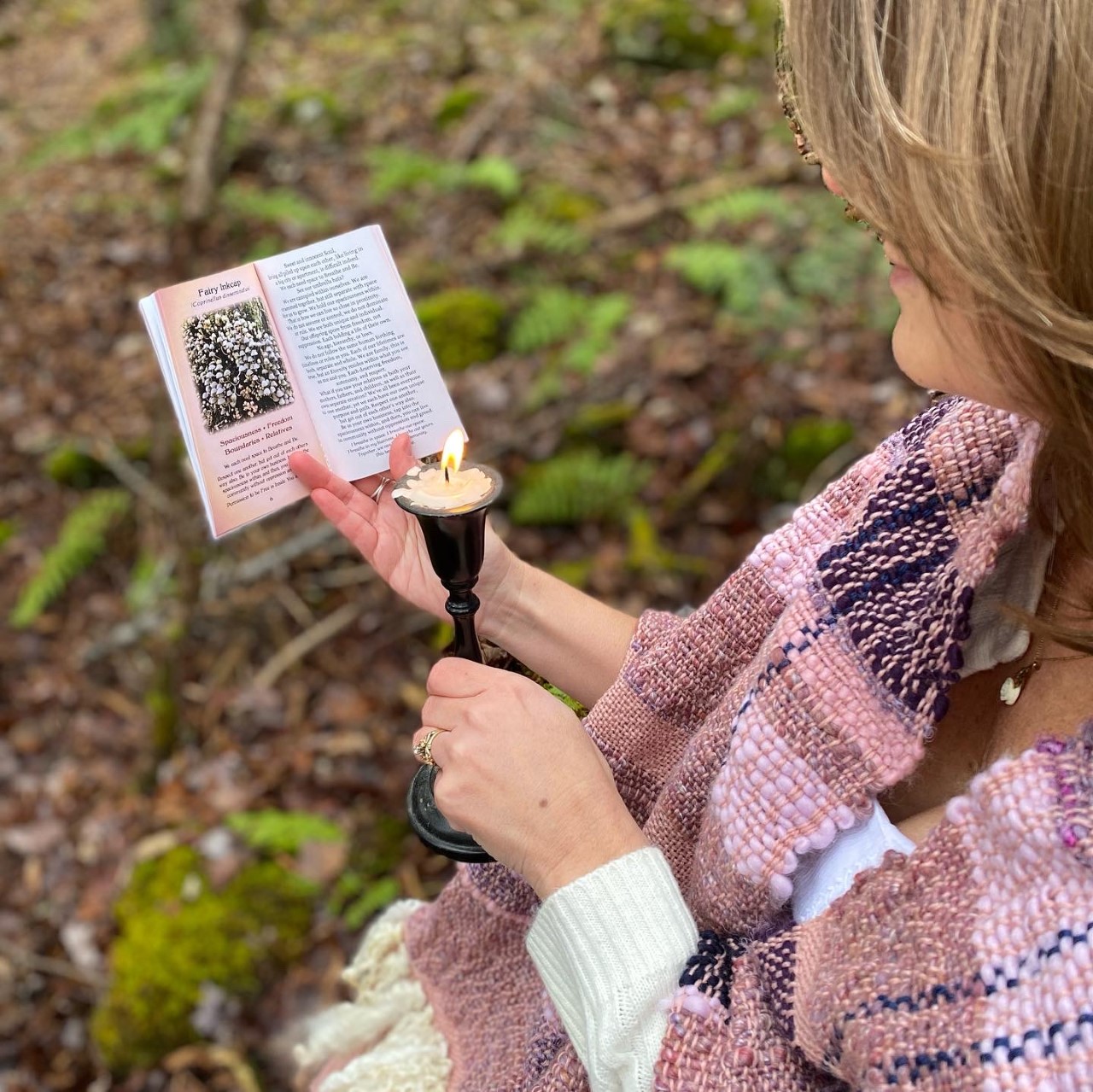 The Perfectionist Compulsion
All artists experience the magical force to create a project to the most perfect condition! Sometimes we may feel like our creation still isn't finished. It's a common feeling and even Nicole expresses her experience with having to break the cycle of perfecting each detail, "so many revisions down to the tiniest of details. As an artist, you eventually have to stop. I had to let go of perfection and trust in the purity and Essence of its creation." This is a good reminder for artists who are struggling to feel "finished" with their project due to wanting to perfect every single detail. Understandably, as it can be very stressful to share your masterpiece with the public for the first time knowing how much work you put into it.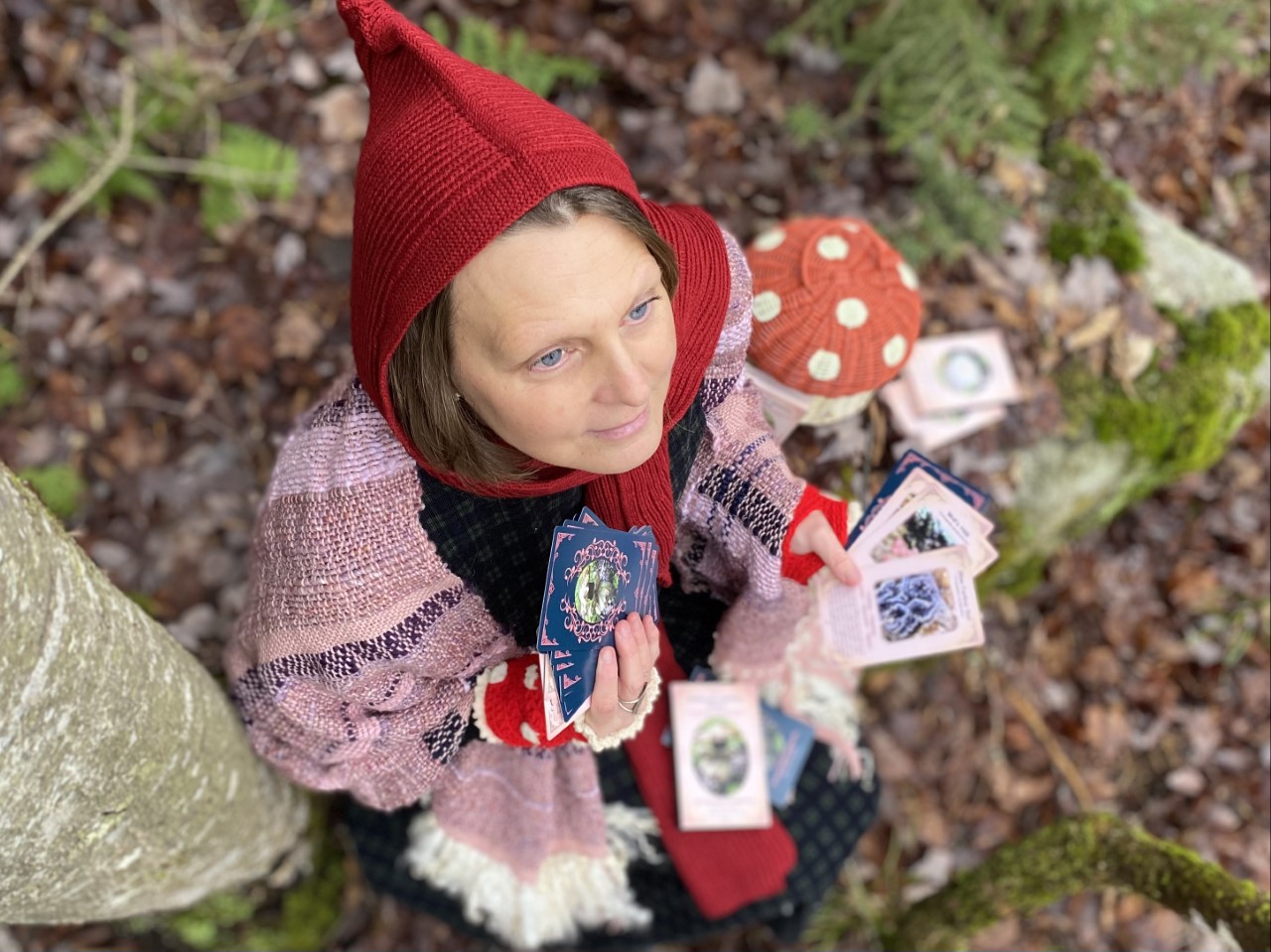 Releasing The Oracle Card Deck To The Public
"It's still so new and fresh, and in a lot of ways just beginning. I'm filled with a mixed bag of emotions as I introduce Mushroom Medicine Oracle to the world. Sometimes playful giddy-joy-bubbles up through me and other times joyful overflowing tears and awe-inspiring amazement. This has been an incredible journey, and all the experiences that have brought me here flood through my body."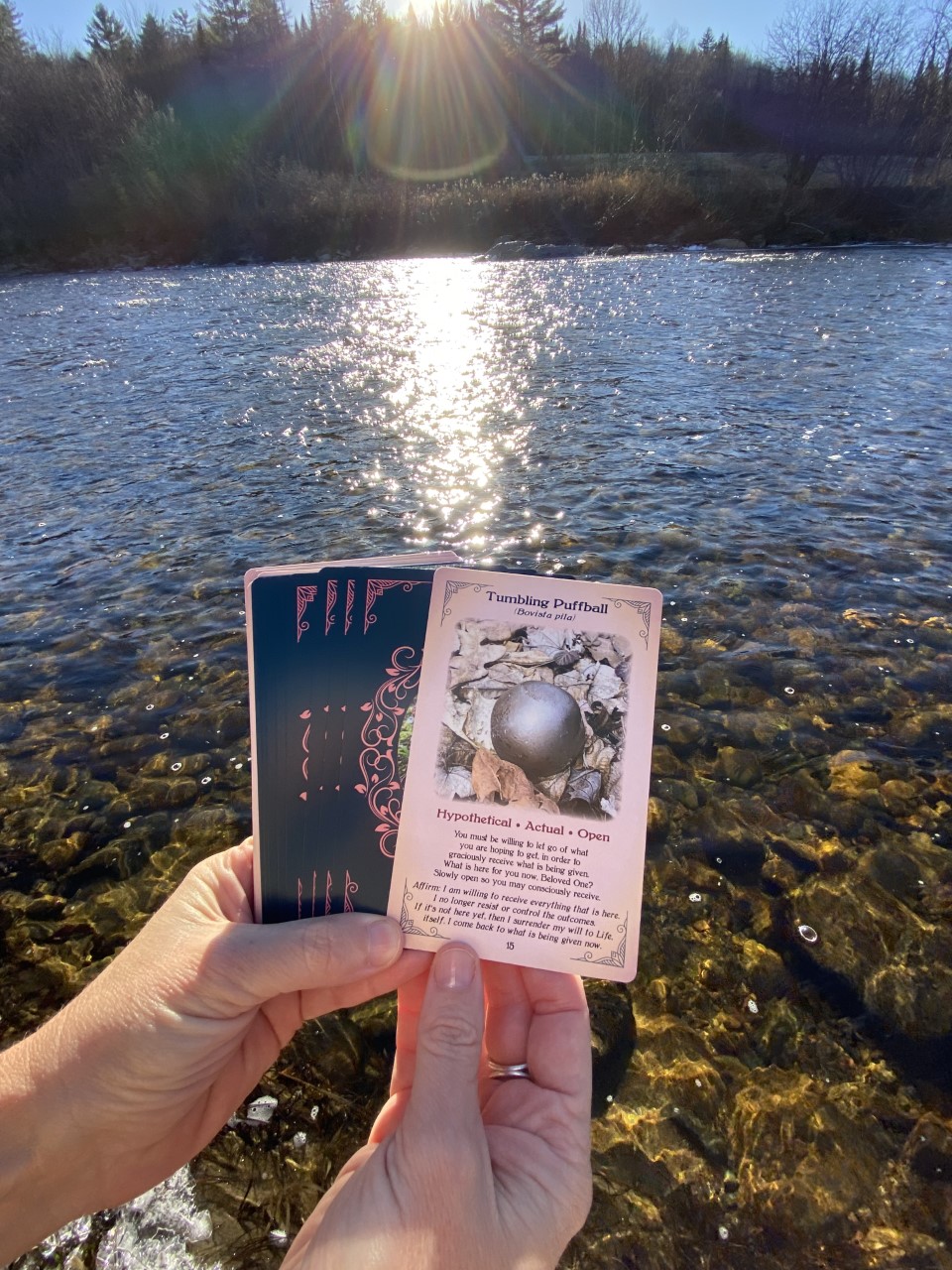 Tips For Aspiring Oracle Artist & Designers
"Trust your inspiration and devotion. When things get overwhelming, they will come back to the sweet pure space within you where your project was being birthed inside of you. All of our creations first are formed in ourselves (our cells). To be inspired is to be in Spirit. You can trust this point of creation regardless of how the project appears physically, our expectations, or other people's perceptions. You can trust yourself."

Working With Shuffled Ink
We asked Nicole about her experience working with Shuffled Ink and here is what she had to say: 
"Shuffled Ink was the first printing company that showed up on my radar. I kept looking because I wanted to see what "Eco-friendly and Green" companies existed first. I found some interesting insights along the way. I spoke with over twenty printing companies within the United States and some that could "market" the sustainable, earth-friendly perspective I valued, but I didn't find the integrity of their words matching the integrity of their manufacturers or work. I wanted trustworthy and honest people who could be upfront and not "sugarcoat". Shuffled Ink was this company. I kept coming back to them. They were upfront and left the decision up to me without manipulation or icky sales tactics. I appreciated this immensely. Sometimes true sustainability starts with honesty. The quality of the cards surpassed my imagination. I am thrilled with the quality. It's my first deck and it turned out beautifully. Someday I see the booklet being more of a bound book with even more musings and photographs and the soft tuck box being a beautiful hard box to keep everything sweetly inside. I am overjoyed with this creation. Thanks Shuffled Ink."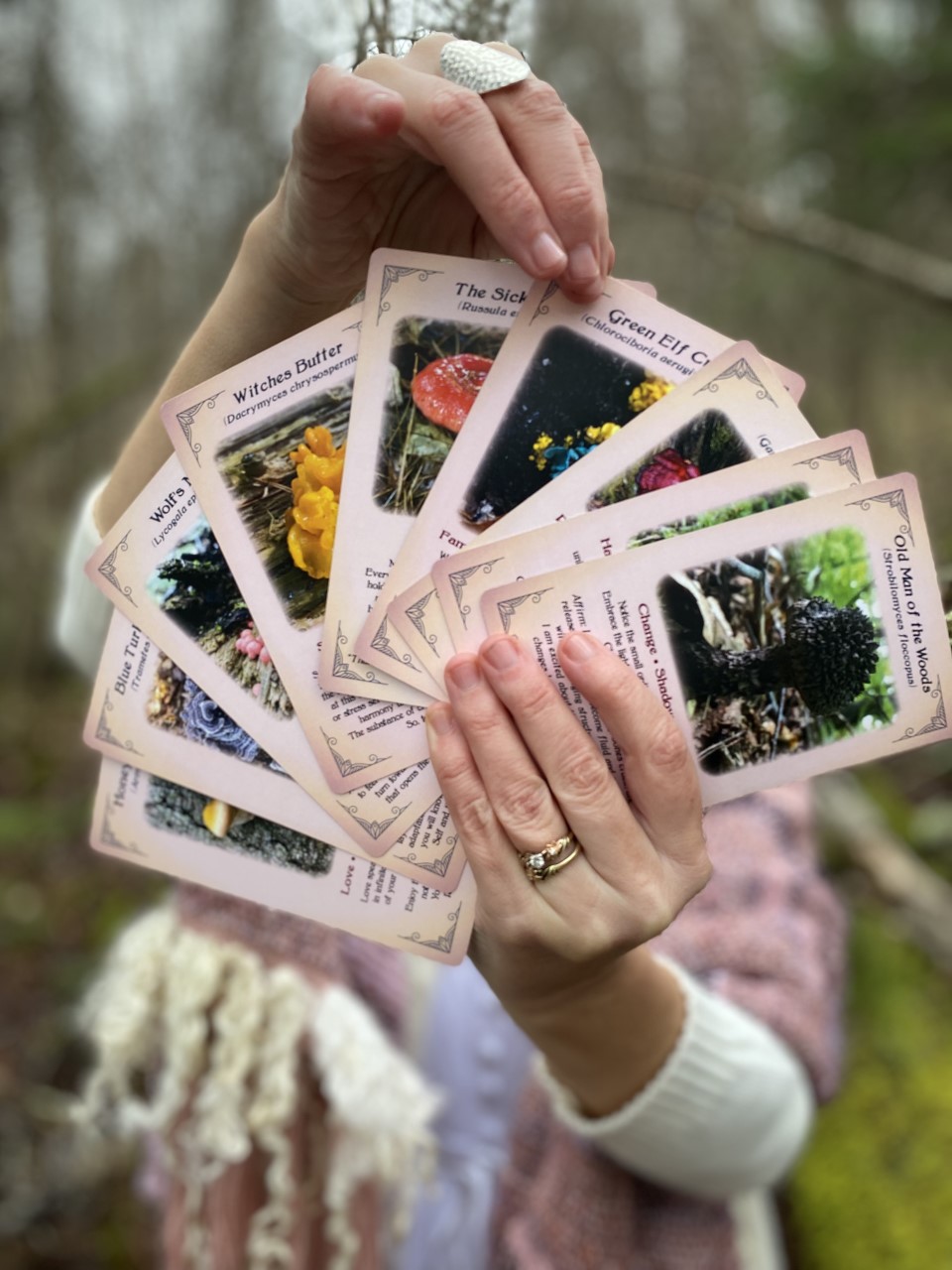 Follow Nicole On Her Journey With The Mushroom Medicine Oracle Deck
"I truly believe our whole lives are integrated into one seamless whole, and that when awakened to the totality of our Soul's existence, we can rest in the loving awareness that our life has intrinsic value and profound meaning for the purpose of the whole of ourselves, our humanity, planet, and eternal states of consciousness. This is just my solo journey and I'm grateful to share it with all of you." To check out Nicole's website or to visit her socials click the links below!
Nicole shares that there will be another print run soon and on her website or Etsy for people to purchase in the Spring / Summer of 2023. "I am taking it one step at a time and enjoying the process. I'll be selling the deck at the Maine Fungi Fest in May 2023 as well. Follow me on my social media sites and I'll keep everyone up to date."