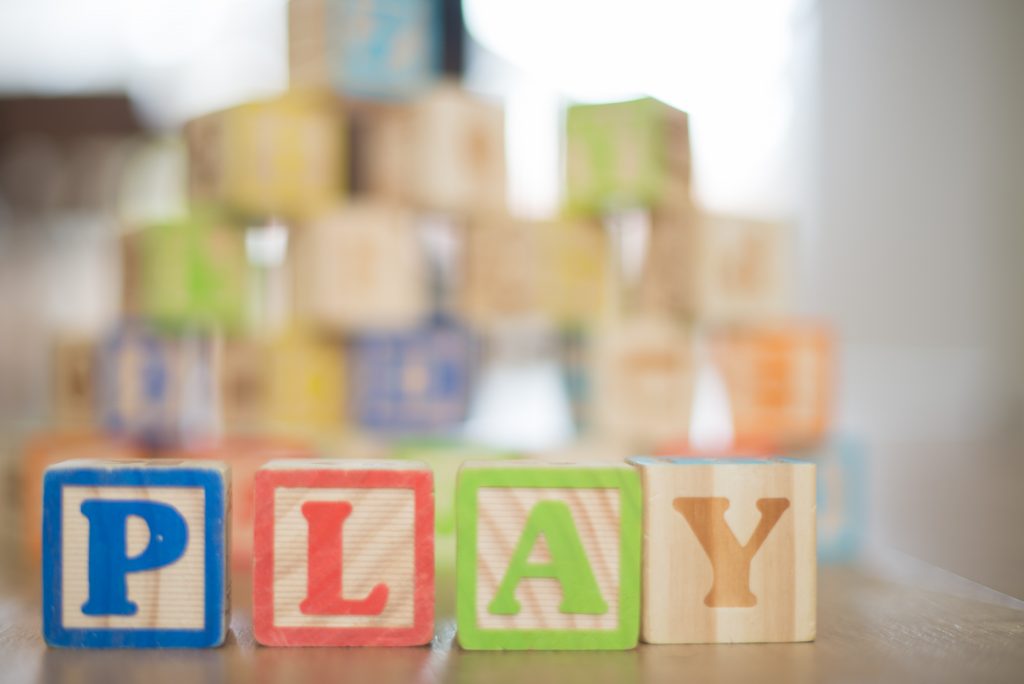 1. Bananagrams: Word Game
This family-friendly word game for kids consists of letter tiles that resemble the popular board game Scrabble.  But in this fun game, you create your own crossword grid and produce as many or as little words as you can.  This allows your child to brush up on previously learned words, as well as discover new ones. The end goal here is to create words by using every single tile to win the game. In the Bananagrams word game, there's a little bit of luck involved and a whole lot of fun!
2. Codenames: Board Game
This board game Codenames is directed toward older children, with the age being 14+.
Codenames Game Versions
Codenames Word Game: During this fun word game, you are given an outline of words in the set that belongs to you and your partner.  If you are the spymaster in your team of two, your goal is to describe the word(s) to your partner without specifically using any of the words in your set.
Codenames Pictures Game: Now, for the abstract drawing version of Codenames, you have to describe what you see in the drawing, and hopefully, your partner will see and understand the same drawing that you happen to see.
For more information and rules for this game of guessing, watch the video below!
3. Summer Crossword Puzzle Game
This summer, crossword puzzles are the perfect word games for kids. It's a simple game to acquire (printable online) and it's mobile. Make a long car ride more interesting and fun with a summer crossword puzzle game. Choose beginner, intermediate or difficult based on the age level of your child. This fun word game will not only allow for an increase in word development but also clue-solving skills for your child.
4. Go Fish!: Numbers Card Game
All you need to play this classic number card game Go Fish! is a standard 52-card deck.  Your child will develop strategy and number skills as they seek any four of a kind, such as four kings, four aces, etc.  In this card game, the rules are quite simple. There aren't too many factors that go into booking four a kind because the suits (hearts, spade, diamond, clubs) don't matter.  This allows for a fair playing field and a positive learning environment for your child during summer vacation!
5. Uno: Numbers Card Game
This timeless numbers card game will keep your child focused on matching colors and numbers to maintain their learning skills this summer.  The rules are straightforward.  You can play a RED card on top of a RED card (or a green on top of a green and so on). You can even change the color streak if you have the same number as the last number played.  Of course, there's the infamous Draw Four, Draw Two, Skip and Reverse cards that will make you either shriek with frustration or laugh with glee! While UNO is extremely fun and entertaining for people of all ages, it equally benefits your child's learning development while on break.
6. Multiplication Flash Cards
I distinctly remember my mom going through a set of multiplication flash cards with me every single night before bed during summer vacation.  If your child isn't gung-ho about math and numbers, make it into a fun numbers game, where there are positive rewards for correct answers.  It's important to make learning and practice feel less like a chore and more like a fun game, which it is!
7. Create Your Own Fun Word Game for Kids
If you're looking to be completely in control with the types of learning games you want your child to be introduced to, consider creating your own with us!  By personalizing playing cards, card games and/or flash cards into a school-related way, you're heading in the right direction to keep your child's learning skills to par this summer vacation.

by Peggy Bourke
Types of Summer Learning Games to Create:
Matching Card Games (numbers, colors, shapes, pictures, etc.)
Vocabulary/Pronunciation Flash Cards
Standard Playing Cards: There is a multitude of games that can be played with a classic 52-card deck but when you add your own personal touch (photos of your child's favorite sports team, action figures, animals, etc. it allows you to add something unique to whichever learning game you're playing)
Board Games Aimed Toward Strengthening Word and Number Skill Levels
● Official Shuffled Ink website: ShuffledInk ● Make Your Own Custom Playing Cards at: ShuffledInk ● Make Your Own Custom Tarot Cards at: ShuffledInk ● Make Your Own Custom Card Games at: ShuffledInk ● Make Your Own Custom Flash Cards at: ShuffledInk