Artist Delilah Miske masterfully modernized the Rider-Waite-Smith deck in the winter of 2020. Rooted in relevance to the 21st-century reader, Adapt Tarot is a 78-card ensemble of upcycled material.
With a focus on collage art, inclusion and the environment, this deck is for anyone wishing to investigate the mysteries of the inner world.
In this exclusive Shuffled Ink Card Story, Delilah Miske shares how she used materials destined for the trash to capture the Major and Minor Arcana.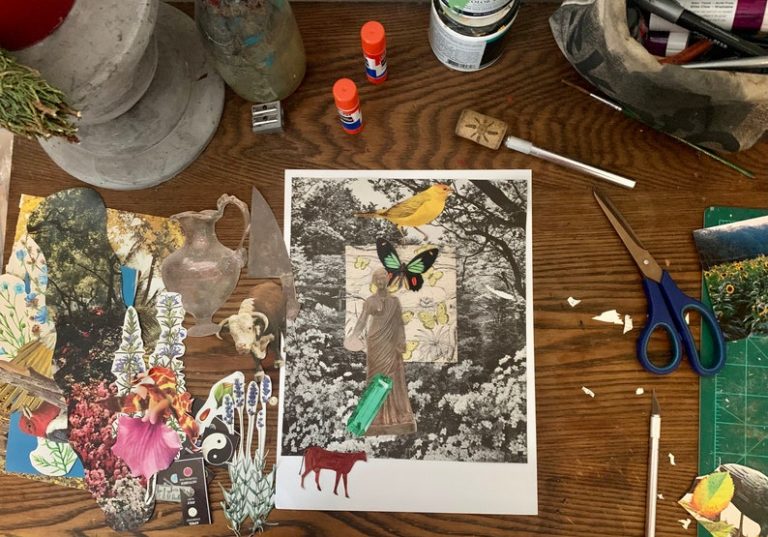 Restoring Centuries-Old Tarot Symbols
Delilah's Card Story began well before she was even born.
In the late 1960s, while moving into a new home, Delilah's grandmother discovered a tarot deck in the attic. Intrigued by the neglected pack of card art, she soon learned how to read the set.
Decades later, the family matriarch kindled the same passion in her granddaughter Delilah by gifting her a tarot guidebook.
For many years, Delilah either read tarot cards quietly in her room or with close friends. And when the pandemic hit, she found a social connection through tarot influencers like @laetitia.cartomancy, @thejessicadore and @em0tional0nline333 on Instagram.
Motivated to contribute to and make her mark on the world of tarot, Delilah spent her time rummaging through thrift stores, bins and other forgotten and abandoned sites to find and piece together images best suited to bring her custom tarot project to life.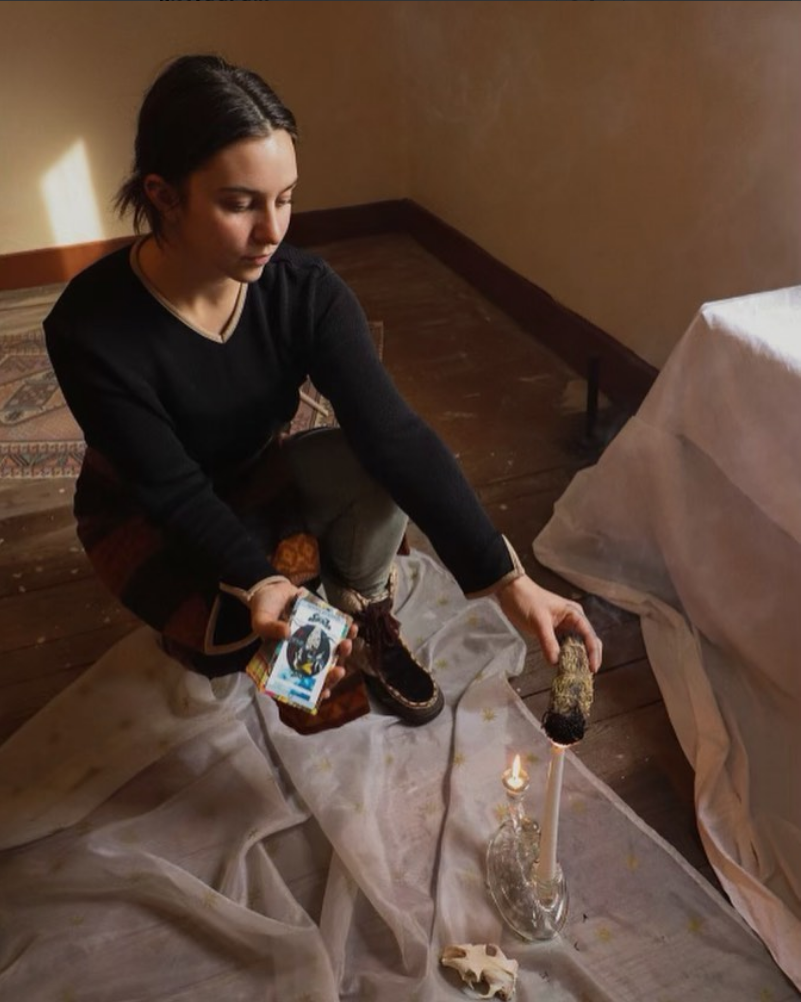 The Making of Adapt Tarot: step-by-step
I hadn't seen many tarot decks using collage, and I thought that I had something new to bring to the community. –Delilah Miske
Thrift All Materials: As a painter, purchasing new materials can be pricy. To avoid buyer's remorse and racking up the bill, Delilah suggests shopping second-hand.
Cut Out Images: For this particular tarot project, she found old books from thrift stores, flipped through its pages and cut out eclectic designs and poems.
Make Arrangements: Then, she determined which pictures/symbols fit well together.
Glue and Label: 78 collages later, she glued each assorted image onto its respective piece of Bristol paper, then labeled each one; 22 Major and 56 Minor Arcana.
Scan the Images: At a local scan shop, she scanned the finished artwork.
Choose a Printer/Manufacturer: Delilah trusted our team at Shuffled Ink to bring her tarot restoration project to fruition. Using our free custom art templates, she submitted her artwork to us with ease.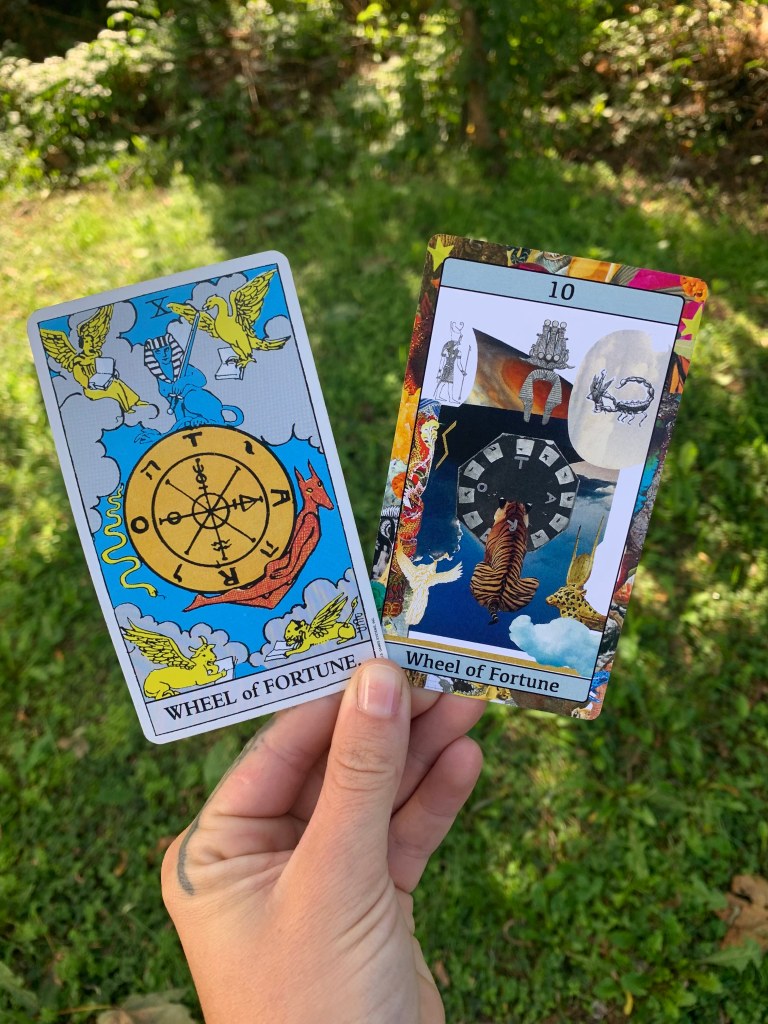 The Rider-Waite-Smith Wheel of Fortune card (left) and Delilah Miske's restored Adapt Tarot version (right).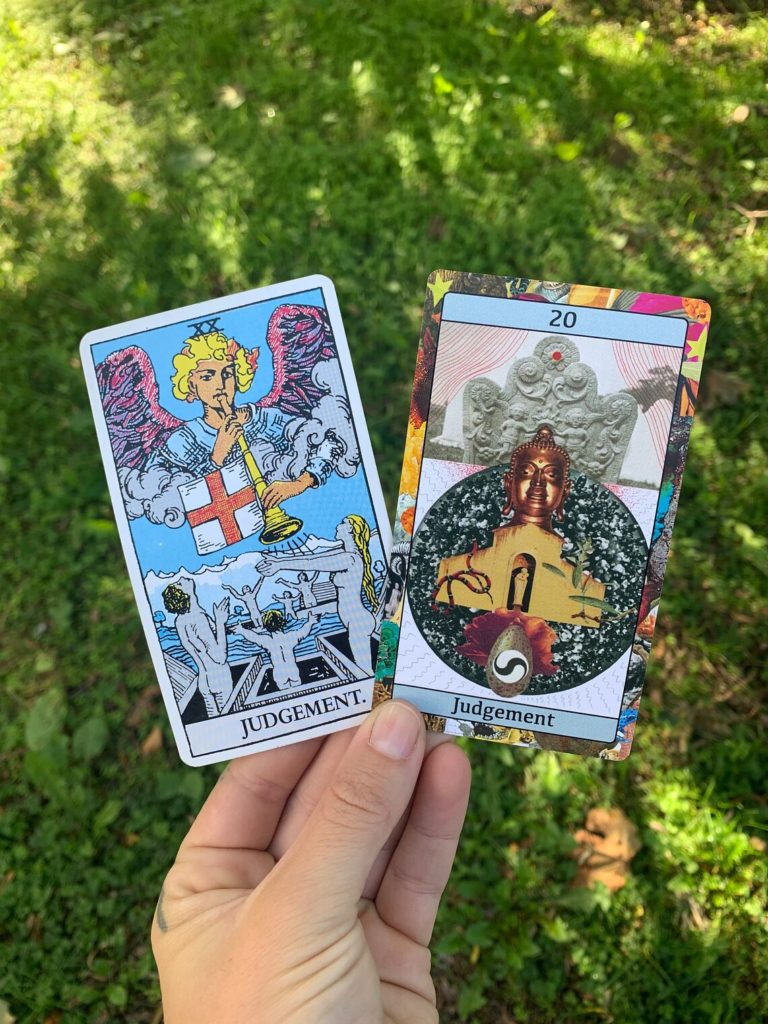 The Rider-Waite-Smith Judgement card (left) and Delilah Miske's restored Adapt Tarot version (right).
Make Your Next Project Eco-Friendly
Adapt Tarot belongs to the beholder and the ambivalence inside us all. Delilah asks that you use these cards to tap into your intuition and let in the symbols that resonate with you.
Delilah's handmade tarot cards, enclosed in a Brown Eco Kraft Tuck Box, are made with components of post-consumer recycled fibers.
Wondering how to incorporate environmental initiatives into your custom project? Request complimentary samples of our sustainable products to touch and feel the quality for yourself!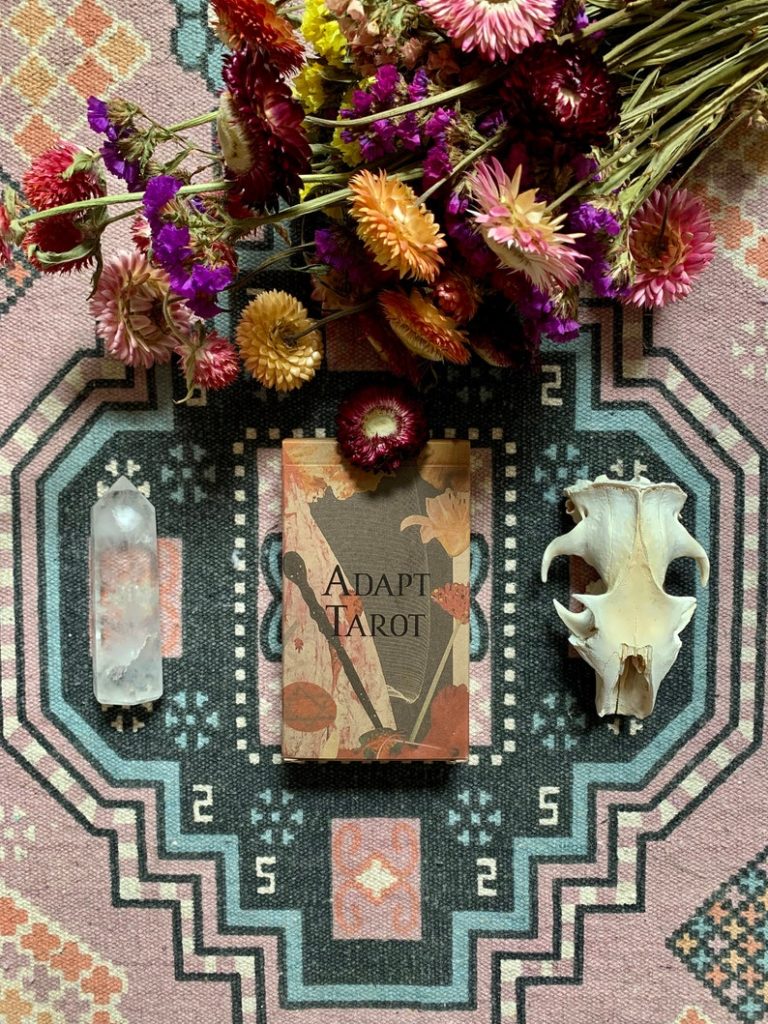 See also: Eco-Friendly Shipping: Partnering with EcoEnclose
If we manufactured your card project and you would like us to share your Card Story on our blog, connect with our Marketing Team here.