The Solitaire Mystery by Jostein Gaarder
Playing cards have occupied an important role in our culture for hundreds of years. Their significance is in the first place connected to their primary use as as tool for playing card games, which is the primary factor that popularized them rapidly and led to their spread throughout Europe in the 15th century. Even today card games are one of the main ways that playing cards are enjoyed, especially in a social and casual context in the home. But playing cards shouldn't just be associated with games for children, because they have come to mean much more than that, and have wormed their way into many aspects of human life and existence. There are many people who make their livelihood with a deck of playing cards in their hand, like casino workers and card magicians. In our modern era, Poker gets regular air time on TV sport channels. Gambling games have been popular for centuries, fueling lives of luxury as well as spawning lives of crime, and many a fortune has been lost or won over the turn of a playing card. Playing cards are also closely associated with fortune telling and sometimes even the supernatural. As a result of all this, playing cards have become firmly embedded in our culture and way of life. So it comes as no surprise that playing cards have influenced our English language. Common expressions like "lost in the shuffle", "have an ace up your sleeve", "follow suit" and many others all owe their origin to playing cards (read more about this in my article The Impact of Playing Cards on the English language). But playing cards also have established a presence in many art forms. Many paintings and works of art depict people holding cards or playing card games. Many a song has been written about poker, gambling, and even about specific playing cards, or used them as metaphors for romance and for love gained or lost.

Given how entrenched card games and playing cards have become in our lives, we can also expect them to appear in another form of art: the novel. And sure enough, there are some fine books where playing cards aren't just a prop or part of the supporting cast, but are one of chief elements. Perhaps the most well known example of this is Alice in Wonderland by Lewis Carroll. But in this article, we'll introduce you to a much lesser known and yet superb example of a clever novel that features playing cards as central characters. In my previous article I considered playing cards about novels, so now it's time to look at a novel about playing cards, with reference to Jostein Gaarder's clever book, The Solitaire Mystery.
The Book
Jostein Gaarder first caught my attention with his award-winning novel Sophie's World, which was an international best-seller, with millions of copies sold around the world, in multiple languages. That story is geared to young adults, and promises to provide an overview of the history of philosophy in the form of a novel. It received high praise for what it achieves, although it has its share of critics as well. In fact, I'll let you in a personal secret with this honest confession: I really wanted to like this book, but personally I found it rather tough going and struggled to finish it. It didn't quite live up to what I'd hoped for, because I found it too dry, and it read more like a philosophy text-book than a story. But it did confirm the respected credentials of the author as a credible voice on the subject of philosophy. And I'm always prepared to give someone a second chance. So when I discovered the book The Solitaire Mystery by the same author, his name was already familiar to me. Perhaps more importantly, the artwork on the front cover of the copy I came across immediately caught my attention. "Solitaire, as in the card game? Playing cards on the cover?" As a playing card enthusiast, I was instantly intrigued by the title, the artwork, the concept, and the blurb on the back. Fortunately, unlike its more well-known sibling Sophie's World, this book is much less didactic and dry. Instead, it is a convincing and entertaining story that is actually readable, rather than being pure philosophy. Best of all, it's brilliant because of how the entire story is structured around a deck of playing cards, and how they are a central feature of this book. If you are a playing card enthusiast, you will almost certainly will love this novel, and you should definitely check it out. Let me share some more about it to whet your appetite.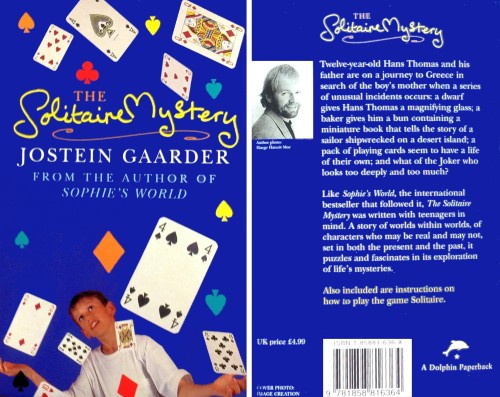 The Story
The main story describes a twelve year boy, Hans Thomas, and his father, who are on a trip to Greece (the homeland of philosophy) on a quest to find the boy's mother. In the process Hans Thomas finds a book, which is described in the story as "the sticky bun book", because he literally finds it inside a `sticky bun' given to him by an old baker. We now get large excerpts from the sticky-bun book, which tells the story of another baker long ago, who was shipwrecked on an island, and where an entire deck of playing cards comes to life as real characters. Together with the old story-teller from the sticky-bun book, we meet a host of playing card characters, and find ourselves immersed in their magical world. There are several intertwined stories with characters from different times, and slowly their connections become apparent – hence the accurate description of the book as a "mystery", as we slowly get to unpuzzle how the characters are connected. Fortunately Gaarder has structured the novel in a way that we don't easily get confused about who is who. The idea of playing cards coming to life may remind you somewhat like Lewis Carroll's Alice in Wonderland, but this is actually much more clever. Gaarder uses the concept of playing cards that have come to life to raise many philosophical questions about reality and the purpose of our lives here on planet earth. Because the playing cards start off purely in the mind of the old baker, who amuses himself after being shipwrecked on an island. He first plays solitaire with real cards, but when these disintegrate, he makes it a mental exercise, and imagines the playing cards as real people. But when his imagination brings them into the world around him, are they actually real or not? Hans concludes about the sticky bun book: "I had read about the world's greatest card trick ever. To conjure up a whole pack of cards would be pretty impressive in itself, but to turn all fifty-two playing cards into real people bursting with life was magic on a totally different level." (p.158) The philosophy never gets too heavy, because it remains a good story first of all. Yet Gaarder uses his story to raise philosophical questions, without having these weigh so heavily that the story itself bogs down. You'll learn about things like the Socrates and the Delphic Oracle, and you'll also learn that the most important part of wisdom is to ask questions. This novel encourages us to be "Jokers" who think seriously about our place on the planet, and consider the important questions of life such as: Who are you? and Where do we come from? But there's much more to the playing card component of this novel: the book is divided into 53 chapters, each one named after a different playing card, including one for the Joker, who is a key character in the story. So chapter 1 is entitled "Ace of Spades", chapter 2 is entitled "Two of Spades", and so on. The patterns and relationships of the playing cards within a deck becomes an important structural and thematic device. There are also sections of the story that deal with the remarkable way how how a deck corresponds to a calendar, with 52 cards corresponding to the weeks of a year, and various many other patterns that can be found within a deck. Hans Thomas' father is even a collector of playing cards! As you can see, there is an enormous amount of content that the playing card enthusiast will pick up on and appreciate!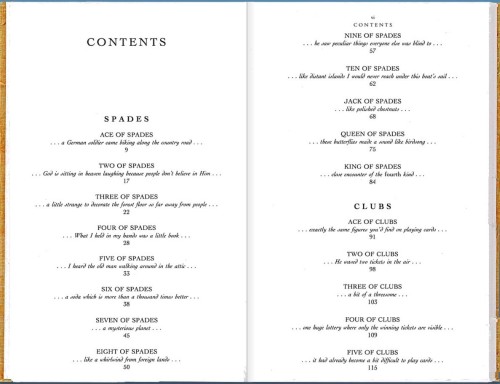 Collecting Playing Cards
To whet your appetite to seek out this book, I've collected some of my favourite excerpts for your reading pleasure, which relate specifically to playing cards. (NB: If necessary, you can click on the images to see these excerpts in larger size). Let's start with a delightful passage where Hans Thomas describes his father's own hobby: he collects playing cards, specifically Jokers. "Lots of people collect different things like stones, coins, stamps, and butterflies. Dad also had a passion for collecting. He collected Jokers." (p.62) I'll let Gaarder tell the rest of this story: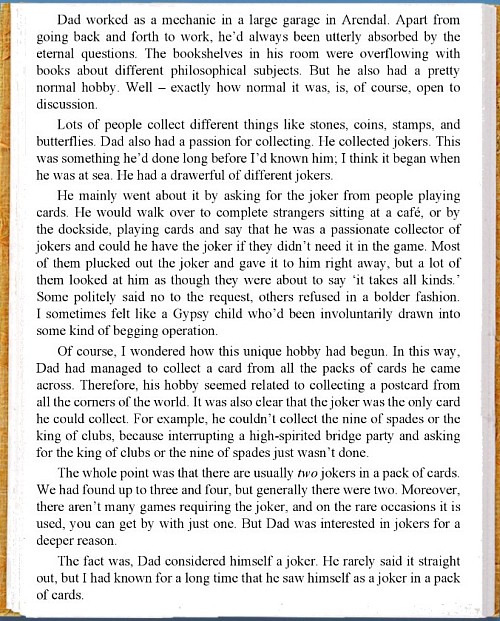 Much of this will strike a chord with collectors! There certainly are people who do this in the real world. In fact the current world record holder is Tony De Santis of Italy who has 8,520 different ones (see another of my articles for more such world records). But its not just his Dad who collects cards, but so does Hans Thomas: "There was an unwritten law; when Dad bought a pack of cards, he kept the Joker – never more than one – and gave the rest of the cards to me … In this way, I'd collected nearly a hundred packs of cards." The passage continues by hinting at the significance of the Joker, and also shares how Hans Thomas' father acts in compassion by often giving away the rest of the decks for other children to enjoy.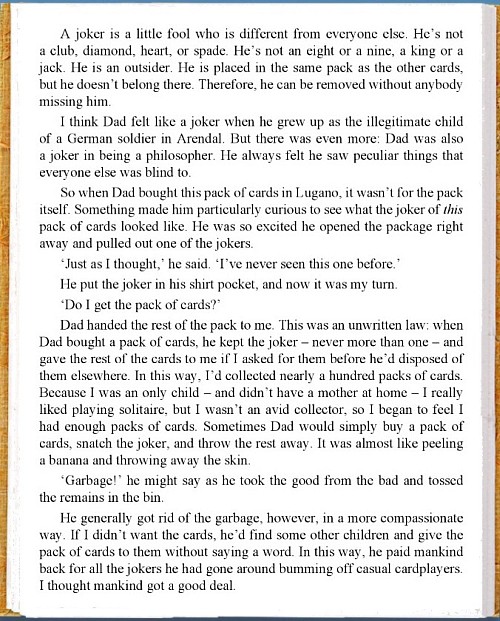 The Deck as a Calendar of 52 Weeks
There is also a fantastic section about how playing cards represent an entire calendar of 52 weeks, and four seasons. I've covered this previously in my article Interesting Facts About Playing Cards, and it was a delight to see a novel explain this at length! "The cards also came to play an important part in the calendar we follow here on the island … The year has fifty-two weeks, so each week is represented by one of the cards in the pack." (p.194)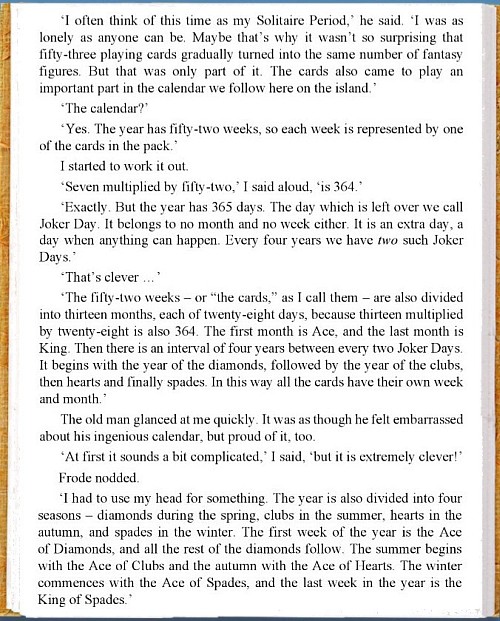 Hans Thomas, it turns out, was born on February 29th in a leap year, which means he was born on a Joker Day. But the connections between the calendar and a deck of cards run even deeper than that. "Every week has its own card, every month has its own number from ace to king, and every season has one of the four suits. You should take out a patent for that, Hans Thomas. As far as I know, to this day a proper bridge-calendar hasn't been invented."
The Deck as a Calendar of 365 Days
And what about the little known fact that the values of an entire deck add up exactly to 364 – plus one for the Joker making 365 – exactly equal to the days of the year? There's a great section that covers that, and it all has importance for the plot and the structure of the book. Hans Thomas' father explains: "If you add all the symbols in a suit together, he continued, you get ninety-one. Ace is one, king is thirteen, queen is twelve – and so on. Yes, you definitely get ninety-one." (p.201) And for four suits this means a total of 364: "Exactly! There are 364 symbols in a pack of cards – plus the Joker. But then there are some years which have two Joker Days. Maybe that's why there are two Jokers in a pack, Hans Thomas. This can't be coincidence."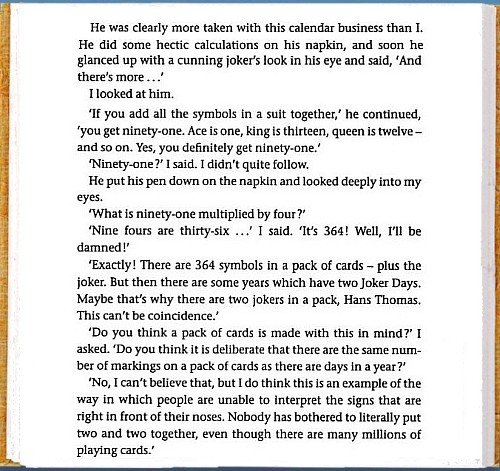 Solitare
In keeping with the title of the book, and the theme, the closing pages of the book even provide instructions about how to play the classic Solitaire game.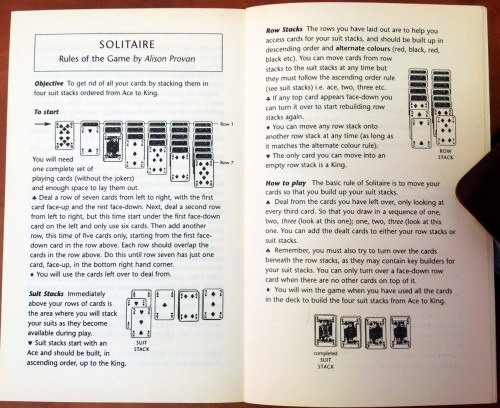 A Philosophy of Life
After reading this story, you'll never look at a deck of playing cards in the same way, and you'll imagine each playing card as a character. And hopefully you'll never look at life in the same way either either. "It was a mystery to me how people on earth could simply roam around the world without asking questions, over and over again, about who they were and where they came from. How could life on this planet be something you either turned your back on or took for granted?" (p.136) The mystery of the playing cards challenges us to think about our lives, just as it challenged Hans Thomas. "It was strange that we human beings are so clever in so many ways – we explore space and the composition of atoms – but we don't have a better understanding of what we are." (p.141) The final sentence in the book leaves us with this excellent thought: "I am positive there is still a Joker roaming around the world … He will look deep into our eyes and ask, Who are you? Where do we come from?" (p.319)

Other Novels
Are there more examples of novels that strongly feature playing cards? There are certainly plenty of stories that revolve around poker or gambling (Oscar and Lucinda by Peter Carey), bridge (Cards on the Table by Agatha Christie), card games (Hearts in Atlantis by Stephen King) or around performers of card magic (Bluff by Michael Kardos), but that's not quite what we have in mind. Nor are books about Tarot cards (Last Call by Tim Powers), although these lend themselves well to stories about the supernatural. Perhaps the most obvious example of another novel about playing cards is Lewis Carroll's Alice in Wonderland, which I will cover in my next article. It's a whimsical story in a surreal setting where playing cards are also depicted as characters. This classic book has also inspired other novels which build on Lewis Carroll's playing card characters, such as Heartless by Marissa Meyer, which is effectively a prequel to Alice in Wonderland, and tells the story about the Queen of Hearts as a single girl who is pursued by the unmarried King of Hearts, and who finds herself secretly in love with the mysterious court Joker named Jest. Jostein Gaarder's The Solitaire Mystery is a fine work, that shows how important playing cards have become to us. They aren't just part of our lives, but we can even use them to make us reflect about what life is really about.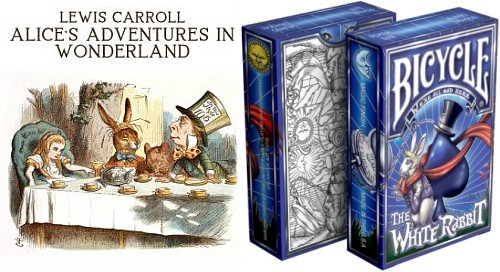 About the writer: EndersGame is a well-known reviewer of board games and playing cards. He loves card games, card magic, and collecting playing cards. This article first appeared on PlayingCardDecks.com here. ● Official Shuffled Ink website: ShuffledInk ● Make Your Own Custom Playing Cards at: ShuffledInk ● Make Your Own Custom Card Games at: ShuffledInk