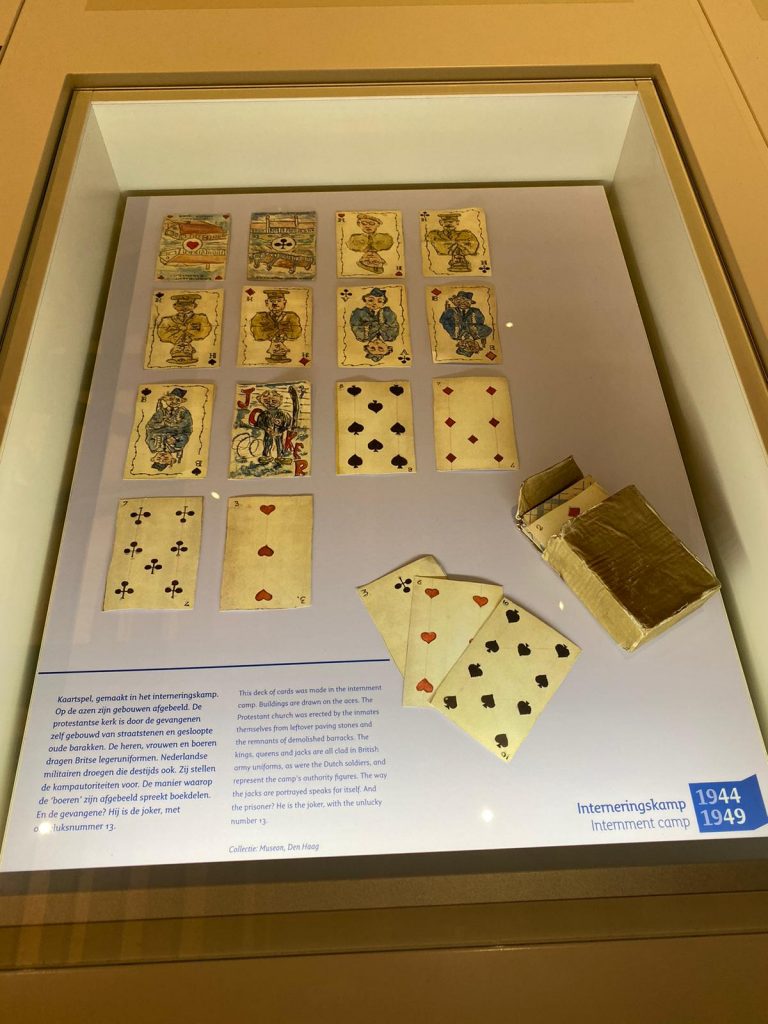 During World War II in the early to mid-1940s, these handcrafted playing cards were made at an SS (Schutzstaffel, or Protection Squads) camp known as Konzentrationslager Herzogenbus or Camp Vught.  During the Holocaust, Nazi Germany built the camp in the Netherlands. Active for nearly 20 months, it reached a max of 9,000 Jews during May 1943. The Holocaust was the mass genocide of European Jews, where nearly two-thirds of Europe's Jewish population were murdered. Adolf Hitler, the Anti-Semitic Nazi leader, believed that Jews were an inferior race.  Nazi Germany built nearly 44,000 concentration camps for the purpose of ethnic cleansing.  Today, we remember the Holocaust survivors and victims through Memorial Museums.  Now, handcrafting playing cards did not start in a concentration camp. The process dates back to ancient China, where domino markings would be drawn onto slips of paper. The cards were then brought to Europe during the 14th century, where they sported more hand-painted designs. The origin and invention of playing cards can be attributed to a variety of cultures all around the world, which is why discovering new card designs that reflect the times during the Holocaust is fascinating to find. Throughout these points in history, playing cards struck an appeal with a variety of people and cultures for one reason or another. But it's undeniable that the cards created at Camp Vught symbolized a time when people were seeking a source of amusement, as well as a means to accentuate their artwork.
The Card's Designs
KINGS / QUEENS / JACKS: These cards represent the SS camp's authority figures, as they are shown clothed in the British army's uniform.
ACES: Buildings are illustrated on these cards, including the Protestant church shown on the ace of spades.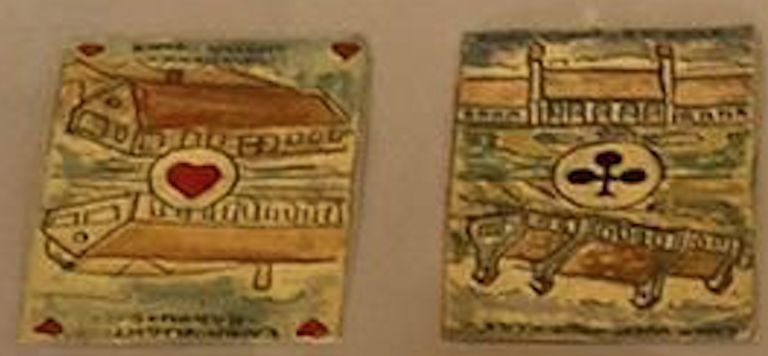 JOKERS: It is daunting, yet, unsurprising that these cards portray the prisoners themselves. They are shown pinned with the unlucky number 13 on their chest amid barbed wire and dust.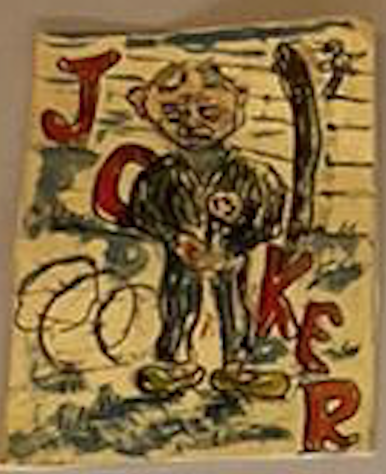 The handcrafted playing cards created by the Jews at Camp Vught were preserved by the camp, which has been turned into a national monument (Nation Monument Camp Vught). Despite being created under such devastating and brutal circumstances, the cards seemed to have played an amusing role during an unamusing time. Nevertheless, the cards can be added to the long history of playing cards that we continue to discover. ● Official Shuffled Ink website: ShuffledInk ● Make Your Own Custom Playing Cards at: ShuffledInk