card decks that reflect history. All cultures and societies have their respective innovations, conflicts and hierarchical structures.  And during experiences of greatness and despair, some artists depicted historic moments in time and legendary figures onto playing cards.
South Sea Bubble Playing Cards
In 1720, Thomas Carington Bowles created the satirical South Sea Bubble playing cards.  Unlike the smooth card stock that we use today, these cards were printed on copper plates.  The cards below depict the South Sea stock market's fleeting boom and ultimate destructive collapse, which led France into an economic crisis.  Click on the image to see close-ups of each card.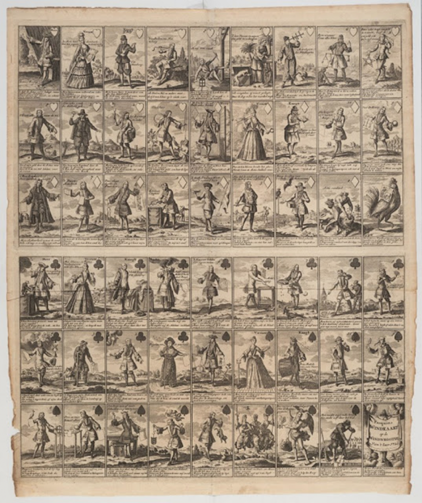 The Jack of Hearts in this card collection indicates one of many unfortunate financial situations; this one is based on a distraught South Sea woman who has now lost a large quantity of her riches. The caption reads: A South Sea Lady having much improv'd, Her Fortune proudly slighted him the Lov'd, But South Sea falling, sunk her Fortune low, She would have had him then, but he cry'd no.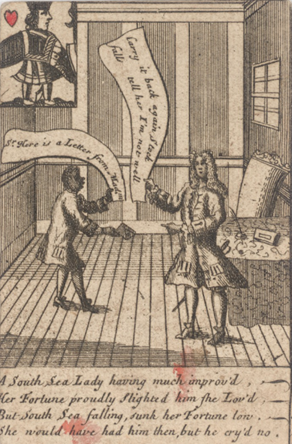 Playing Card Casino
The first legal casino house surfaced in 1638 Venice: The Ridotto. This enabled others to follow suit. During the 17th century, Louis XIV's finance minister, Cardinal Mazarin, sought to provide revenue for the royal family, so he transformed the Palace of Versailles into a card-playing casino. The cards below feature French soldiers holding detailed playing card flags toward the sky, most likely to praise and glorify this newfound entertainment source.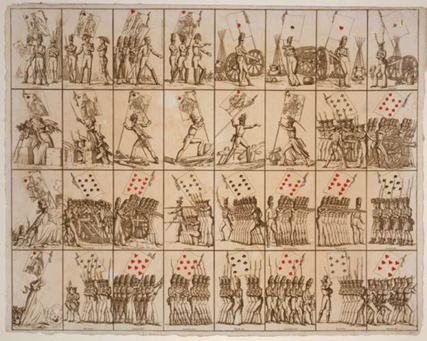 Both government-controlled and underground casinos created a vast production of card materials. Soon after the introduction of gaming houses, Great Britain began charging a tax on card manufacturing. This led to the infamous Stamp Act of 1765. The tax implementation created strict rules on any forged printed materials like stamps and cards, resulting in felony charges, and in many cases, death. Stamp Act Excerpts, Playing Card Provisions: And for and upon every pack of playing cards, and all dice, which shall be sold or used within the said colonies and plantations, the several stamp duties following (that is to say) For every pack of such cards, the sum of one shilling. And for every pair of such dice, the sum of ten shillings.
WWII Map Decks
During World War II, prisoners of war used playing card decks to escape from German prison camps.  The United States Playing Card Company created card decks that helped at least 32 individuals escape and prompted more than 300 attempts.  Once applied with water, the POW would peel back each card to find escape routes.  The Escape Map cards will forever illustrate hope and perseverance during a time where danger and uncertainty were prevalent.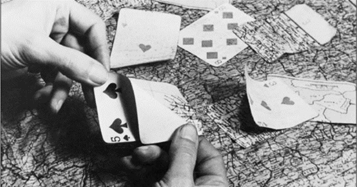 The Ace of Spades: Death Cards
Card suits and symbols were printed on more than just decks.  During the mid-20th century, the 101st Airborne Division painted the Ace of Spades emblem on their combat helmets for good luck.  But in Vietnamese culture, this card symbolizes death, humiliation and suffering. Two U.S. lieutenants decided to take advantage of this superstition by shipping only Ace of Spades decks to Southeast Asia where they scattered them across villages and the jungle.  This caused many Viet Cong fighters to flee at the sight of the Death Cards.  Even today, the Ace of Spades depicts psychological warfare used during the Vietnam War.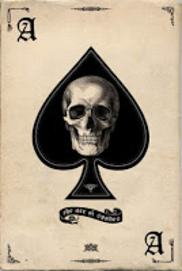 Legendary Figures on the Court Cards
KINGS
Recognizing court cards (King, Queen and Jack) as prominent figures developed long after the establishment of the modern deck. So, in a way, while this "fact" has been debunked, the association is still true. For a period of time, and depending on the country, particular famous figures were assigned to a court card. For example, French and British decks identified their court cards with these four monarchs: Charles VII of France, the Biblical figure David, Alexander the Great and Julius Caesar. You may have noticed slight variations on face cards: Positioning of swords and hands, medieval attire and crown designs.  This is no coincidence. The Suicide King: The King of Hearts features an oddly positioned sword that is piercing the side of his head.  Never noticed?  Pull out your own deck of cards and look.  This is the only King who appears to be stabbing himself in the head with a sword. While the King of Hearts has varied in design throughout the years, there is always one consistency: The act of suicide or harm.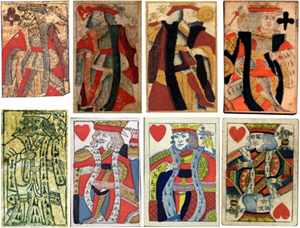 QUEENS
Queen playing cards have many face versions but the most common four figures are Pallas, Judith, Rachel and Argine. The Breakdown:
Queen of Spades: Pallas or Athena; the goddess of strategic war, courage and inspiration in Greek mythology.
Queen of Hearts: Judith; a Biblical figure and heroine
Queen of Diamonds: Rachel; the wife of Biblical figure Jacob
Queen of Clubs: Argine; anagram of Latin name Regina, which means Queen
JACKS
The Jack face card was previously called a Knave, which means male servant.  Eventually, they realized that it did not make sense to have two Ks (with the King and Knave) or even a Kn since the first initial is present on the face cards.  But even the new term Jack had its flaws.  It was originally used in a demeaning manner, aimed toward lower-class people.
Jack of Spades: Hector, a Trojan Prince
Jack of Hearts: La Hire; member of Charles VII's court and comrade to Joan of Arc)
Jack of Diamonds: Ogier, one of Charlemagne's Knights
Jack of Clubs: Judah Maccabee, or Lancelot
COVID-19 Pandemic Depicted on Playing Cards
One day, people will be curious about the historic moments we once experienced – both the good and bad.  For example, the Coronavirus pandemic has created an entirely new world for us, where we social distance, wear masks and work from home.  Undoubtedly there will be recollections and statistics written in history books but playing cards will also be used to tell stories about the past.  We created a collection of COVID-19 Playing Cards with the intention of providing helpful virus tips, suggestions, statistics and more.  Like the South Sea Bubble cards, these decks will be great for future generations to discover and interpret historical events.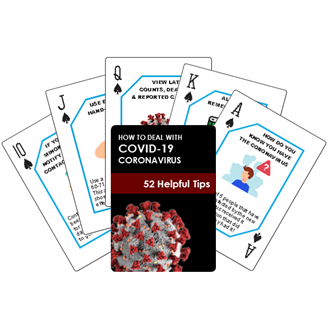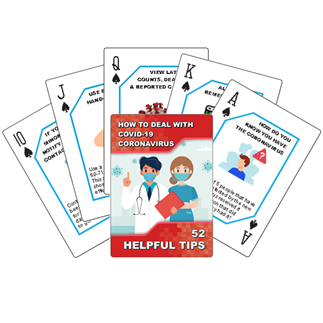 ● Official Shuffled Ink website:
ShuffledInk
● Make Your Own Custom Playing Cards at:
ShuffledInk
● Make Your Own Custom Card Games at:
ShuffledInk